10 position battles for fantasy owners to follow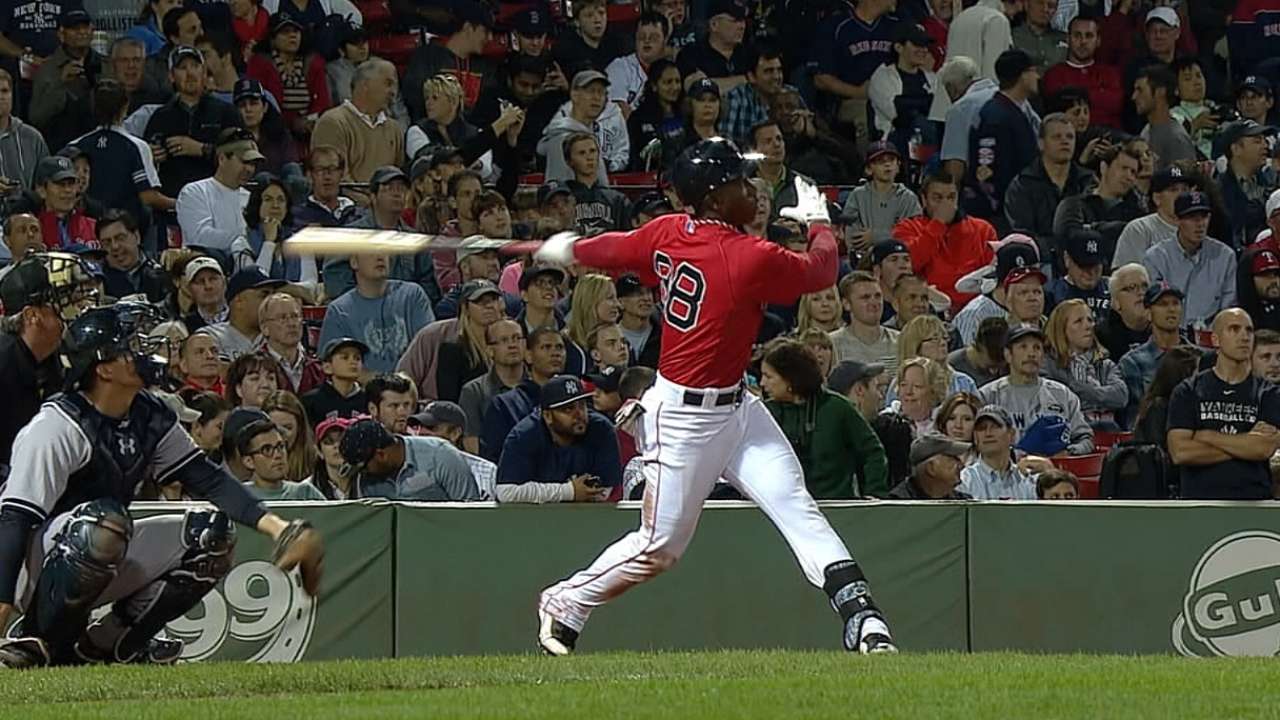 Shrewd fantasy owners will be watching key position battles this month in order to understand the depth charts of all the teams. Following is a look at the 10 battles that merit close attention by owners.
• Red Sox center field and right field (Rusney Castillo vs. Mookie Betts vs. Shane Victorino): Manager John Farrell has already said that a healthy Victorino -- who played in 30 games in 2014 -- will serve as the starting right fielder, which leaves Castillo and Betts to compete for the center-field job. Castillo, 27, may be the favorite, but he is dealing with an oblique injury, and Betts' potential as a leadoff hitter could allow him to steal the job.
Prediction: Either Castillo or Victorino starts the season on the disabled list, giving Betts a chance to strut his stuff. All three fall short of 500 at-bats, but all have mixed-league relevance for parts of the season.
• Yankees closer (Dellin Betances vs. Andrew Miller): Both relievers posted extremely low ratios and K/9 rates above 13.0 last season, which means that the winner of this battle will instantly become a top-tier closer. Betances holds an edge over Miller because he is right-handed and because he was a huge asset for the organization in 2014. Miller's advantage can be traced to his massive contract and that he is usually a one-inning reliever, whereas Betances can work multiple frames.
Prediction: Betances is a top-five closer this season. Miller does not exceed five saves.
• Astros closer (Luke Gregerson vs. Chad Qualls): Qualls was a solid fireman during the first half of 2014, but his 5.68 ERA after the All-Star break opened the door for Houston to assess other options. Gregerson -- who has a 2.75 career ERA and 1.08 WHIP -- has flashed closer-worthy skills for several seasons.
Prediction: Gregerson wins the role and emerges as a useful mixed-league closer.
• Blue Jays' rotation (Aaron Sanchez vs. Daniel Norris vs. Marco Estrada): Toronto entered Spring Training with no definitive ninth-inning option. According to reports, youngster Aaron Sanchez -- a starting-pitcher prospect who is ranked 44th overall by MLB.com -- and Brett Cecil were the presumptive favorites for the job. But with the unfortunate season-ending injury incurred by Marcus Stroman on March 10, Sanchez may get his chance to join the Jays' rotation at the outset of 2015. He, fellow prospect Daniel Norris and veteran Marco Estrada should vie for Toronto's two vacant rotation spots.
Prediction: Sanchez, with slightly more big league experience than Norris, will join Marco Estrada in the Jays' Opening Day rotation. But Norris, the No. 17 overall prospect according to MLB.com, could earn a callup sooner rather than later.
• Dodgers center field (Joc Pederson vs. Andre Ethier): Fantasy owners are drooling over the thought of Pederson, who notched 33 homers and 30 steals in 121 Triple-A games last season, racking up 500 at-bats as the starting center fielder. The Dodgers could try to recoup some of their massive investment in Ethier by putting him into the center-field mix, even though he seems better suited for the corners.
Prediction: Pederson wins the job but falls short of 500 at-bats due to the Dodgers' depth, which also includes Chris Heisey and Scott Van Slyke.
• Indians fifth starter (Danny Salazar vs. T.J. House vs. Zach McAllister vs. Josh Tomlin): Salazar has racked up 185 K's in 162 Major League innings, which makes him a high-upside sleeper if he earns the final rotation spot. House could be a terrific value pick if he wins this battle, as he posted a 2.53 ERA in 10 second-half starts last season. McAllister and Tomlin are long shots to win the job or factor into mixed leagues.
Prediction: Salazar wins the job and is a mixed-league asset, despite producing inconsistent results. A rotation spot opens for House by the end of May, and he quickly finds his way onto mixed-league rosters.
• Mariners shortstop (Brad Miller vs. Chris Taylor): Miller was supposed to wrap up this job last season but squandered the opportunity when he hit .204 in the first half. Taylor hit .328 in Triple-A in 2014 and then had a successful debut with the Mariners.
Prediction: Taylor becomes the primary shortstop. Miller steals some playing time from Taylor and also picks up the occasional start at other infield positions. Neither dents 12-team mixed rosters.
• Mariners fifth starter (Roenis Elias vs. Taijuan Walker): Elias posted a 3.85 ERA in 163 2/3 innings during a solid rookie season. Walker's career Minor League numbers -- 3.65 ERA, 1.23 WHIP -- are nothing special, but he has been labeled as a top prospect for several seasons and posted a 2.61 ERA in 38 frames with the Mariners last season.
Prediction: Elias is four years older and has much more Major League experience, and those factors help him win the Opening Day rotation spot. Walker starts the season in Triple-A but is in the Majors by May and instantly becomes mixed-league relevant.
• Pirates shortstop (Jung Ho Kang vs. Jordy Mercer): Sure, it was the Korean Baseball Organization, but homers are homers, and Kang hammered 40 of them in 2014. Mercer hit .255 with 12 homers and four steals in 506 at-bats last season, so he will fall to waivers in mixed leagues no matter how this battle plays out.
Prediction: This battle drags into the regular season, but eventually Kang starts to push Mercer into a backup role. Kang posts a batting average below .250, but his power is notable enough to warrant a roster spot in deeper formats.
• Cardinals fifth starter (Carlos Martinez vs. Marco Gonzales vs. Jaime Garcia): Martinez posted an impressive 2.61 ERA while working almost exclusively as a starter in the Minors, and he is the front-runner for this job despite posting inconsistent results as a reliever with the Cards in 2014. Gonzales has less Major League experience than Martinez, but he is the same age and has his own set of impressive Minor League numbers. Garcia used to be a rotation staple, but injuries have limited him to 89 1/3 innings since 2013.
Prediction: Martinez maintains his lead and earns a rotation spot. Gonzales finds his way into the rotation by midseason and garners mixed-league attention. Garcia also makes some starts but is not added in most fantasy formats.
Fred Zinkie is a fantasy baseball writer for MLB.com. Follow him on Twitter at @FredZinkieMLB.
This story was not subject to the approval of Major League Baseball or its clubs.