MLB.com Columnist
Megan Zahneis
All-Star Sunday, FanFest aimed at making memories
Tickets now on sale for popular events in Cincinnati this summer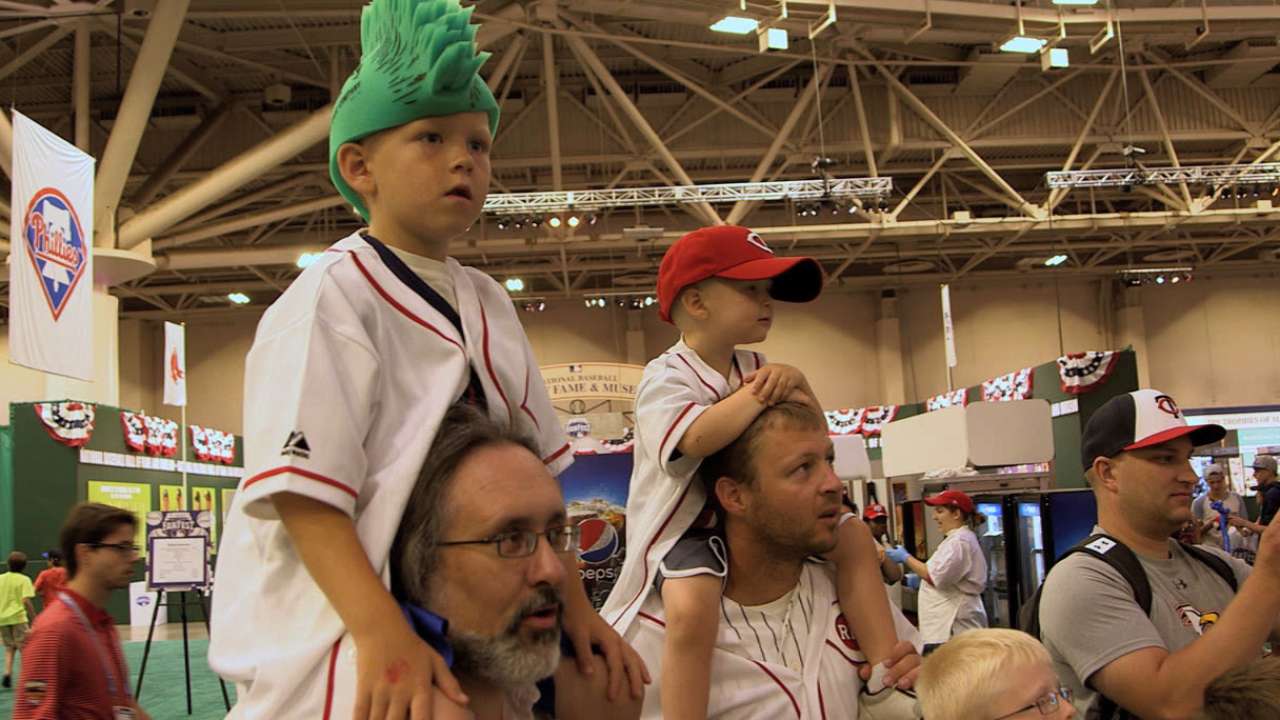 Baseball is back.
Believe it or not, it already is time to buy your tickets for the All-Star Game festivities coming to Cincinnati in July.
T-Mobile All-Star FanFest and All-Star Sunday tickets went on sale today at allstargame.com.
Those are two events you won't want to miss. With FanFest coming to three floors and over 450,000 square feet of the Duke Energy Center in Cincinnati (also the host of the fan-favorite Redsfest) and All-Star Sunday festivities taking over Great American Ball Park, the tickets are sure to be a hot sell. And rightly so, as MLB officials have spent more than a year organizing the events.
"The beautiful thing about FanFest is that it really gets the fans the opportunity to experience that MLB All-Star celebration," explained MLB director of special events Jackie Secaira-Cotto. "It would be great if everyone would get a chance to go to an All-Star Game or to a Home Run Derby, but ... that is not a possibility and we're very happy and proud to have FanFest as a host city to be able to give all fans the opportunity to have an All-Star experience."
FanFest features all manner of attractions for baseball fans. In addition to regular appearances from current and former players -- especially those from the host city -- there are exhibits offering fans the chance to test their fastball, basestealing, fielding or sweet swing, snap a photo with a World Series trophy or team mascot, learn about the history of the game and see artifacts loaned from the National Baseball Hall of Fame in Cooperstown, N.Y. The point is that there's something for everyone, as Secaira-Cotto herself can tell you.
"I have a little girl, who's 12, who's a huge baseball fan, and I really appreciate the event," she said. "Because as a parent, you're always looking for something cool and fun to do with your kids that the whole family can enjoy. I do a lot of interviews for the event and I'm being very honest and genuine when I say this is a great event for the family.
"I went to my first game when I was 5 years old with my dad and my brother, and this is a sport that goes across generations. One of the most fun things that I like to do when the weather is nice is to go to a game with my dad and my daughter and my husband, and it's a family outing and it's something we can all share. And that's the same kind of experience you have, whether it's going to a baseball game or going to FanFest."
Brian O'Gara, senior director of special events, feels the same way when it comes to All-Star Sunday, which features the SiriusXM Futures Game and Legends & Celebrity All-Star Game.
"We never know what top memories fans are going to take away from the All-Star Game, but we do know this: They may never get to another All-Star Game. This may be a once-in-a-lifetime opportunity for a lot of people, so we do try really hard to have a lot of different activities and elements that will appeal to everyone, not just throughout the city, but especially at the ballpark," O'Gara noted. "So, for example, we'll book musical performances and we've done that before the Home Run Derby and the Celebrity Softball Game. We've had themed pregame ceremonies to pay tribute to either our great legends and heroes of baseball or to community heroes in the past or to some of our military heroes."
Not that the attractions in and of themselves aren't attractive themselves. Seeing old-timers take the diamond alongside locally bred celebrities is an opportunity like no other, and, as O'Gara points out, the Futures Game is a peek at baseball's next generation of stars.
"When you consider that fans have a chance to see the best young prospects on their way to the Major Leagues, that's really appealing to our fans that know that, in the past, the Clayton Kershaws and the Joey Vottos and some of the great stars in the game today, their first experience on a Major League field and at an All-Star Game was at the Futures Game," O'Gara said.
Cincinnati is sure to make the most of its time in the limelight, and the world of Major League Baseball is excited to see the results.
"One thing that I always try to keep in mind and remind many of my co-workers is that, because it's maybe someone's only All-Star Game experience, that's why we have to work even harder to make sure that we get every detail right in the planning and the execution of these events," O'Gara said. "Because whether their memory is the flyover after the national anthem or a musical performance or seeing some of the great legends of the game out on the field one more time, they're going to remember something special from this All-Star Game 25 years from now. It's really incumbent upon us to work hard to get every detail right in the planning so that memory is as golden as it can be."
Megan Zahneis is a reporter for MLB.com. This story was not subject to the approval of Major League Baseball or its clubs.