Heaney has solid Angels debut in loss to Reds
Giavotella goes deep, Pujols drives in pair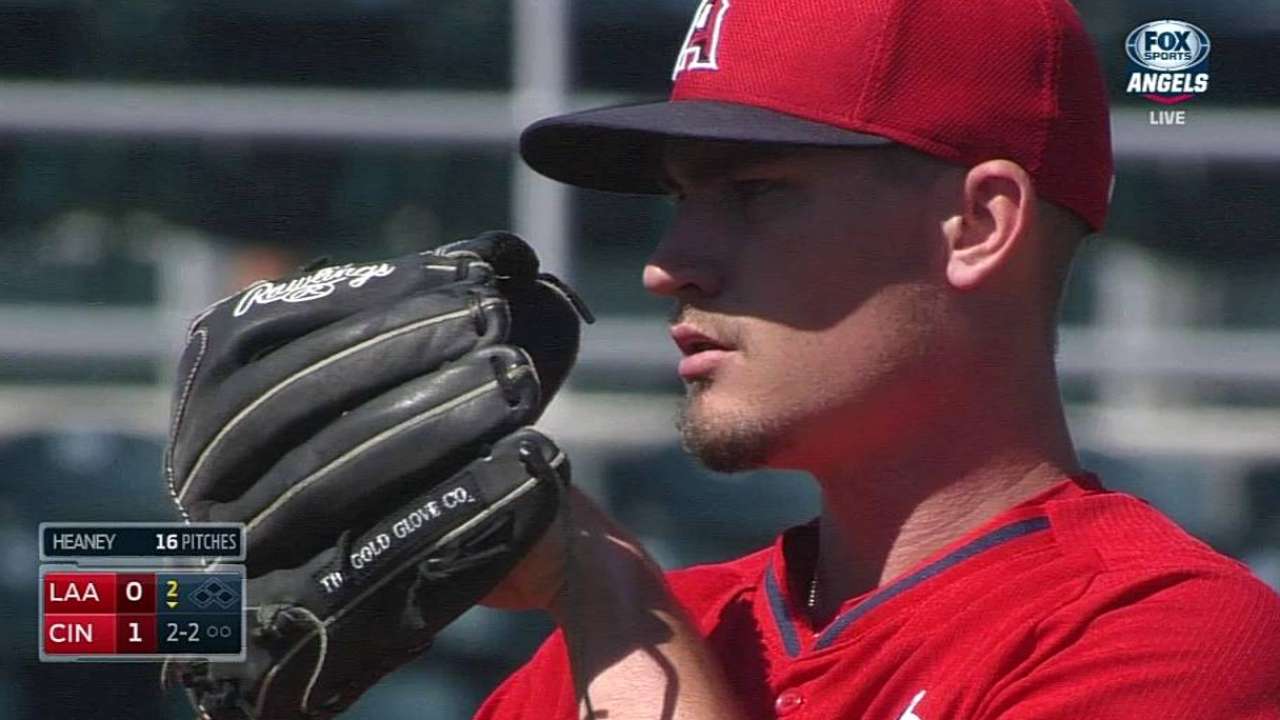 GOODYEAR, Ariz. -- In a game that featured four home runs, outfield prospect Juan Duran was the one that gave a split-squad Reds club a 7-5 walk-off victory over the Angels on Monday at Goodyear Ballpark.
Following a pair of one-out singles in the bottom of the ninth inning against Angels reliever Ryan Mattheus, Duran smoked an opposite-field line drive to right field for a three-run homer to end the game.
"I'll tell you what, he is very impressive," said Reds bench coach Jay Bell, who managed the game. "Last year, he was just raw and going through the season last year, he did some really nice things. This spring, he has really impressed. Part of the reason why he's impressed so much is he's been opposite and center field quite a bit this spring."
The Angels took a 3-1 lead against Reds rotation candidate Anthony DeSclafani, who gave up three earned runs and five hits over his three innings, with one walk and no strikeouts.
DeSclafani worked quickly through his first two innings, but hit trouble in the third after some soft hits. Josh Rutledge led off with a lofted single to right and Kole Calhoun grounded a one-out single to right. A four-pitch walk to Mike Trout loaded the bases before Albert Pujols ripped a two-run single up the middle through the infield at double-play depth. Erick Aybar chopped a seeing-eye RBI single through the right side.
"I feel good about it overall," DeSclafani said. "I feel like I made some quality pitches over the entire outing. I got a lot of ground balls. A couple of ground balls snuck between first and second because we were playing a little over for the double play. You really can't do anything about that, it's just results right now. I got ground balls. I'm not going to worry about the three runs and all that stuff."
Reds closer Aroldis Chapman followed DeSclafani with two scoreless innings with two strikeouts. The lone hit off Chapman came on Trout's infield single to third base.
Still down two runs in the fifth, Cincinnati came back against reliever Nick Tropeano. With one out, Kyle Skipworth hit a 0-1 pitch for a two-run homer to right-center and Jason Bourgeois followed with his own homer to left field on a 2-0 pitch by Tropeano.
Tropeano and Angels starter Andrew Heaney were both debuting in their efforts to land a rotation spot. Heaney gave up one earned run over three innings with two walks and three strikeouts.
"Felt good," Heaney said. "First inning, I was a little amped up, going quick, couldn't catch my tempo. Second inning was better, third inning I felt like I got into a groove and got comfortable."
Tropeano gave up three earned runs and three hits over his three innings.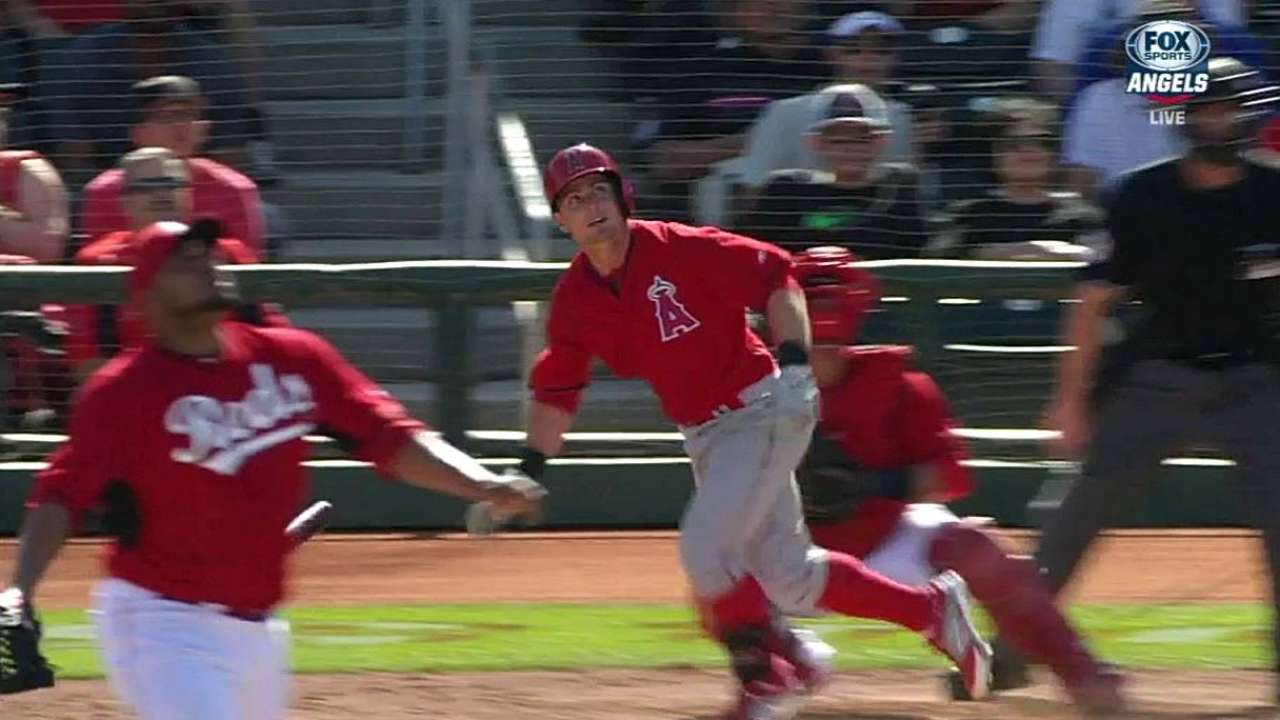 The Angels made it 4-4 in the sixth on Chris Iannetta's RBI double to right against Burke Badenhop. Leading off the seventh against Reds lefty reliever Jose Mijares, Johnny Giavotella hit a home run to left field on a 2-0 pitch. Giavotella, who is out of options, is vying to start at second base for the Angels.
Up next: Hector Santiago takes the ball, opposite righty Yovani Gallardo, when the Angels host the Rangers at Tempe Diablo Stadium on Tuesday at 1:10 p.m. PT on MLB.TV and Gameday Audio. Santiago is competing for a rotation spot and may have a leg up because he has the most Major League experience of the group. The 27-year-old left-hander pitched two scoreless innings in his Cactus League debut, registering a hit, a walk and a strikeout in a 33-pitch outing. Calhoun, Trout, Pujols, Aybar, C.J. Cron and Collin Cowgill all played in a second straight game Monday and are likely to sit Tuesday.
Mark Sheldon is a reporter for MLB.com. Read his blog, Mark My Word, and follow him on Twitter @m_sheldon. This story was not subject to the approval of Major League Baseball or its clubs.