Eovaldi focusing on turning his heat into more strikeouts
Right-hander fans five in three-inning spring relief appearance vs. Rays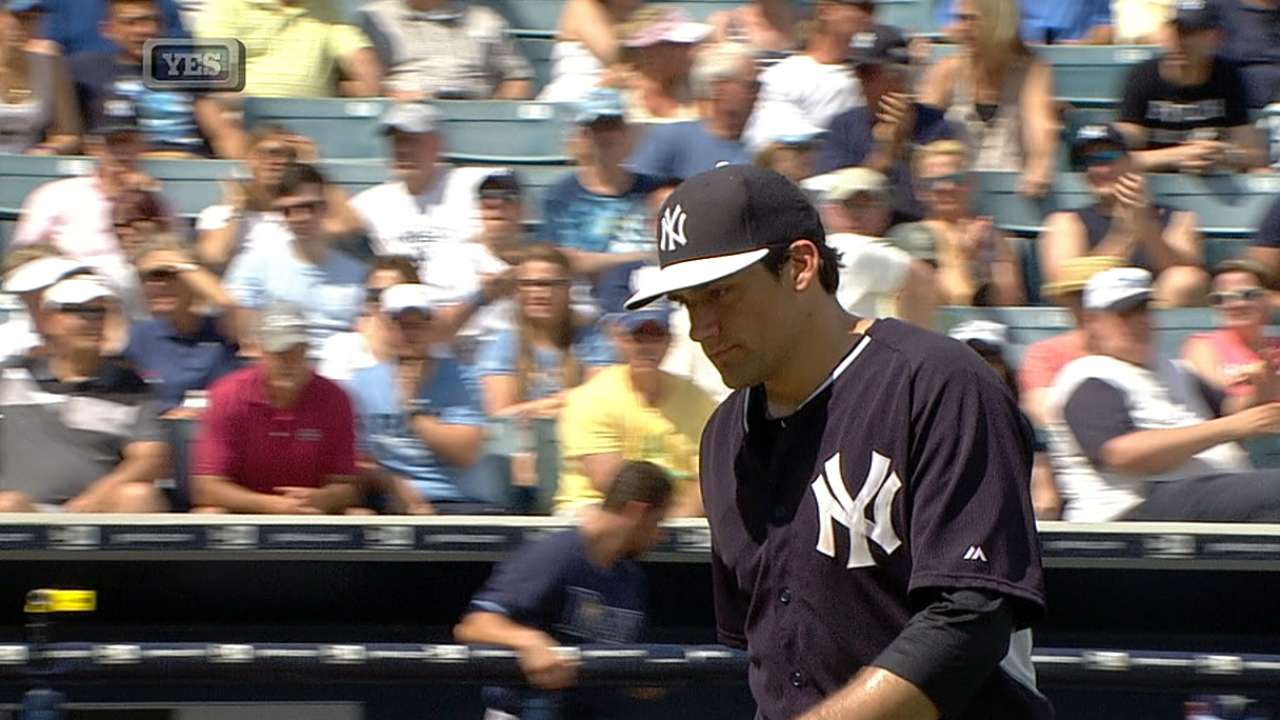 TAMPA, Fla. -- Blessed with a fastball that consistently lit radar guns in the high 90s last season, Nathan Eovaldi believes that gift can still translate into some gaudy strikeout totals at the big league level. It's something that the Yankees would love to see.
Eovaldi has been talking with pitching coach Larry Rothschild about elevating his pitches, which should allow him to better use the upper portions of the strike zone. Ringing up five strikeouts in three innings on Monday against the Rays, Eovaldi sees some progress.
"Hopefully, yeah," Eovaldi said. "Just working ahead in the counts, I think, for the most part was the big key today."
Acquired from the Marlins in December, Eovaldi's fastball ranked fourth among all starters in average velocity (95.7 mph) last season, according to FanGraphs.com. But heat isn't everything, as his other numbers indicated.
Eovaldi was 6-14 with a 4.37 ERA in 33 starts for Miami, establishing career highs in starts, innings pitched (199 2/3) and strikeouts (142), while leading the National League with 233 hits allowed. He is just 25 and the Yankees are betting on his potential, which catcher Brian McCann sees clearly.
"I think he's close," McCann said. "With every year, you're going to get more comfort with yourself and what you can and can't do. With that stuff, it's just going to be a matter of putting it all together and elevating when he needs to elevate and put it in the dirt when he needs to put it in the dirt, because he's an uncomfortable at-bat for anybody."
Eovaldi said that he rushed some of his off-speed pitches, giving him something to work on next time out. Other than that, he was trying to throw first-pitch strikes while honing his splitter, guessing that he threw seven to Tampa Bay hitters. His slider served as the reliable strikeout weapon on Monday.
"That always helps. Weak contact is not the worst thing either," manager Joe Girardi said. "It's just hard contact you want to stay away from. Sometimes when you try to pitch to swing and miss, you throw 100 pitches in five innings, and we don't want that."
Quick outs are the preferred currency, whether the ball is put in play or not, and McCann said that continuing to elevate the ball should help Eovaldi take the next steps to get plenty more.
"When you can pitch at the top of the zone effectively, it's going to keep the hitter in attack mode," McCann said. "He's going to have to attack, and once you get him on attack, then you can drop the slider in the dirt and they're committing to swing. Changing eye levels is huge, and execution. It's how many times can you do it, over and over?"
Bryan Hoch is a reporter for MLB.com. Follow him on Twitter @bryanhoch and read his MLBlog, Bombers Beat. This story was not subject to the approval of Major League Baseball or its clubs.