Kang comfortable at third base
Infielder previously played position for South Korea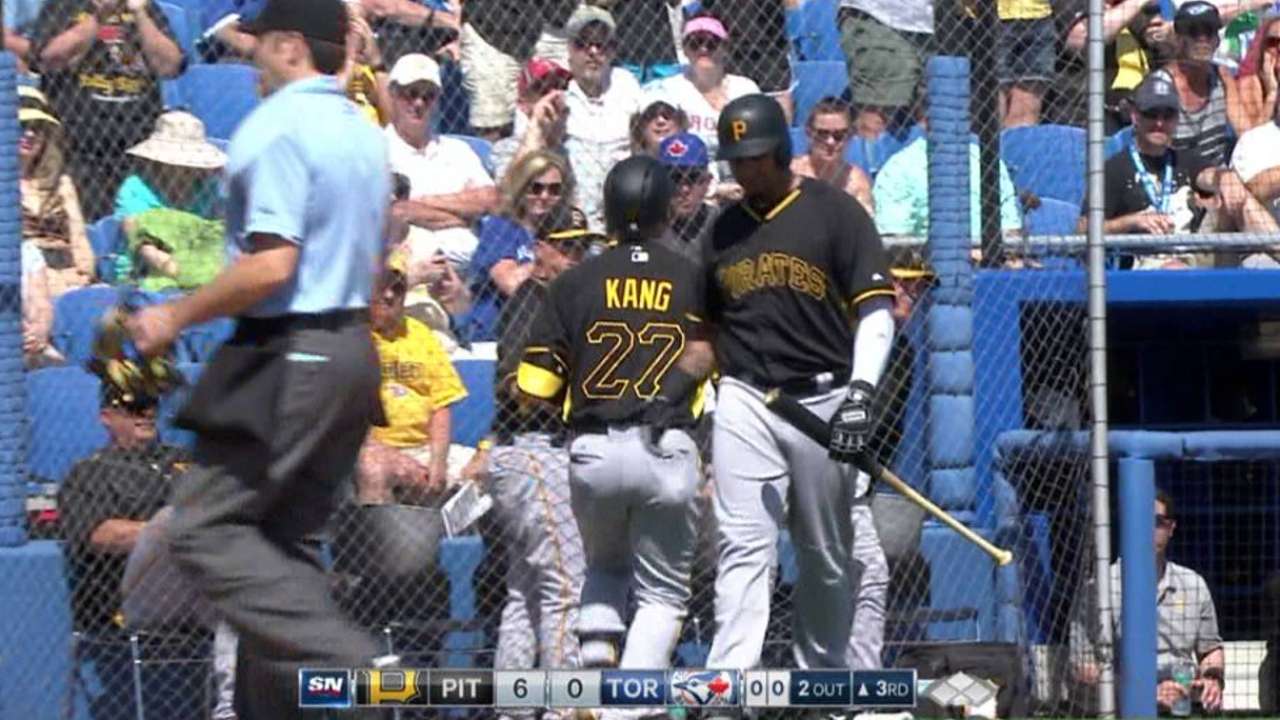 BRADENTON, Fla. -- Considering how natural it felt, Jung Ho Kang was probably amused by all the attention paid on Monday to his first appearance at third base in a Pirates uniform.
"I was very comfortable there," said Kang, whose three prior Grapefruit League shifts had been at shortstop.
Kang recalled last playing third base two springs ago, for South Korea in the 2013 World Baseball Classic.
He did not foresee any problems fulfilling the Bucs' plan for him at the outset of his nascent Major League career: Rotating, as lineup and game situations dictate, among shortstop and second and third bases.
Pirates manager Clint Hurdle is giving Kang a crash course in that rotation: Monday, he replaced starting third baseman Josh Harrison in the sixth inning; Tuesday, he is scheduled to start at short and bat fifth against the Rays in Port Charlotte.
"That is not going to be so challenging because I did play all those positions in Korea," Kang said.
In Monday's game, Kang handled two grounders to third with ease, and he was the rubber man on an eighth-inning play. Catcher Elias Diaz trapped Aaron Hicks off second base, and he was erased on Pedro Florimon's throw to Kang.
"We'll run him over there again," Hurdle said. "He's played third before and said he is comfortable and was ready to go over there. He's taken some [practice] balls, and now he got some game action. It gives us another opportunity to use him."
Touching all the bases
• First: Including Monday morning's "B" game, which did feature mainliners Vance Worley and Mark Melancon, the Bucs have allowed no more than one run in five consecutive games.
• Second: Pittsburgh pitching has given up five runs in the past 48 innings. "Guys continue to make pitches from the start to the end. Every pitch matters. In Spring Training, you can't ask for better lock-down focus," Hurdle said.
• Third: Isolating on just non-roster pitchers, a dozen of them have combined to allow five earned runs in 18 2/3 innings (2.41 ERA) after Charlie Leesman, Angel Sanchez and Wilfredo Boscan each fired one shutout frame against the Twins.
• Home: Hurdle must be serious about his pitchers' hitting, which he said would be a spring priority. Not only did the Pirates eschew the DH on Monday, but starter Gerrit Cole got to bat after his three innings of pitching were done -- and came within a couple feet of a leadoff homer in the bottom of the third.
Tom Singer is a reporter for MLB.com and writes an MLBlog Change for a Nickel. Follow him on Twitter @Tom_Singer. This story was not subject to the approval of Major League Baseball or its clubs.