Pineda hoping to put together strong, healthy season
Right-hander tossed two scoreless innings in spring debut vs. Rays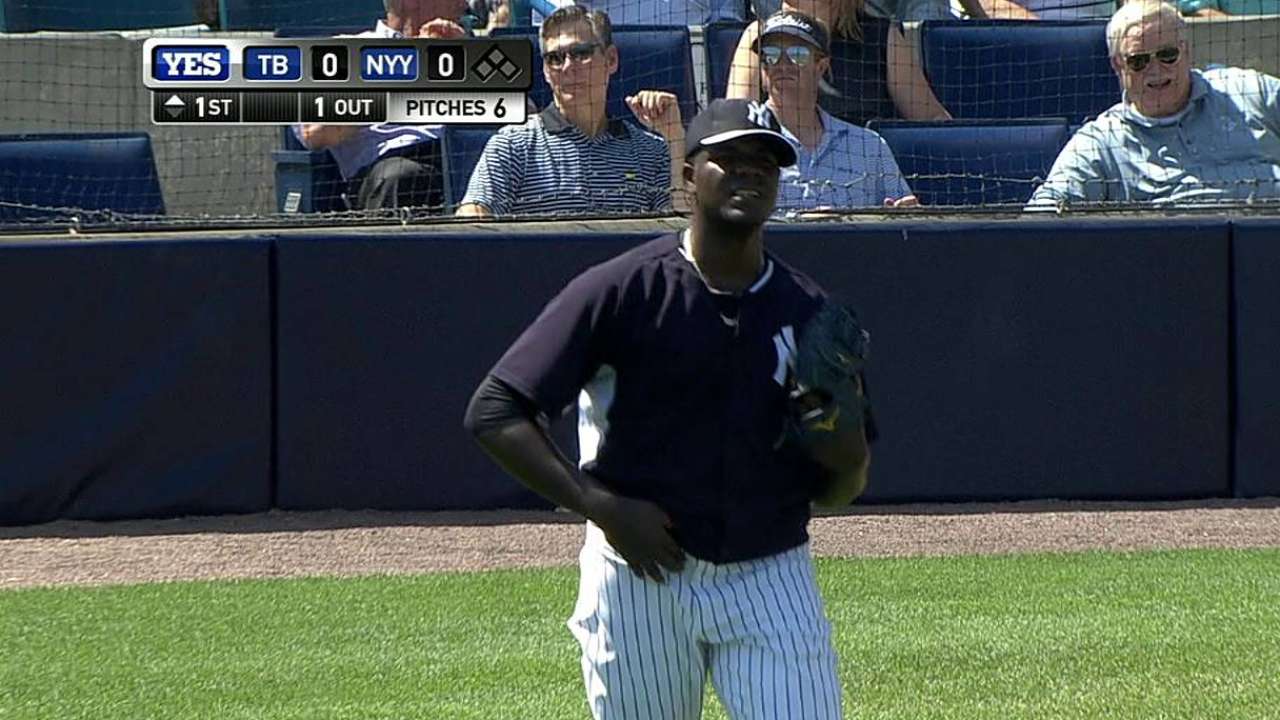 TAMPA, Fla. -- The beaming smile says everything about how Michael Pineda is feeling this spring. It has been enough to encourage club officials that this can be the year he provides the full, dominant workload they have been dreaming of.
Pineda made his spring debut on Monday, hurling two scoreless innings in the Yankees' 4-3 victory over the Rays. After a series of false starts that stalled his first few seasons in pinstripes, the right-hander believes he is poised to put it all together in 2015.
"This is what I want," Pineda said. "I'm working hard everyday to be healthy and make it a good year, and help my team."
Perched in the dugout for Monday's outing, Alex Rodriguez said that his first thought was that he was happy not to be holding a bat. Rodriguez was especially impressed by a power changeup on a 2-2 count to Evan Longoria, a pitch that Rodriguez compared to the tough offerings once fired by Roger Clemens and Curt Schilling.
Pineda has long been talked about as having that level of front-line ability, beginning with his All-Star campaign in 2011 for the Mariners. Health has been a stumbling block, but Pineda's arsenal and demeanor have always made him a tough at-bat, Rodriguez said.
"His hat is sideways, so you don't know if he's looking at you," Rodriguez said. "I remember [Derek] Jeter and I would say, 'We're facing this guy? He's not even looking at home plate. He's like looking behind us.' I said, 'What kind of stuff does this guy have, Jeet?' He said, 'Very uncomfortable.'"
When Pineda was on the mound last year, he was excellent. In 13 starts, he posted a 1.89 ERA to go along with a 5-5 record. His strikeout-to-walk ratio of 8.43 was the highest in history to be posted by a Yankees pitcher with a minimum of 75 innings, shattering Mariano Rivera's 2001 mark of 6.92, and he held opponents to a paltry .219 on-base percentage -- the lowest among a pitcher with at least 13 starts.
The problem, as it has been during Pineda's three years in the organization, was the time on the shelf. Following the embarrassing April incident in which he was discovered to have pine tar on his neck, Pineda injured his right shoulder while serving a 10-game suspension and did not return to a big league mound until Aug. 13.
"Last year was a hard season, especially for me," Pineda said. "I learned a lot from a couple of mistakes I made last year. It helped me for this year. I grew a lot. I'm a better person."
Pineda said that he liked his command and off-speed pitches in Monday's outing, noting that his changeup and slider felt good coming out of his hand. The Yankees could tell; when Pineda is on his game, his body language speaks volumes.
"The gyrations, the smiling, all of it -- it's entertainment," manager Joe Girardi said. "But he feels good about where he's at physically, and if you think about it, it's the first winter he didn't really have to rehab. He was able to have a normal winter, which I think has probably helped him."
Girardi said that Pineda was able to use some of last year's rehab time to clean up his mechanics, which could carry over into this season.
"I thought he looked great," catcher Brian McCann said. "The ball's coming out with the same velocity, with some cut. He threw a couple of changeups that were really nice that had some good action. His slider was there as well. When he has all three of those things -- I keep repeating myself -- but he's as tough to hit as anybody."
Bryan Hoch is a reporter for MLB.com. Follow him on Twitter @bryanhoch and read his MLBlog, Bombers Beat. This story was not subject to the approval of Major League Baseball or its clubs.