Defensive wiz Marisnick given chance to win job in center
Outfielder needs to hit to earn time, with Rasmus, Springer, Gattis in crowded mix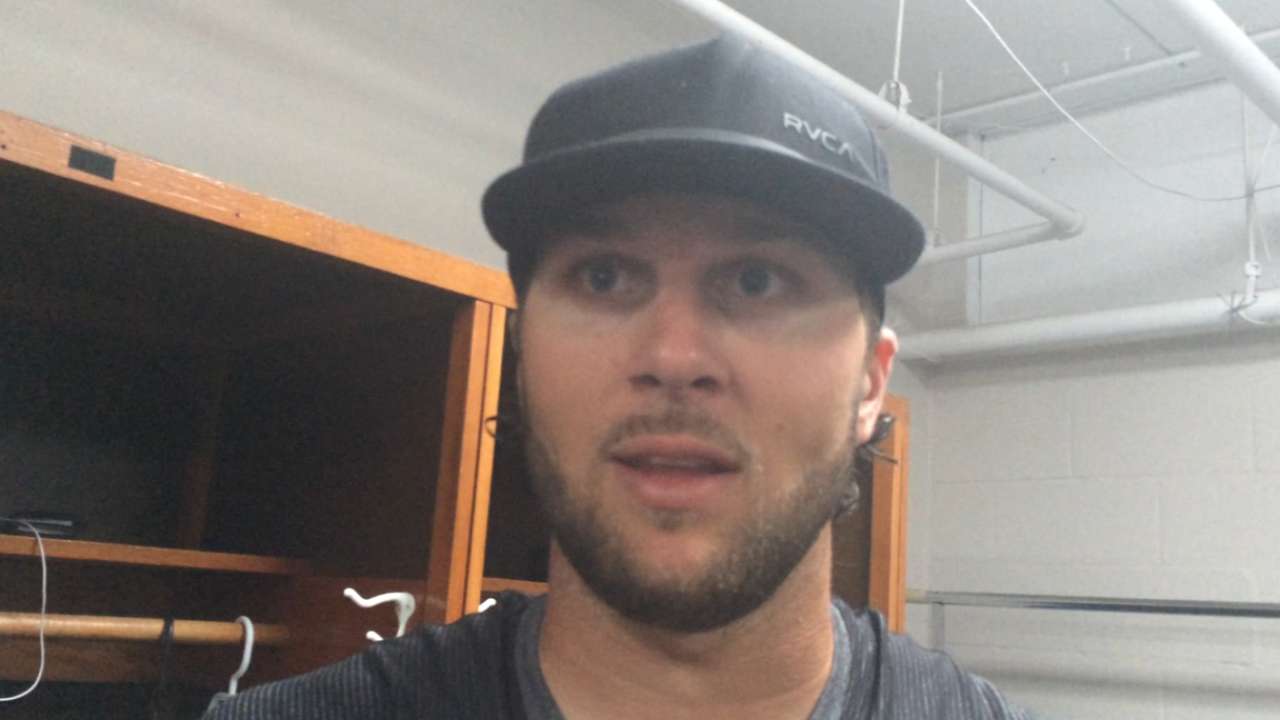 DUNEDIN, Fla. -- It's possible the Astros could begin the regular season with three center fielders starting in the outfield -- Colby Rasmus, George Springer and Jake Marisnick. Well, each is a center fielder by trade, and of course, there is room for only one in that spot.
Springer appears destined to start in right field, where he played much of last season while Dexter Fowler was on the field, and Marisnick has been given plenty of chances to show what he can do in center in the early days of Grapefruit League play.
Marisnick is the best defensive center fielder of the bunch, but he doesn't have the offensive track record of Rasmus or the tantalizing upside of Springer. Ultimately, Marisnick will have to hit well enough to remain a starter, but there's no questioning his defense.
"He's a terrific outfielder," manager A.J. Hinch said. "You can really tell how much ground he can cover in center field. He comes in on the ball very well. There's a comfort with him standing in center field for our pitchers and our coaches. I've given him every rep in center field when he's played."
Rasmus, signed for $8 million in the winter, has appeared almost exclusively in center field in his career, starting 679 of his 793 big league games there. The Astros are taking a look at him in left field this spring, the same spot slugger Evan Gattis could wind up playing.
Marisnick, 24, has played center field since his days at Riverside Poly High School in Riverside, Calif. He's not known as a burner, but he gets good jumps and takes good reads to make up for any speed deficiencies, though he's certainly not slow by any means.
"It's not pure foot speed," Hinch said. "He makes long strides and covers a lot of ground and takes great angles in the outfield. He pays attention to everything, so his first step is usually right and he doesn't have to alter his routes very often. He just has tremendous instincts in the outfield that allow him to cover both angles to his right, to his left, but we've also seen him make a couple of diving plays coming in."
For Marisnick, being a proficient outfielder starts with shagging balls during batting practice. He reads the ball of the bat and anticipates.
"If you can get a good read on the ball and take the correct route, with the outfielders we have out there, there's not a lot of balls that are going to drop," he said.
Drafted by the Blue Jays in 2009, Marisnick was traded to the Marlins in 2012 and to the Astros last July 31 in the deal that sent Jarred Cosart to Miami. His reputation as a plus defender preceded him, and he wound up acquitting himself nicely at the plate, too, hitting .272 with 19 RBIs in 51 games with the Astros.
"I scuffled a little bit when I first came up to the Majors [with Miami in 2013], and came over here and got a little confidence and had a little success," he said. "It's still something that's growing. I'm really excited for some of the change I've been able to make and I'm just happy I can run with them."
Brian McTaggart is a reporter for MLB.com and writes an MLBlog, Tag's Lines. Follow @brianmctaggart on Twitter. This story was not subject to the approval of Major League Baseball or its clubs.