Schwarber's hustle draws praise from Maddon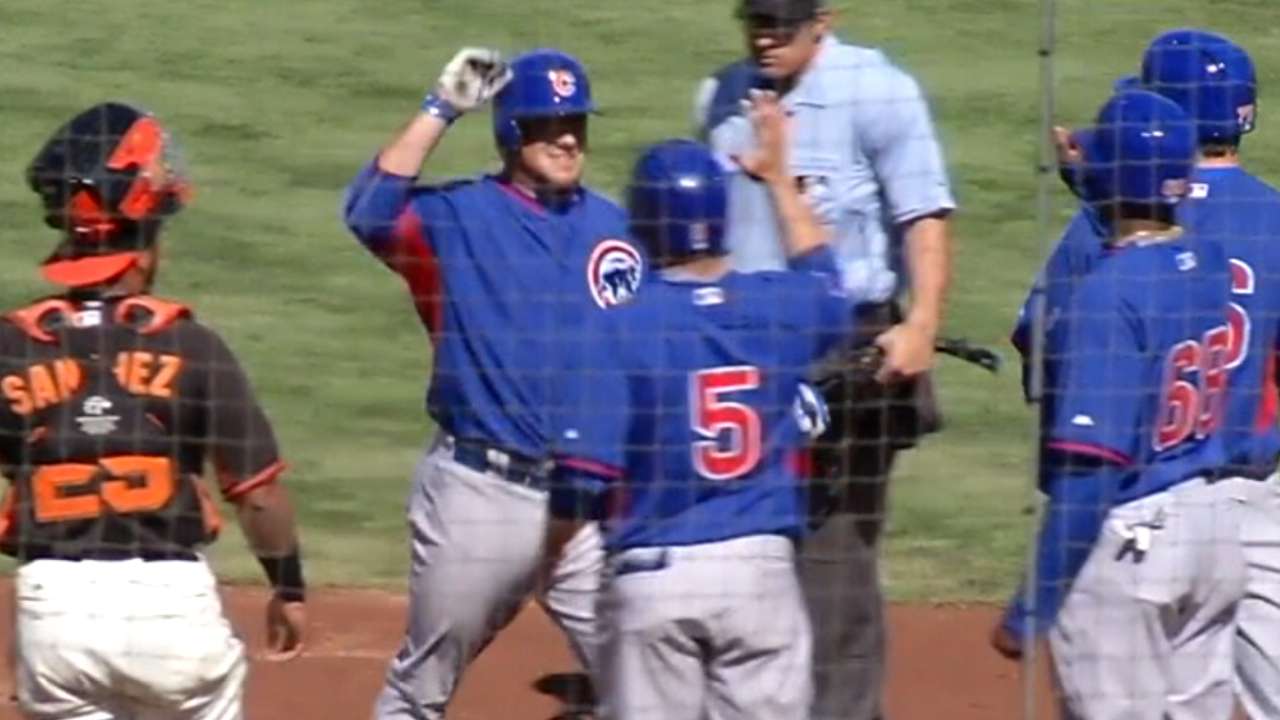 MESA, Ariz. -- The Cubs' Kyle Schwarber is learning how to catch. On Sunday, in the ninth inning during a pinch-hit at-bat, he showed he can run.
The No. 3 overall catching prospect in baseball, per MLB.com, lofted a ball to shallow right-center against the Rangers, and was nearly at second base when the ball was dropped. Schwarber ended up at third on the error.
"That was spectacular," manager Joe Maddon said Monday of Schwarber's baserunning. "Every time he goes up there, he takes a good swing, first of all, then he hits the ball relatively good, just gets underneath it, but doesn't mail it in. The [outfielder] drops the ball and [Schwarber] makes it to third base easily. I'd say most of the time, guys end up on second base, and maybe even second base under duress. He made it to third base easily, and I thought it was spectacular."
Schwarber, who hit a grand slam in his first spring at-bat, which just happened to be on his 22nd birthday, was recruited to play linebacker by some Division I schools.
"I just go out there every day to try to prove people wrong -- that's my mindset," Schwarber said. "No one thinks I can run; I'll run as hard as I can. No one thinks I can catch; I'll catch as hard as I can. I want to be perfect back there."
Worth noting
• Baseball's No. 3 outfielder prospect, Jorge Soler, has not played for two days, but that's part of the Cubs' plan to avoid any of the leg injuries which slowed Soler last season.
• Tsuyoshi Wada was limited to one inning Sunday because of some discomfort in the inner thigh of his left leg. Wada missed time earlier this spring because of a left hamstring problem. The left-hander likely will be held back in drills to give him time to heal.
• In the movie, "Back to the Future, Part II," Michael J. Fox's character travels forward in time to the year 2015 and discovers the Cubs won the World Series. If that does happen this year, an Illinois car museum will give a winner the exhibit model of a 1981 DeLorean.
Maddon was aware of the movie's prediction. He's also a fan of classic cars.
"Interesting car, I remember when it came out," Maddon said. "If it has all the bells and whistles, you definitely want that car."
Carrie Muskat is a reporter for MLB.com. She writes a blog, Muskat Ramblings, and you can follow her on Twitter @CarrieMuskat. This story was not subject to the approval of Major League Baseball or its clubs.