Steverson sees hitters starting to get comfortable
White Sox hitting coach says familiarity will help offense gain confidence
GLENDALE, Ariz. -- The White Sox don't need to play a certain number of Cactus League contests to convince hitting coach Todd Steverson that new additions such as Adam LaRoche, Melky Cabrera and Emilio Bonifacio will fit in the lineup.
"Good hitters are always a fit for me. When you have fewer questions or more answers than questions, I think it's a better thing," Steverson said. "With everybody's history, and this is a history game, so you look at their body of work of what they've done before and you can kind of surmise on what you are going to get, not withstanding someone having a breakout year or maybe having a year that's underneath their history but not too far off.
"If you take everyone's history, of course we are a good team on paper. Games do need to be played. Their chemistry and connection level needs to get there. By the end of Spring Training, once they start playing more games together, we'll get a good idea of what we are going to see."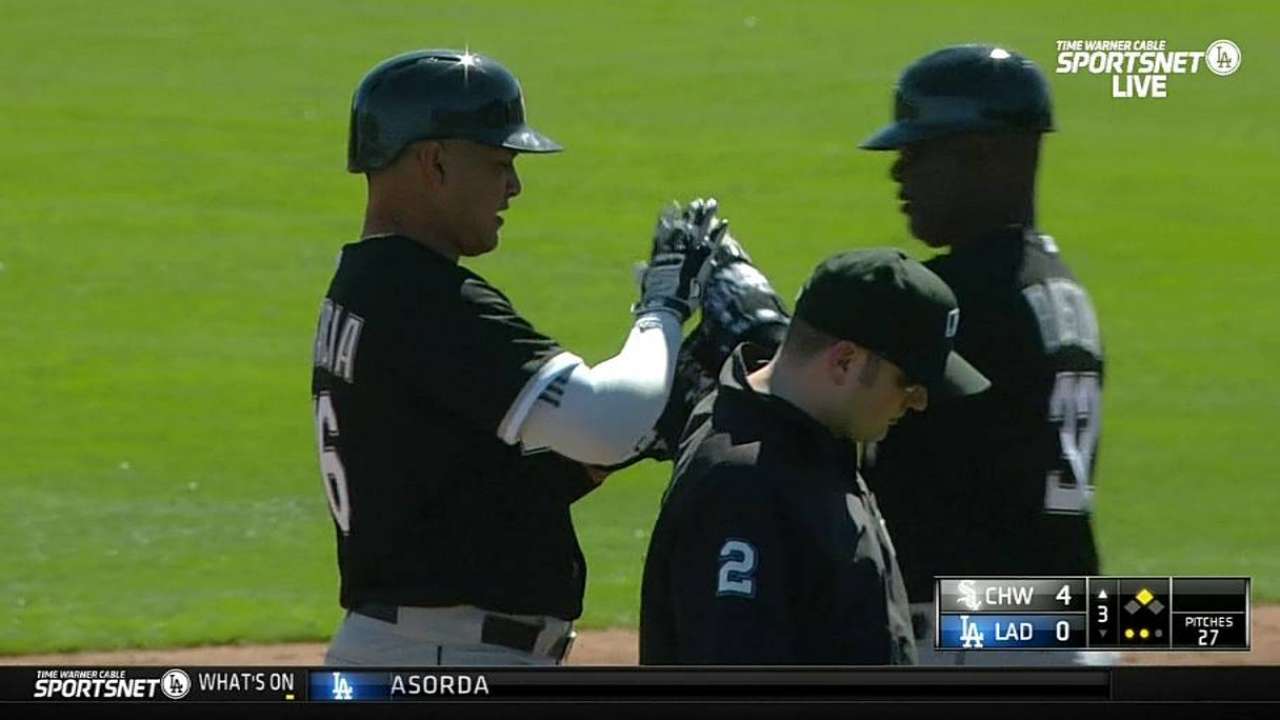 Steverson talked about topics ranging from the quality at-bats being taken by Avisail Garcia to the added element speed brings to the offense to veteran hitters searching for a feel more than results during this stage of Spring Training. He also addressed the more relaxed feeling for Jose Abreu as part of his second Cactus League run.
"Now he knows what's going on. Now going through a Spring Training and now knowing he's only going to get two at-bats and come out when you are used to getting four at-bats," said Steverson. "You have to get your work in somewhere else some days. He kind of embraces that to a point where it's like, all right, I know I got my work in, but I'm not going to kill myself out here right now this early.
"He has that in his mind. At the same time, he's a competitor and he wants all of his at-bats and he wants them all to be quality. The fire is there even when these games don't really go on the back of your baseball card.
"All I want is quality at-bats," Steverson said. "I don't want you to go up there and give them away now. If you give them away now, you didn't learn anything and you are not going to do anything during the season with them."
Scott Merkin is a reporter for MLB.com. Read his blog, Merk's Works, and follow him on Twitter @scottmerkin. This story was not subject to the approval of Major League Baseball or its clubs.