Miller brings muscle to Mariners' shortstop battle
Two-homer game heats up spring competition with Taylor for starting job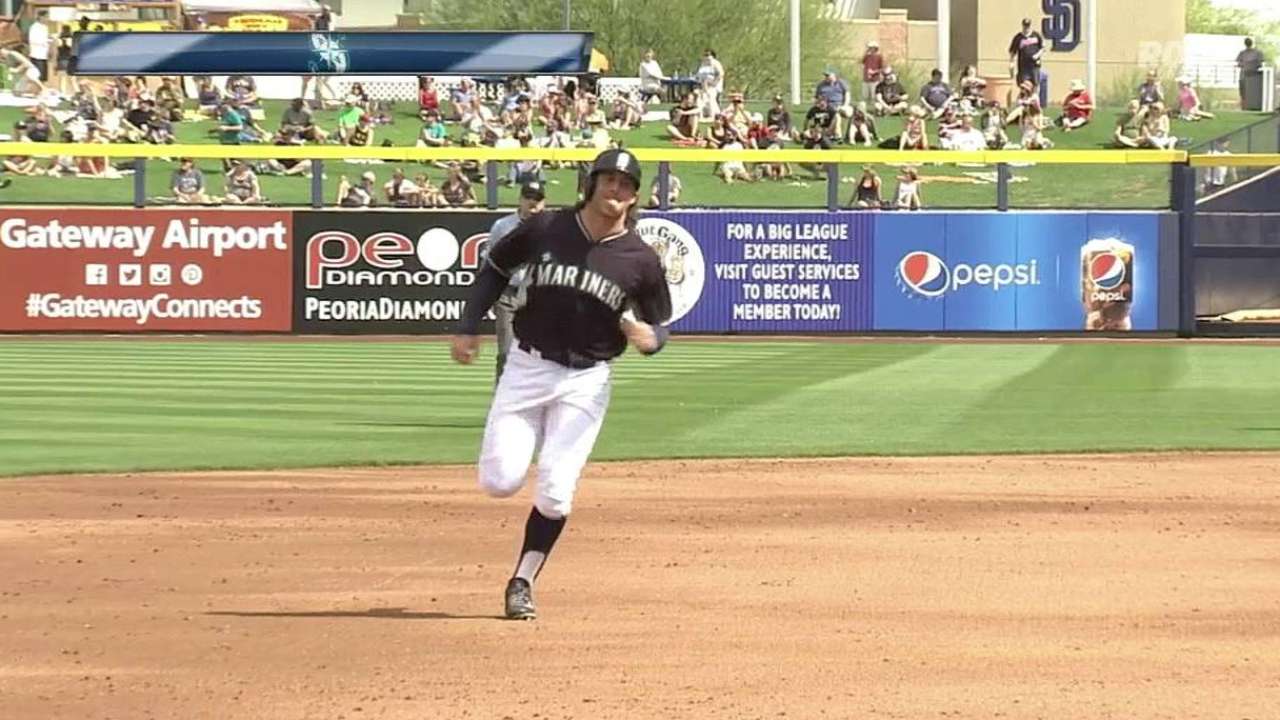 PEORIA, Ariz. -- After young shortstop candidate Chris Taylor homered and tripled on Friday for the Mariners, Brad Miller responded Monday with a pair of long balls in Seattle's 4-3 victory over the Indians.
The two youngsters aren't competing in a home run derby by any means, as the outcome of Seattle's shortstop battle will depend on far more than how many balls get hit over walls in Spring Training. But power potential is one of Miller's strengths, and the 25-year-old put that on display with his two solo shots at Peoria Sports Complex.
Miller has a habit of hitting home runs in pairs -- eight of his first 10 long balls in the big leagues came in four games -- but he's not looking to muscle up in bunches.
"I'll take 'em in any way -- singles, pairs -- whatever," said Miller, who finished with 10 homers last season while splitting time late with the rookie Taylor. "It felt good, honestly, just to play and get in there and take some hacks."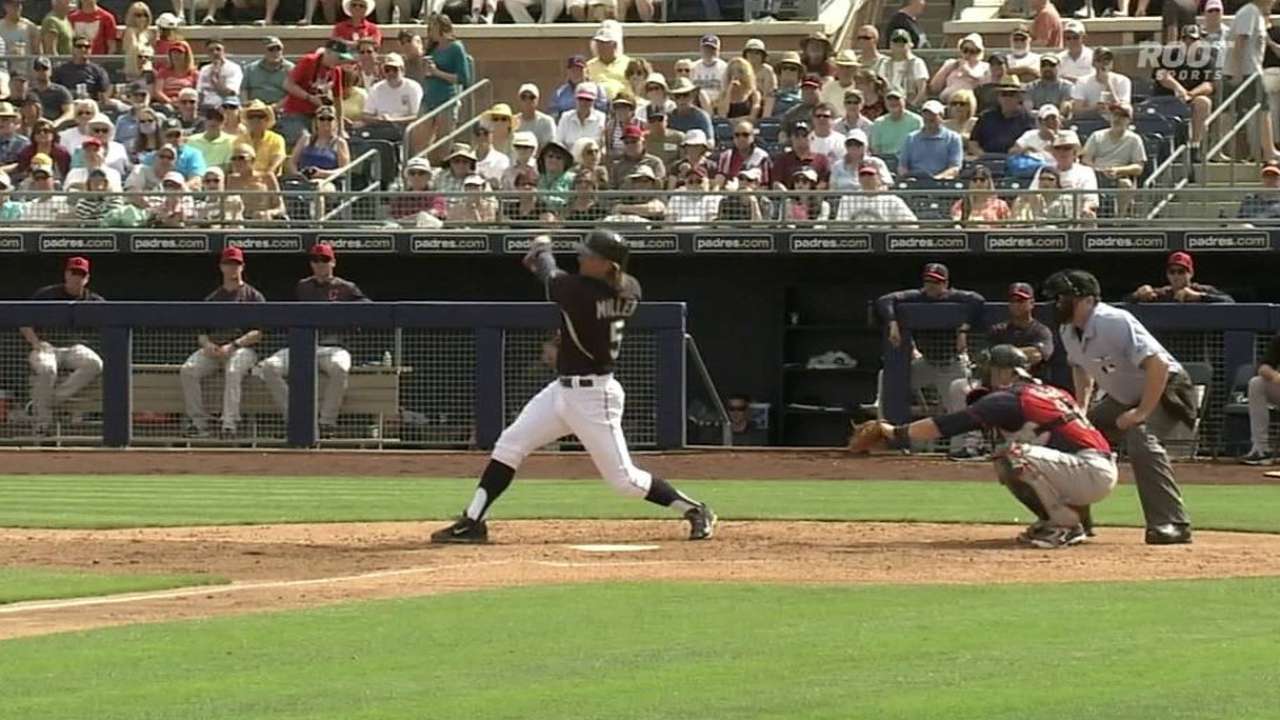 Miller is 4-for-6 in three games with a double, two homers and three RBIs, picking up where he left off last year when his big spring earned him the starting shortstop job over Nick Franklin. Now competing with Taylor, Miller says having been through the same situation before can only help.
"You have to use any experience you have to your advantage if you can," Miller said. "But once you get out there, it really is the same as any other time, or at least you try to make it like any other time. Get out there, have some good at-bats, make the plays when they're hit at you and play hard."
Taylor has kept pace early, going 2-for-2 with a double Monday to put his own spring average at a healthy .455 (5-for-11). He started at second base against the Indians and turned a nice first-inning double play in tandem with Miller. Taylor was filling in for Robinson Cano, who is on personal leave following the death of his grandfather.
Manager Lloyd McClendon said Monday's outing should help ease the pressure Miller might have been feeling early in camp, a situation he said is common for most young players.
"Brad swung the bat very well today," said McClendon. "It was nice to see. Hopefully that will relax him a little bit."
One thing Miller learned last year was to not let himself get into pitcher's counts when possible. If he sees a good pitch early, he's going for it. He turned around a first-pitch changeup from Carlos Carrasco with one out in the third, then launched an 0-2 sinker from Bruce Chen in the fifth.
"If it's in there, I want to get after it," Miller said. "That's sometimes easier said than done, but getting in the box, I want to be 100 percent ready and committed to go. I've learned this is the big leagues and you might only get one [good pitch]. So I'm not waiting around. I'm trying to get after the best pitch I see."
And in the process, making an early statement that he's indeed ready to battle for a starting job once again.
Greg Johns is a reporter for MLB.com. Follow him on Twitter @GregJohnsMLB as well as his Mariners Musings blog. This story was not subject to the approval of Major League Baseball or its clubs.