Crain climbs another step up rehab ladder
White Sox reliever faces hitters, throws 30 pitches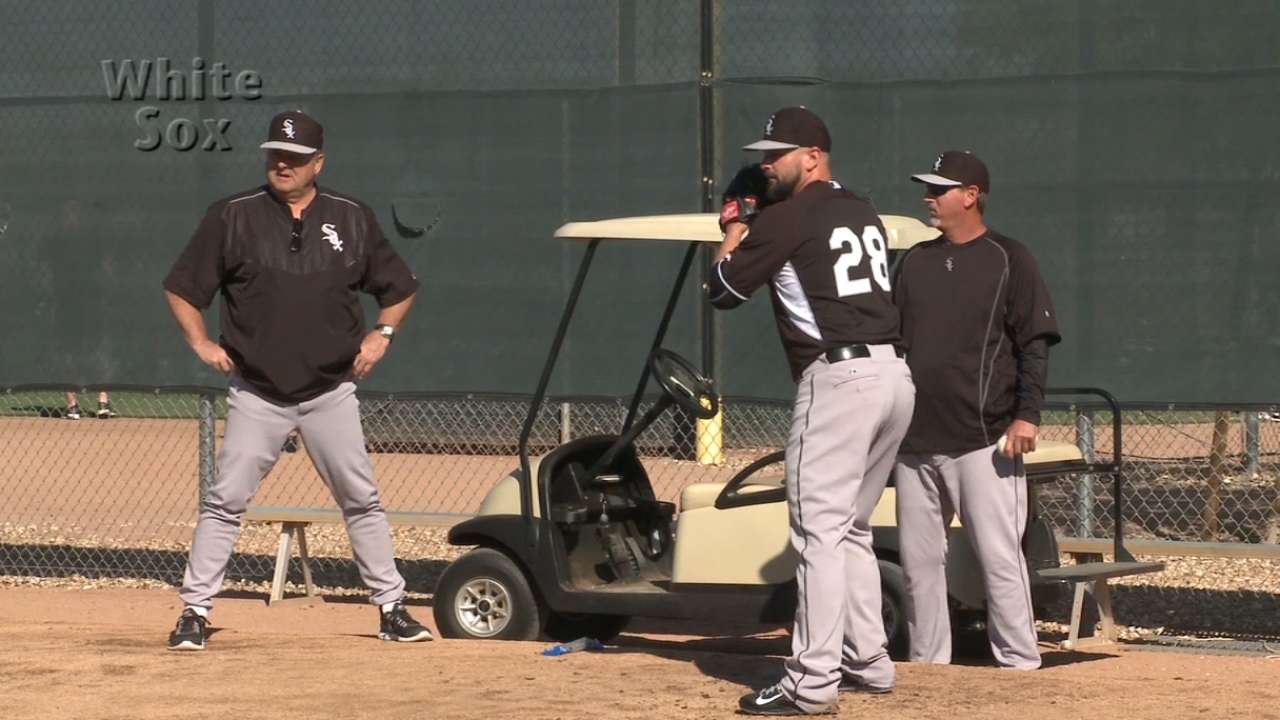 GLENDALE, Ariz. -- Jesse Crain's raw stuff certainly was not an issue during his first Spring Training effort against hitters Monday at Camelback Ranch. A slightly greater difficulty was keeping his emotions under check as he moved into this latest stage of his comeback from shoulder issues.
"As much as you try to stay under control in the bullpen, when there's a hitter in there, you get a little more on it, and as far as mechanics go, I was flying open a little bit," said Crain, who threw 30 pitches. "But that's expected for me, the first time going out and facing hitters. It's been a long time."
"What we had to try to do was calm him down because we don't want him to come in and face hitters for the first time and try to turn it up," said White Sox pitching coach Don Cooper. "He's going really good the way he's been going, which is sidelines, progressing, getting strength back, getting closer and closer to games."
.@JesseCrain threw live BP today. #SoxSpringTraining pic.twitter.com/UX2QQrY6Ys

- Chicago White Sox (@whitesox) March 9, 2015
The analogy used by Cooper to describe Crain's progress was climbing a ladder. If Crain climbs too quickly, he might miss a step and fall back to the bottom.
Even with that cautious approach, Cooper, general manager Rick Hahn and manager Robin Ventura all had to like what they saw from Crain in what he described as the most he "let the ball go, for sure." The right-hander will take Tuesday off and then will throw another live bullpen session on Wednesday or Thursday.
Getting into a game seems more and more likely for Crain, meaning having a chance to break camp with the White Sox moves from an outside shot to a slightly more realistic possibility. Remember, this is the hurler who dominated for the White Sox in 2013 after pitching just four preseason games because of an adductor strain.
"We're encouraged by his strength, and the velocity is getting there," Ventura said. "I don't think he thinks he's 100 percent. He's feeling pretty good about where he's at and where he's potentially going. He is in the picture for us at some point, but we're gonna have to wait and see how healthy he is when we get to the end of camp."
"It's still not to the point where I don't think about my shoulder at all," Crain said. "That's just going to take time. I think by the next BP or the one after that, that'll not be an issue at all. Another step forward and hopefully another climb the next time I do it."
Scott Merkin is a reporter for MLB.com. Read his blog, Merk's Works, and follow him on Twitter @scottmerkin. This story was not subject to the approval of Major League Baseball or its clubs.