Carrasco confident for season after spring debut
Right-hander works 3 innings vs. Mariners, says he's ready to build on breakthrough year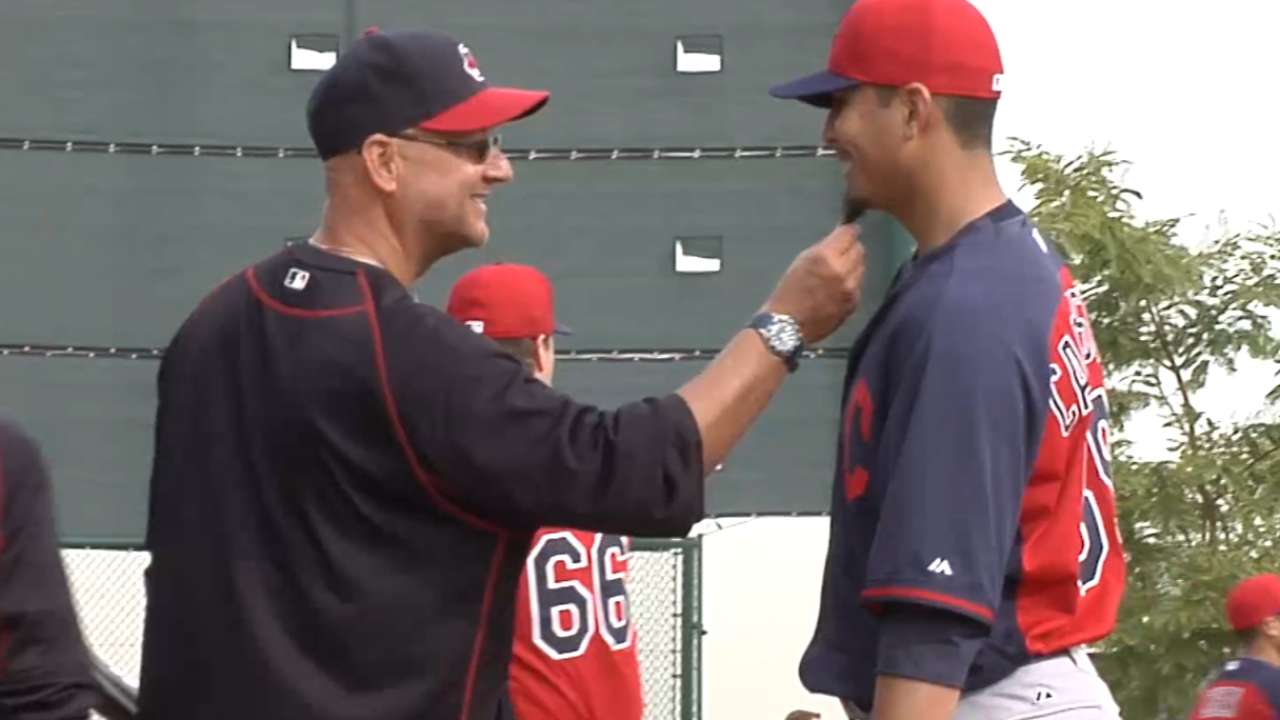 PEORIA, Ariz. -- Last year, Carlos Carrasco discovered the confidence to match his stellar stuff and carried both through a dominant finish to the regular season in the Indians' rotation. It looks as though he brought all that with him to Spring Training this year.
Carrasco showed in his first Cactus League outing that he plans on continuing the run he started the last two months of 2014. Although he gave up a home run to the Mariners' Brad Miller, Carrasco allowed only one other hit while throwing 23 of 32 pitches for strikes in three innings at Peoria Sports Complex.
Most of all, he came out of it knowing that his mentality is right to ride the momentum he gained in his last 10 starts of 2014, going 5-3 with a 1.30 ERA to finally establish his high-end talent.
"I feel aggressive and I attack the hitter, and that's what I learned last year," Carrasco said. "I learned that from [Corey] Kluber last year. Every time he pitched, I watched everything he did. That's something I wanted to bring to Spring Training, and I found out today that it's there."
It took a few months in the bullpen to get Carrasco in the right place, and his success there translated to success in the rotation once the Indians put him back into a starting role. Carrasco said it was a good thing he went to the bullpen, because he asked a lot of questions and got himself ready for every inning, every pitch.
Along the way, he found a sense of confidence that Indians manager Terry Francona says has the right-hander "more comfortable in his skin, more comfortable in the clubhouse" and generally in a much better place than ever before.
"To be really honest with you, he should be confident," Francona said. "I mean, he throws 97, 98 mph, he's got a good changeup and a really good breaking ball. He commands the ball pretty [darn] well. I'd be confident, too."
Carrasco, who turns 28 on March 21, said he's putting work into his changeup and his slider this spring. It was a changeup that Miller turned around, Carrasco saying the ball floated over the plate a bit. But after allowing a single up the middle to Chris Taylor, Carrasco settled down to get the last two outs of his start.
With that on the heels of a breakthrough season and a hard winter's work, Carrasco remains on track to keep a good thing going.
"Finally, I figured it out last year in 2014, and hopefully I continue to do that this year and next year, too, and for the rest of my career," Carrasco said.
John Schlegel is a national reporter for MLB.com. You can follow him on Twitter @JohnSchlegelMLB. This story was not subject to the approval of Major League Baseball or its clubs.