Tomlin taking few days off to rest achy shoulder
Indians opt to play it safe with right-hander competing for rotation spot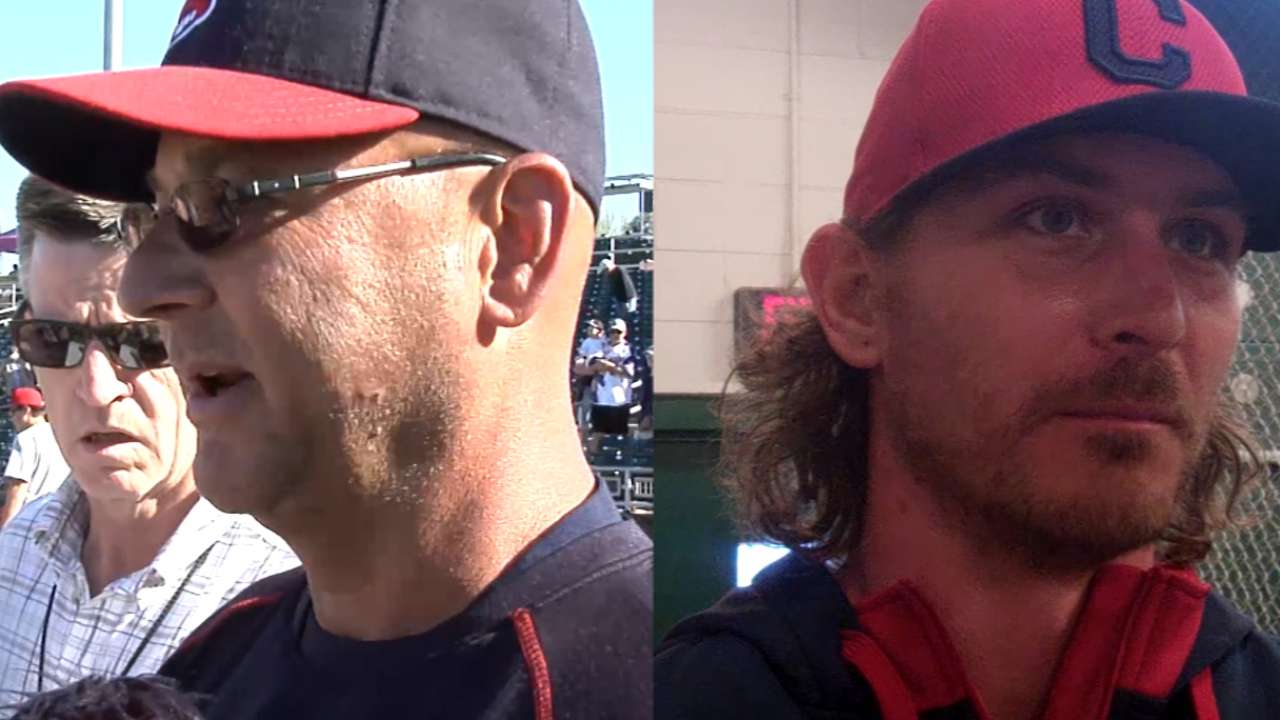 GOODYEAR, Ariz. -- It's a fine line that a pitcher competing for a spot in a Major League rotation needs to walk when something physical crops up in Spring Training, and the Indians' Josh Tomlin is walking that line as he takes a few days to rest a "cranky" right shoulder.
"It's kind of tough, but in the grand scheme of things, I'd rather be good for the whole season as opposed to trying to deal with this crankiness for the course of the season," Tomlin said Monday.
That's pretty much the approach Indians manager Terry Francona is taking after Tomlin, 30, was scratched from Sunday's game. An ultrasound showed inflammation around the bursa sac on the AC joint in Tomlin's shoulder, so Francona and the medical staff focused on the bigger picture.
"I just think it makes sense now, as opposed to maybe when he gets stretched out to six innings, to take a blow, because this is something we can knock out and then he's good to go," Francona said.
At the same time, Francona knows it's not easy for Tomlin or any other player to take that pause and give things time when there's so much at stake, namely a spot in the rotation.
"It's very tough, it is, and we recognize that," Francona said. "Josh's toughness has never come into question. We have a responsibility to know these guys, and for a while now we've been watching him and something was nagging at him. He finally 'fessed up a little bit."
Tomlin, who made 16 starts among his 25 appearances for the Indians last year, entered camp one of several candidates for the No. 5 starter role. He doesn't have a set day when he'll resume throwing, but it's expected to be after two or three days.
John Schlegel is a national reporter for MLB.com. You can follow him on Twitter @JohnSchlegelMLB. This story was not subject to the approval of Major League Baseball or its clubs.