Craig in line for reserve role with Red Sox
Finding playing time for right-handed hitter will be a challenge for manager Farrell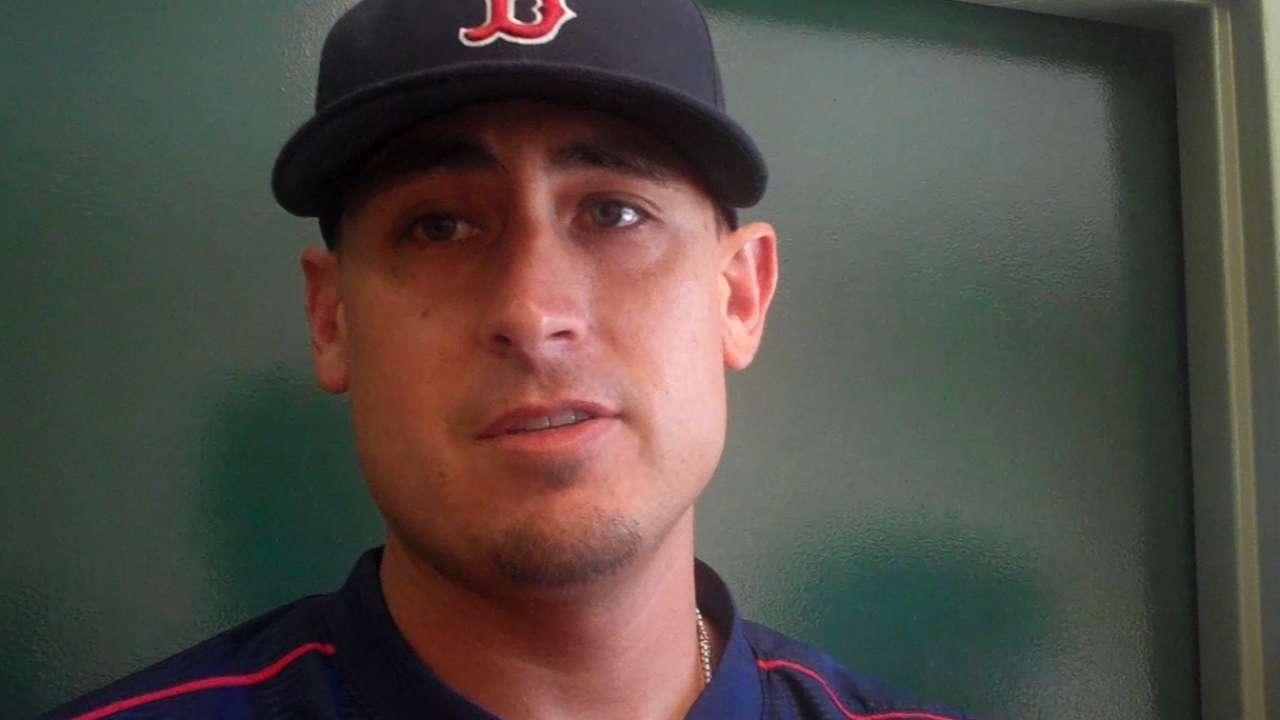 JUPITER, Fla. -- It is easy for Red Sox manager John Farrell to get Allen Craig playing time this point of Spring Training. Take for example Monday, when the veteran took a lengthy bus ride across the state to face his old team while regulars stayed home and rest.
Fast forward a few weeks from now, and finding a way to keep Craig involved will be one of the toughest parts of Farrell's job.
That is, unless a trade happens.
"We fully expect him to be on this team," said Farrell. "There's nothing to expect otherwise. He's the one in particular that we just said, 'Let's get the appropriate number of at-bats that Spring Training would provide,' and we'll go from there. His attitude has been great. He understands the situation that he's in. He understands that, coming off last year, we had to make decisions to improve the team, and he's got to compete for at-bats. He's more than willing to embrace that."
But if everyone gets though camp healthy, and Craig (0-for-4 against the Cardinals) indeed winds up on the depth chart as a bench player, it could be a strange feeling for a right-handed hitter who was one of the most productive in the National League not so long ago.
"It'll be an adjustment -- how difficult remains to be seen," said Farrell. "He's been accustomed to being an everyday player."
Give Craig credit for this: He continues to say all the right things, and hasn't expressed the slightest bit of displeasure about his uncertain role.
"I think time will tell," Craig said. "Obviously, things need to play out a little bit. I'm just focusing on taking it one day at a time, having good at-bats and just playing the game, being a good teammate. Things will take care of themselves."
With Craig's versatility, Farrell can at least mix and match him from the outfield to first base to designated hitter.
But Boston's three starting outfielders all hit right-handed, and so, too, does first baseman Mike Napoli. Craig could be a fit to give David Ortiz a rest against a tough lefty, but how often will Ortiz be out of Boston's lineup?
"Allen is aware that he's in a role that will be similar to what we had him in last year, which will move him around the field with some versatility," said Farrell. "That's why we asked Allen to focus on Spring Training, get things right and see how things evolve from there."
Last year was by far the worst of Craig's career, as he hit .215 with eight homers, 46 RBIs and a .594 OPS.
Given that Craig is 30 years old, and doesn't cost a lot (an aggregate $25.5 million due over the next three seasons) given his potential productivity, it would be foolish to give up on him now.
"You know, again, we've always felt that despite what he went through last year, there's a productive hitter here, one that's got a proven track record," said Farrell. "Timing is better. He's in good shape. The foot issue is behind him. We expect him to regain his ability to hit, or [regain] the levels he hit to previously."
Ian Browne is a reporter for MLB.com. Read his blog, Brownie Points, and follow him on Twitter @IanMBrowne. This story was not subject to the approval of Major League Baseball or its clubs.