Thompson focusing on each AB
Prospect acknowledges lack of concentration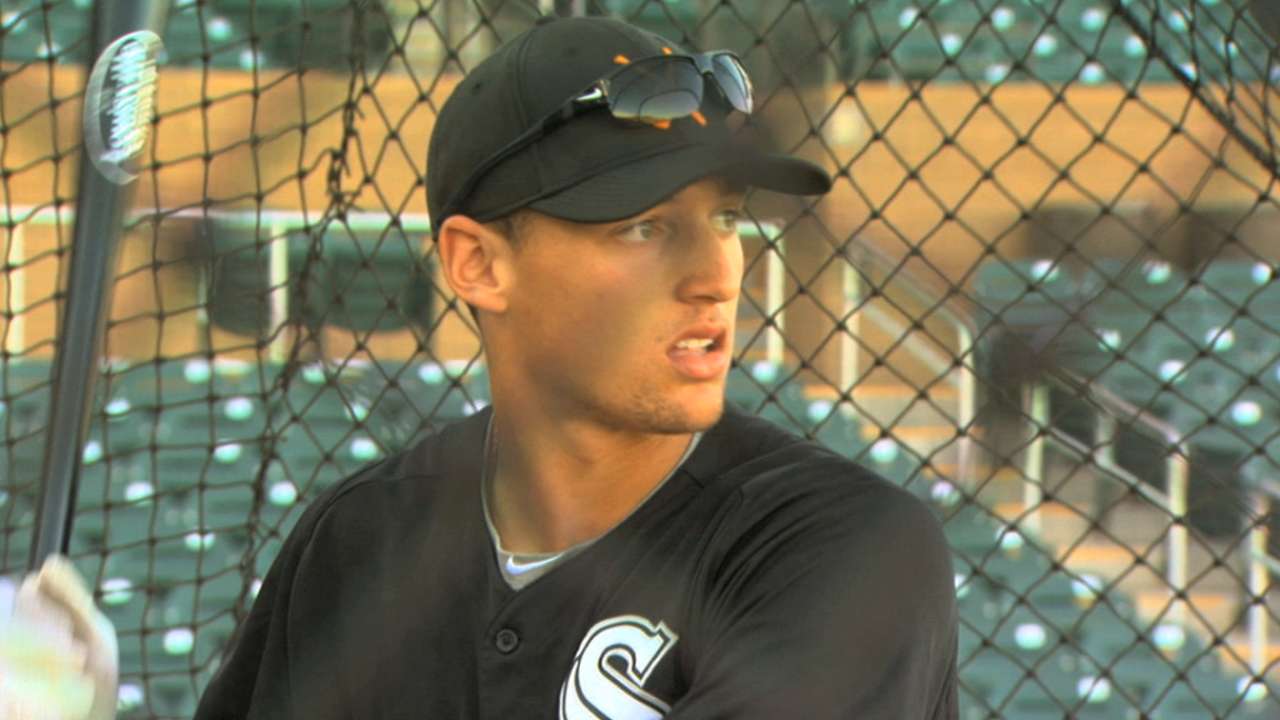 GLENDALE, Ariz. -- Two years ago, Trayce Thompson stood as one of the top prospects in the White Sox system. By Thompson's own admission, he has kind of "stalled out" a little bit since that point.
"This year, I know they've gotten rid of a few guys. They showed some faith in me leaving me on the roster and they believe in my talents," Thompson said. "I know a lot of the guys have my back and I want to prove them right as much as anybody.
"I'm out here to play. I don't know where I stand with [general manager] Rick [Hahn] or [White Sox manager] Robin [Ventura] or any of those guys. I know what I'm capable of. I know that they do, too."
After being selected in the second round of the 2009 First-Year Player Draft, Thompson arrived at Double-A Birmingham during the 2013 season. He hit .229 with 15 homers, 73 RBIs, 25 stolen bases and 139 strikeouts. In '14, Thompson hit .237 with 34 doubles, 16 homers, 20 stolen bases and 59 RBIs to go with his 151 strikeouts for the Barons.
One of the problems for Thompson, an affable young man who turns 24 on Sunday, is that he gives away too many at-bats. It's a problem Thompson is trying to rectify, even noticing that temporary lapse of focus costing him strokes while playing golf.
"It's hard when we are playing in Huntsville, Ala., and four fans are there," said Thompson with a smile. "I'm not using that as an excuse, but I'll find myself in a game 0-for-2 and it will feel like my first two at-bats happened in two minutes. That's a quick 0-for-2. I need to bear down every single pitch, every single at-bat more. That's definitely a goal of mine this season, to not give away one single at-bat."
"He's much better when the game is on the line, when there's a guy at second, something specific," said White Sox assistant general manager Buddy Bell. "To really put a good year together and a good career together, you can't give up any at-bats. But he can play defense. He's a great kid, plays hard. We still like him."
Thompson's athletic family lineage is well-known, with his brother, Klay, in Phoenix with the Golden State Warriors on Monday night. Trayce is trying to be his family's fourth member to play at sports' highest level, but the first in baseball. The South Siders' No. 14 prospect, according to MLB.com, takes his next step probably to Triple-A Charlotte, but the mindset begins now with every Cactus League at-bat or inning in the field.
Scott Merkin is a reporter for MLB.com. Read his blog, Merk's Works, and follow him on Twitter @scottmerkin. This story was not subject to the approval of Major League Baseball or its clubs.