MLB.com Columnist
Phil Rogers
Kang's power potential among compelling spring storylines
Pirates shortstop joined by switch-pitcher Venditte, new Rays skipper Cash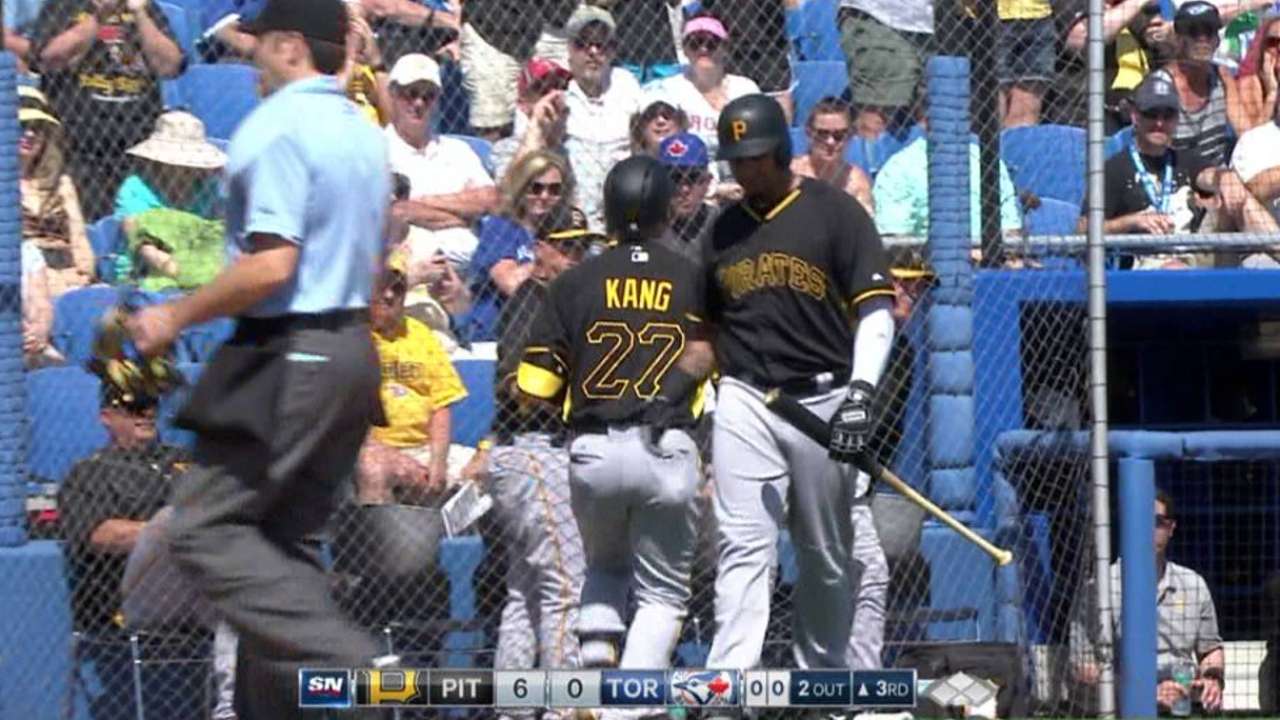 TAMPA, Fla. -- Jung Ho Kang hit 40 regular-season home runs for the Nexen Heroes last season, delighting crowds around the Korean Baseball Organization.
Kang hit all kinds of home runs. He hit liners to center field. Massive shots pulled deep into the left-field seats. Even excuse-me homers that snuck just inside the right-field foul pole. And, as a bonus, when he crossed home plate after many of them, he was given a small stuffed animal by a girl representing the Heroes.
We don't know yet if that tradition is going to continue in Pittsburgh. But entering the first full week of the spring schedule, it can be said firmly that the Pirates made a smart bet when they committed $16 million to Kang, including the $5 million posting fee.
Kang is off to a fast start in North America. He homered off Toronto's Marco Estrada in the Pirates' Grapefruit League opener and has since added a double, going 2-for-6 in his first three games. It's too early to read too much into the success, but it's significant that he's not getting blown away, as a 1/1 walk-strikeout ratio demonstrates.
Pittsburgh has twice gone to the playoffs with Jordy Mercer and the since-departed Clint Barmes playing shortstop. It won't be easy for Kang to claim a starting spot this spring, whether at short or somewhere else, but you don't want to take your eyes off him.
After all, here's the list of shortstops who have posted a 25-plus homer season in the past six years: Ian Desmond, J.J. Hardy and Troy Tulowitzki.
Nobody did it last year, when Desmond led shortstops with 24.
So what if a team that was already one of the best in the National League has added a shortstop with best-at-the-position power? How exciting would that be? That's a perfect question for March.
Here are other storylines to watch as Spring Training moves into its first full week of games:
• Long discounted by the Yankees, Pat Venditte is making an impression with the Athletics. This is big news because the reliever is, to quote the great Randy Ready, "amphibious.'' He meant ambidextrous, of course, when he spoke about Padres teammate Greg Harris, a right-hander who for fun worked out left-handed. Harris made one career appearance as a southpaw, the next-to-last game of his career. There hasn't been a serious switch-pitcher since the 19th century, but Venditte has thrown from both sides his whole career. He retired hitters on consecutive days last week, facing the Giants and the Cubs. If he can continue to be successful, he'll at least be making himself an option for a midseason promotion, if not a serious candidate for the Opening Day roster.
• How would you like to be the one to succeed Joe Maddon as a manager? It's amazing that anyone even applied for the job, but Kevin Cash is making a strong early impression with the Rays. Maddon and Andrew Friedman hardly left the cupboard bare, but the rotation is still the strength for Tampa Bay. The challenge is to produce enough runs to be dangerous. Outfielders Steven Souza Jr. and Boog Powell, along with shortstop Daniel Robertson, are key building pieces who will be watched closely. But no one will be watched more closely than Cash, given that he's replacing a local legend.
• It's the Royals' world, and we all just live in it. The team that ran its way to the World Series was last in the American League in home runs in 2014. But Ned Yost's team has come out swinging this spring, using the long ball as a big part of its 5-0 start. Eric Hosmer looks like a guy who could hit 30-plus, Kendrys Morales seems to be a nice replacement for Billy Butler and Alex Rios is a clear upgrade over Nori Aoki in right field. Rios hit three home runs and drove in seven runs in his first 12 at-bats this spring. But the player who is opening the most eyes in Surprise, Ariz., is 19-year-old shortstop Raul Mondesi, who comes equipped with the Jose Reyes starter kit.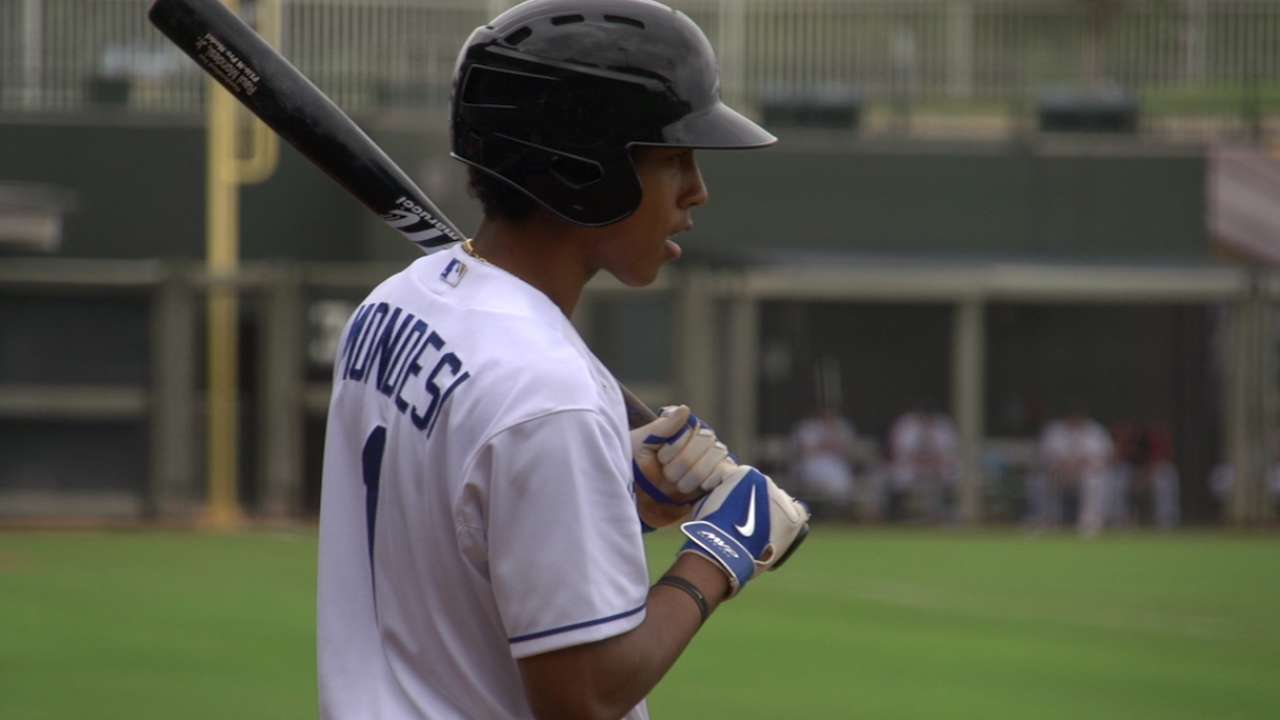 • While Rangers fans ask why Yu Darvish didn't just have Tommy John surgery last fall, Masahiro Tanaka is taking quiet steps back toward the Yankees' rotation. Tanaka faced the same sort of elbow questions as Darvish, and rest is always the first option to repair an elbow. Tanaka has been fine this spring, and he will make his Grapefruit League debut on Thursday against the Braves. CC Sabathia is likewise off to a promising start to his spring. If those two guys are effective, the Yankees have a chance to enter the post-Derek Jeter era highly relevant.
• Newcomers Josh Donaldson and Russell Martin command attention at Blue Jays camp, but rookie Dalton Pompey represents one of the most compelling stories anywhere. He's trying to step right into the lineup of his hometown team after getting his first 317 plate appearances of 2014 at Class A Advanced Dunedin. Pompey split the next 183 between Double-A New Hampshire and Triple-A Buffalo, and then was thrown into the fire with the Blue Jays in September. He's a switch-hitter with plus speed and fielding skills, and he doesn't back down. Just ask Felix Hernandez, who gave up his first home run.
• Few teams have a junior varsity rotation like the Red Sox. While veterans like Clay Buchholz, Joe Kelly and Rick Porcello are watched closely to see who will emerge as the staff ace, prospects Eduardo Rodriguez, Matt Barnes, Henry Owens, Brian Johnson and Edwin Escobar are drawing raves from scouts and the Red Sox's internal evaluators. You can certainly see why Ben Cherington felt OK in dealing quality arms like Anthony Ranaudo, Rubby De La Rosa and Allen Webster.
• Jim Johnson's sinker is back, which is good news for the Braves. John Hart took a $1.6 million gamble on Johnson, whose sinker flattened out after he had back-to-back 50-save seasons with the Orioles in 2012 and '13. Johnson could join fellow newcomer Jason Grilli in setting up closer Craig Kimbrel -- unless somebody makes Hart an offer he can't refuse for baseball's best closer.
• If you've got a chance to watch the Cubs, take it. You'll see some of the most fascinating young players in baseball, led by third baseman Kris Bryant, shortstop Addison Russell and Kyle Schwarber, the 2014 first-round Draft pick whose advance to Wrigley Field could be slowed by the team's belief that he has a future at catcher, not in the outfield. Albert Almora and Billy McKinney, also first-round picks, are off to strong starts this spring. Then there are the guys who made their Major League debuts last year: right fielder Jorge Soler, second baseman Javier Baez and utility man Arismendy Alcantara. Baez started his spring 0-for-8 with four strikeouts, continuing concern about his billion mph swing.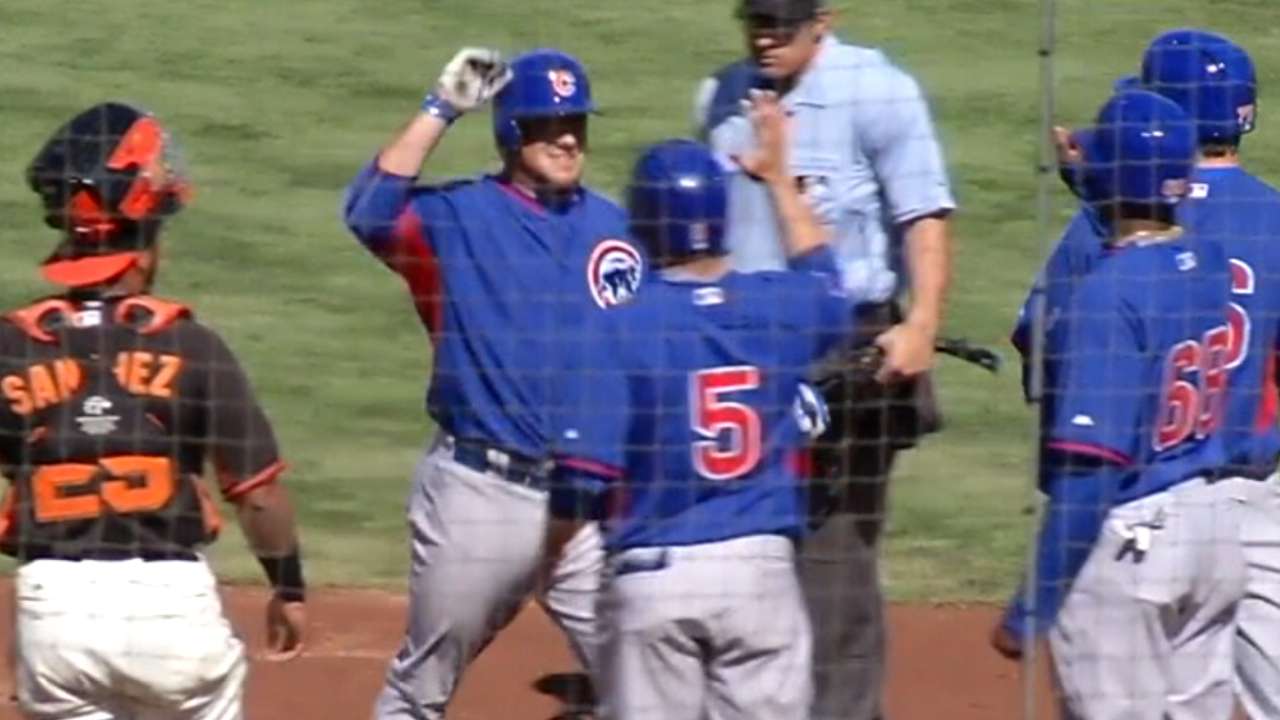 • One thing the Rockies have never really had is a homegrown ace. Ubaldo Jimenez was on track before his slide, but that's about as close as they've come. Jon Gray, whom the Cubs bypassed to take Bryant with the second overall pick in the 2013 First-Year Player Draft, is on track. He struck out five in two innings in his Cactus League debut, sparking the imagination. It seems doubtful that the Rockies would bring him straight from Double-A to the big leagues, but Tulowitzki and Carlos Gonzalez are both healthy, so why not put the pedal to the metal? It's March, the sun in shining in Florida and Arizona, and the living is easy.
Phil Rogers is a columnist for MLB.com. This story was not subject to the approval of Major League Baseball or its clubs.