Moreland's recovery, rehab validated with one swing
Slugger feels joy again with homer off Cubs' Arrieta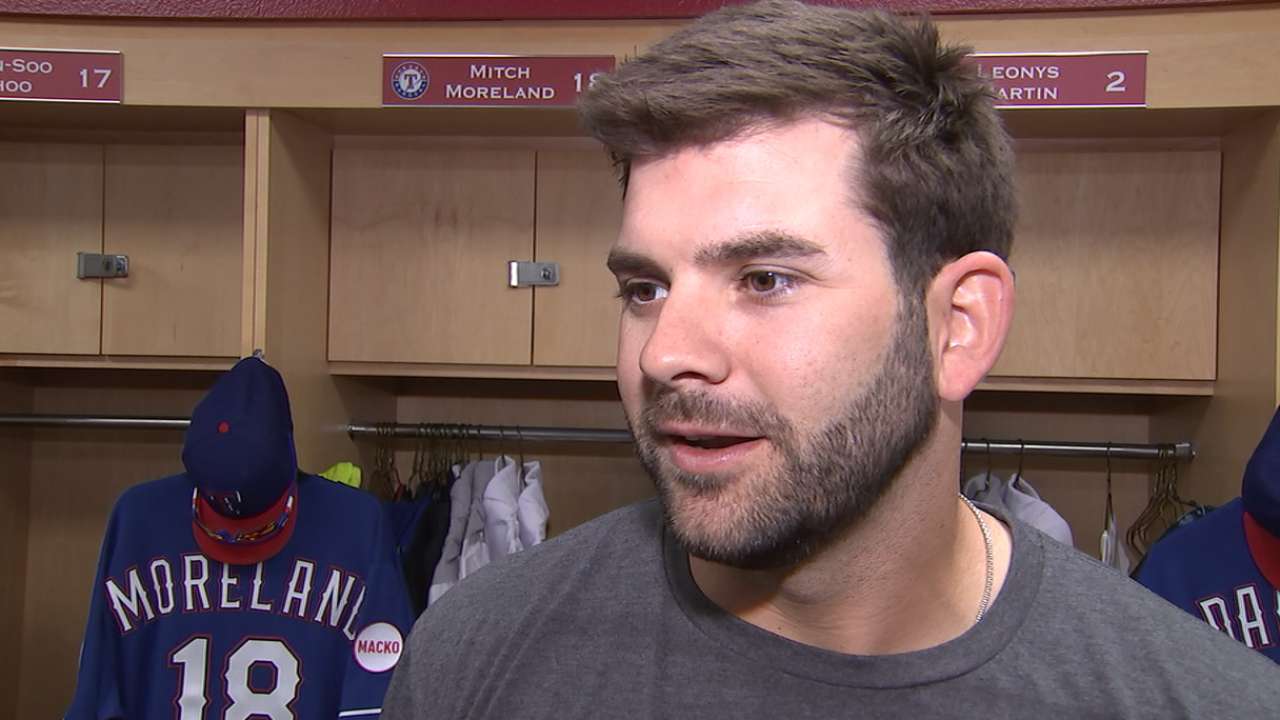 SURPRISE, Ariz. -- For Mitch Moreland, the months of rehab from left ankle surgery last June were validated with one swing on Sunday afternoon.
In his first at-bat of Spring Training, Moreland homered against the Cubs' Jake Arrieta. The game may not count in the standings, but the result was still a long time coming for Moreland, who hopes the power display is a sign of things to come.
"It's something I've been waiting on for a while," Moreland said. "I was ready to get back out there and get in the game, and I had a blast with it. It was really a good time."
Moreland, who hit .246/.297/.347 in 52 games last season before the injury, was not in the starting lineup Monday against the A's. He stressed that the most important outcome from Sunday was that his health is intact and that he feels confident in the ankle.
"I felt great," Moreland said. "It's good to have results, but at the same time, we're out here to get our work in and get ready for the season. I felt yesterday was a great first day and something to build on."
Rangers Manager Jeff Banister said a quick start for Moreland was just what the doctor ordered.
"Any time you spend some time [injured], there are some questions," Banister said. "These guys are human beings. They still have a thought, they still have concerns for themselves. The confidence -- you could see it after the home run."
Moreland was just one of a slew of Rangers hitters to battle injury problems during the 2014 season. Texas badly missed his power potential (he hit 23 home runs in 2013) as the club finished 14th in the American League in homers and 13th in slugging.
Moreland insists the offense isn't out to prove anything. He says as long as they've got health on their side, the pieces are already in place.
"We're pretty dynamic," Moreland said. "We've got some guys that can run the bases really well and really press that issue, and we've got some guys that can really drive the ball."
"The sky's the limit for us," Moreland continued. "If we can stay healthy and go out and do what we're capable of, it could be a fun year."
AJ Cassavell is a reporter for MLB.com. Follow him on Twitter @ajcassavell. This story was not subject to the approval of Major League Baseball or its clubs.