Butera brings veteran presence to Angels' roster
Likely backup catcher got to work early to get acquainted with pitching staff
TEMPE, Ariz. -- This isn't the first time Drew Butera has had to walk into a new clubhouse and become acquainted with a new team, tasked with learning the various strengths and tendencies of an entire staff of pitchers. But this spring with the Angels is different.
Just the very fact that it is Spring Training, as opposed to the middle of the season like it was when he was traded to the Dodgers from the Twins in July 2010, makes a world of difference for the 31-year-old catcher.
Already, Butera has gotten right to work with the catchers in camp under the guidance of a former catcher in manager Mike Scioscia, and he has been able to receive pitches from pretty much every pitcher he might work with during the regular season.
"It makes it easier, because you get to get a feel for them in a more relaxed environment and you can talk to them a little bit," Butera said. "As they're building up to their strengths, you can see what makes them tick and how they like to work."
Likewise, the Angels are seeing what makes Butera tick, and they like what they see. Obviously, they knew something of the backup backstop for the Twins and Dodgers based on five seasons in the Majors, but seeing how he goes about his business is a different matter.
"He puts the effort you want to see from a catcher to understand pitchers," Scioscia said. "That pitcher-catcher communication is really the most important thing you have going on your team, and he's really good at that. He's just a really good defensive player, everything from receiving the ball, blocking and the way he throws. That's a presence you want there for your staff."
Of course, the Angels already have a player like that on their team in Chris Iannetta, but Butera adds a veteran element to the rest of the catching corps, which also includes Carlos Perez and Jett Bandy from the 40-man roster and three non-roster invitees.
For Iannetta, much like Scioscia, Butera's reputation preceded him.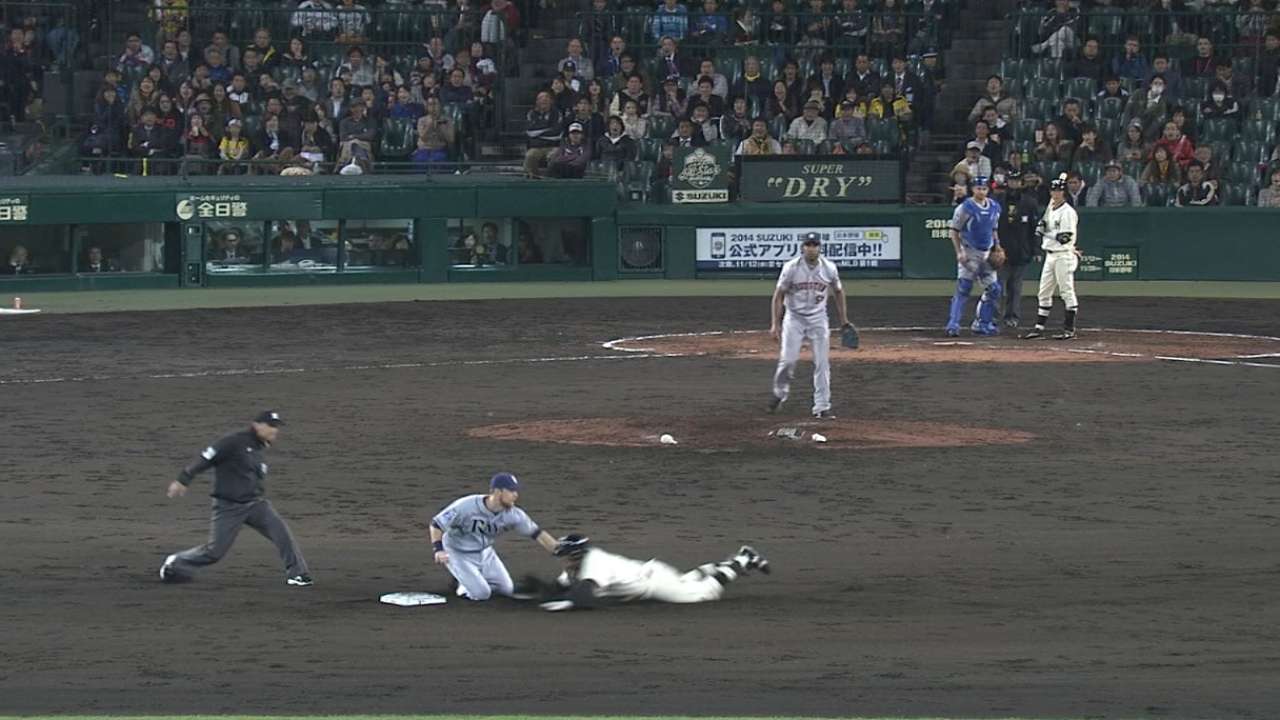 "Everything that I'd seen when I played against him and everything that I'd read and heard has come to fruition," Iannetta said. "He's a great defender and he can swing it when he gets the opportunity. When he's playing in a backup role, he can still handle the bat -- hit and run, put the ball in play, advance runners and get some hits, too."
Traded to the Angels for Minor League outfielder Matt Long in December, Butera brings a career .183 average and just eight homers in 667 Major League at-bats -- but most of that time has come in backup and fill-in roles. Besides, it's really his defensive abilities that have him likely slated as Iannetta's backup heading into the regular season.
Butera made his second appearance in Cactus League action Sunday, sending a ball to the warning track in his first at-bat, and guiding second-year starter Matt Shoemaker through a start that was interrupted before the first pitch by a swarm of bees that invaded the field.
Perhaps that last part isn't necessarily part of the job description for a catcher, but Butera is working on every aspect of his game as he settles in for his first spring with the Angels.
"I just want to play the game I'm able to play," said Butera, who was 0-for-4 on the spring entering Monday. "I don't want to do too much. I want to build relationships with the pitching staff and continue to work on things that I'm good at and the things I need to work on. I'm a defensive-minded player, and that's what's kept me around."
John Schlegel is a national reporter for MLB.com. You can follow him on Twitter @JohnSchlegelMLB. This story was not subject to the approval of Major League Baseball or its clubs.