Mariners sign Correia to Minors deal with camp invite
Veteran righty adds depth to club that already has seven pitchers competing for rotation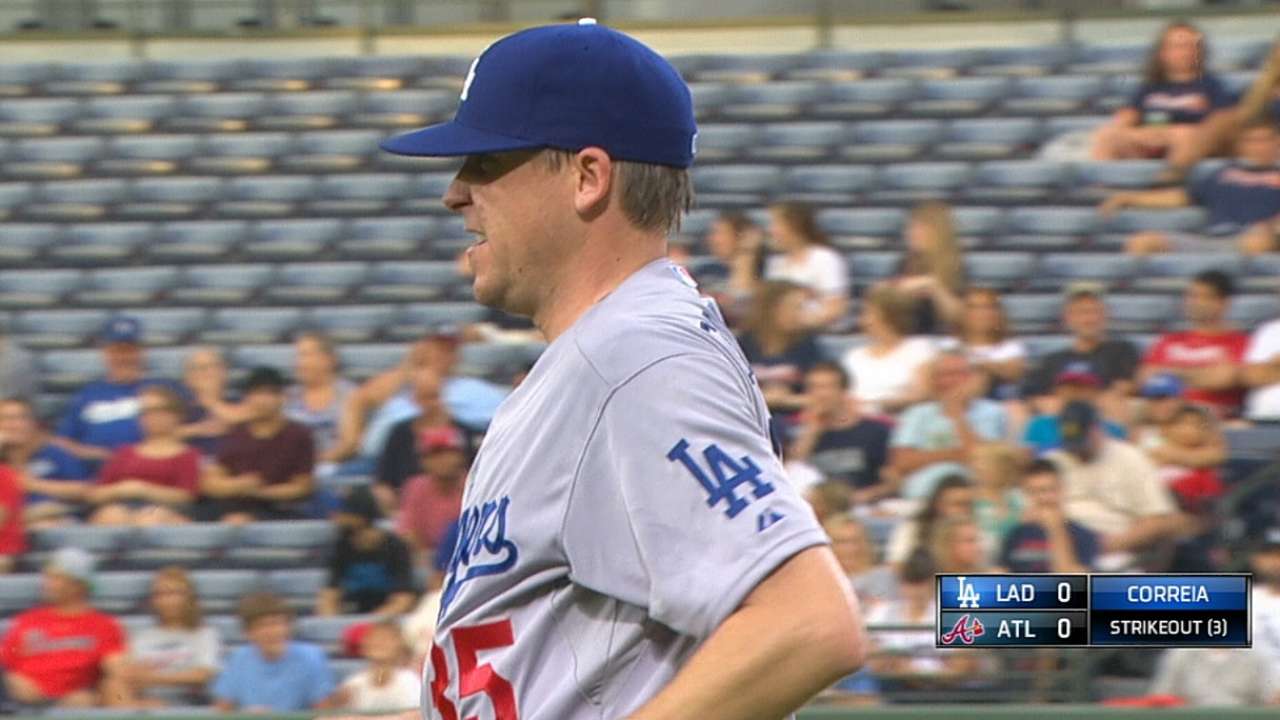 PEORIA, Ariz. -- Veteran right-hander Kevin Correia signed a Minor League deal with the Mariners and joined the team's Major League camp on Monday as a non-roster invitee.
Correia said he signed with the intent of competing for a rotation berth and has been working out at his home in San Diego.
"It was a quick process. I just signed the papers today, so we haven't really got into too much of it, but I'm here to try to be a starting pitcher," Correia said. "No matter where I go, that's what I'm trying to do. So I'm just getting a game plan going to see the best way to be ready for the start of the season."
Correia, 34, has made 353 career appearances in 12 seasons with the Giants, Padres, Pirates, Twins and Dodgers. He pitched 32 games, including 26 starts, with the Twins and Dodgers last year with a combined 7-17 record and 5.44 ERA in 154 innings. He was 5-13 with a 4.94 ERA in 23 starts for the Twins, then 2-4 with an 8.03 ERA in nine outings (three starts) with the Dodgers.
For his career, Correia is 76-95 with a 4.59 ERA in 353 games, including 216 starts. He was a National League All-Star with the Pirates in 2011 when he went 12-11 with a 4.79 ERA.
After not receiving any Major League offers, the California native knew he needed to get in some camp and get his throwing program underway.
"It was getting to the point where it was time to go, either way," he said. "The offseason didn't work out the way I was hoping it would have, but I'm happy where I landed. This is one of the teams and cities and organizations that has always been at the top of my list of places I'd like to be. I'm happy with where I ended up."
The signing adds organizational depth for a team that already has seven starters competing for five rotation berths on the Major League side, but he's ready to compete.
"I'm not here to try to make the bullpen," Correia said. "I'm here to try to make the rotation and that's my main focus.
"I've been throwing bullpens. There are just some things you can't recreate as far as running around and the day-to-day stuff we do. But my arm, I'm confident I have enough time to be 100 percent ready to go at the beginning of the season if that's what I'm needed for."
The Mariners currently have veterans Felix Hernandez, Hisashi Iwakuma and J.A. Happ in their rotation, along with highly regarded youngsters James Paxton, Roenis Elias and Taijuan Walker, plus 24-year-old right-hander Erasmo Ramirez, who is out of Minor League options.
Greg Johns is a reporter for MLB.com. Follow him on Twitter @GregJohnsMLB as well as his Mariners Musings blog. This story was not subject to the approval of Major League Baseball or its clubs.