Holland not satisfied with career arc, new ace status
With Darvish out, lefty focused on leading staff, more great postseason memories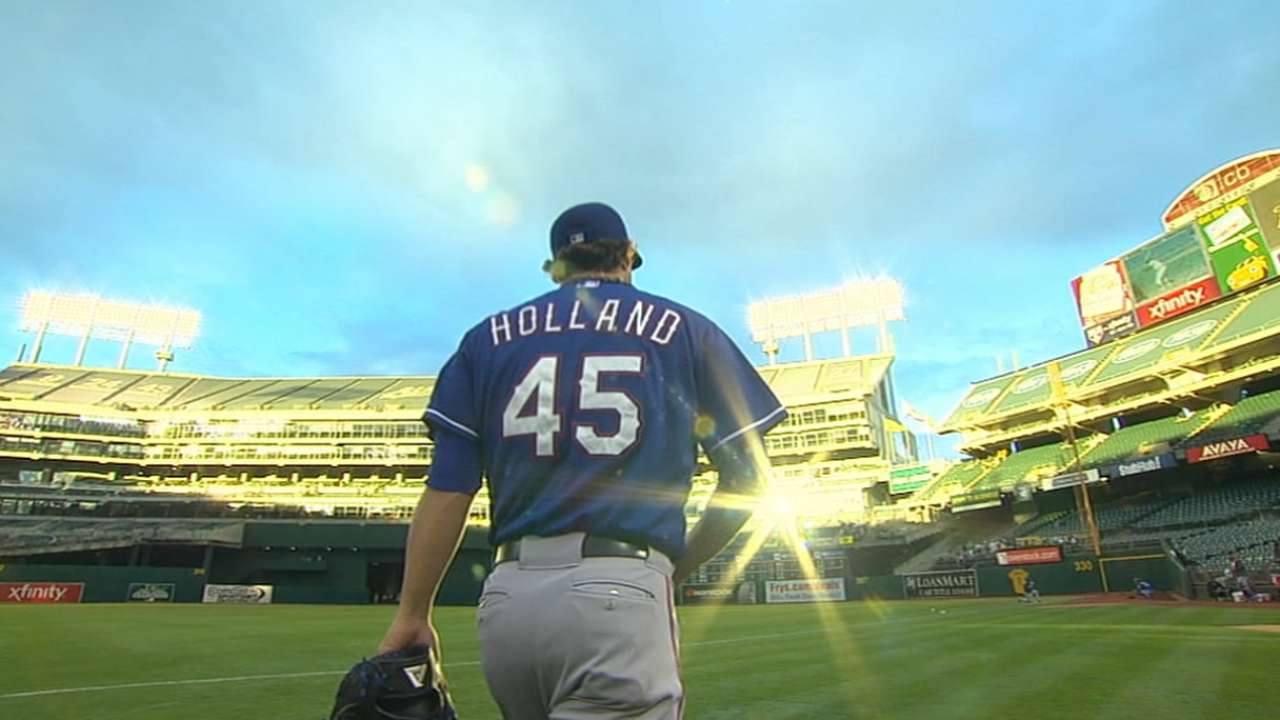 SURPRISE, Ariz. -- Derek Holland has spent six years in the big leagues, and he's pitched in two World Series -- shining especially brightly in the 2011 Fall Classic.
For some pitchers, that would be quite the career. For Holland -- who could make his spring debut this weekend after dealing with a sore left shoulder early in camp -- it's not nearly enough.
"I'm not even happy with my career, to be honest with you," Holland said before the Rangers' workout Monday morning. "I know I can do better. I don't want to be known as a guy that just pitched one game. Game 4 of the World Series, whoop-dee-doo. I want to be able to do something else. I want people to know me for more than just that one game."
To be fair, Holland was brilliant in that "one game." He threw 8 1/3 innings of two-hit ball against the Cardinals as a 25-year-old on the sport's biggest stage.
It's as massive a single-game accomplishment any pitcher could hope for. And yet, 3 1/2 years later, Holland is holding it over his own head, using it as motivation for what he's capable of.
"That's kind of the only thing I would say that I'm known for really," Holland said. "... I've got to go out there and repeat that over and over again. Let it be: 'Do you remember Game 4? Well what about Game whatever against so-and-so.' I want to continue that."
Holland certainly has a chance to make himself known for something different this season. With news of Rangers ace Yu Darvish suffering a torn elbow ligament, Holland slots into the No. 1 starter role.
Over the next two days, Holland is going to long toss, and he's scheduled for a bullpen session Wednesday. If all goes well, he'll start against the Padres on Saturday.
Now that he projects as the ace for the Rangers, Holland insists nothing has changed. He's simply trying to be the same pitcher he was at the end of the 2014 season, when he posted a 1.56 ERA in six appearances -- the only six appearances he made last year after being sidelined by left knee surgery.
"Sometimes we try to put too much pressure on ourselves," Holland said. "We try to do more than what we should, instead of just being who we are as a pitcher, player, whatever. I'm just going to stick to what I'm doing. I showed a lot last year, and I'm going to continue what I had."
AJ Cassavell is a reporter for MLB.com. Follow him on Twitter @ajcassavell. This story was not subject to the approval of Major League Baseball or its clubs.