Marlins pour it on Mets behind sharp Phelps
Six-run second boosts righty, who allows one run in three innings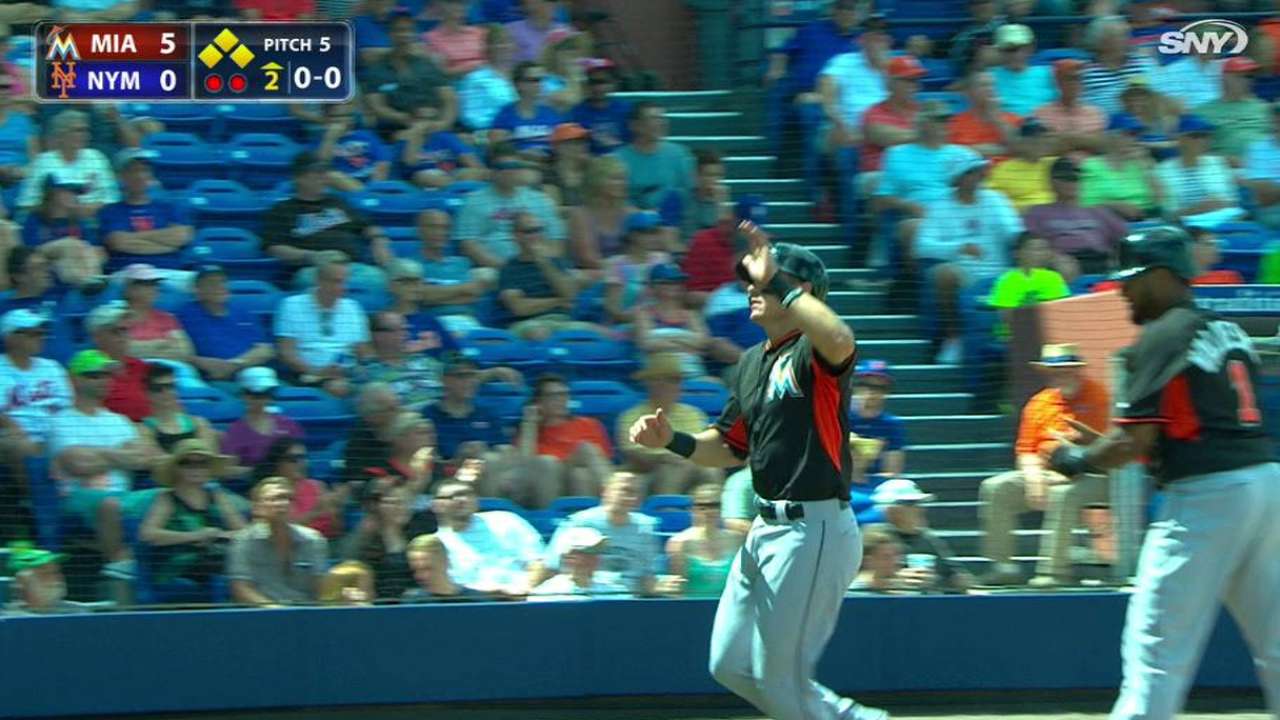 WHEN IT WAS DECIDED
Everything unraveled for Wheeler during a seven-batter, second-inning stretch that included two walks, two hit batsmen and a pair of singles. Blaming some spotty fastball command, Wheeler opened the inning by hitting Michael Morse, then walked Jeff Baker with one out. A strikeout of Don Kelly gave Wheeler a chance to escape the jam, but he walked Cole Gillespie to load the bases before giving up a two-run single to Brignac. The floodgates opened from there, with Morse capping Wheeler's stat line after the righty was chased with two outs and two runners on base. The Miami first baseman tapped a two-run single into center to punctuate the six-run frame. This came one day after Morse connected on his first Grapefruit League home run, a blast to left in a loss to the Cardinals.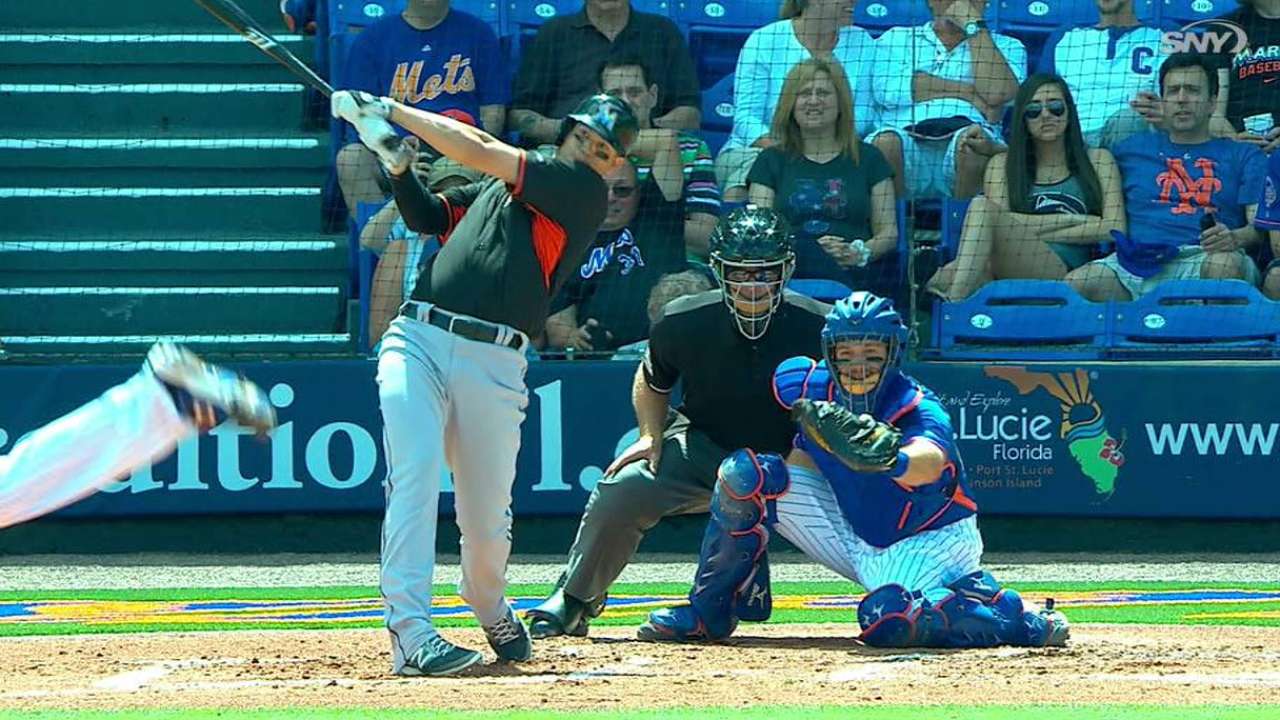 MOMENTS THAT MATTERED
JV1 gets the call: A polarizing figure throughout his seven years in the Mets organization, Jordany Valdespin spent his morning laughing with and hugging several former teammates. Then he played a key role in the game's biggest play. With men on the corners and two outs in the second inning, Valdespin hit a grounder to the right side, where Michael Cuddyer gloved it and flipped to Wheeler. But Cuddyer's throw forced his pitcher to slow down, giving Valdespin enough time to make the play close. The call proved huge. If out, the Marlins would have scored just twice in the inning. Instead, Valdespin's infield single gave Miami a three-run lead, which proved to be the beginning of a big frame.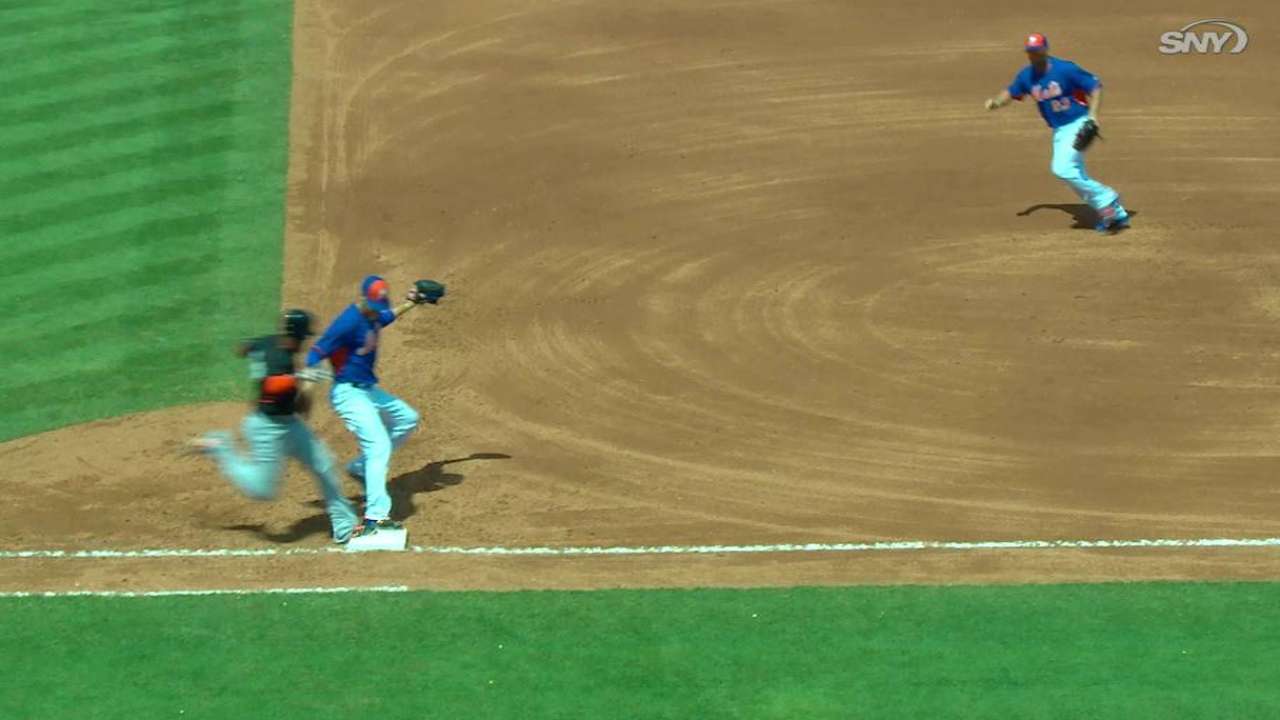 Triple threats: Falling into the "something you don't see all the time" category, the Marlins collected back-to-back triples in a three-run third inning. With two outs, Miami strung together three consecutive hits. Brignac had a run-scoring single, and was followed by back-to-back triples by Valdespin and Derek Dietrich, pushing their lead to 9-0.
QUOTABLE
"It's such a privilege and it's such an honor to hit behind the highest paid athlete ever. It's a role where you basically get hand-picked. It's a role I thrive on doing. I've done it in the past on other teams. I look forward to the challenge this year."
-- Morse on batting behind Giancarlo Stanton.
"We've got a lot of guys competing for a short number of spots. Throw them all out there and let them compete. We were able to give a lot of guys four at-bats. We let them out there and play. Reid had a great day. It's good to see those guys go out there and get some at-bats under their belt, and see what they can do."
-- manager Mike Redmond on Brignac.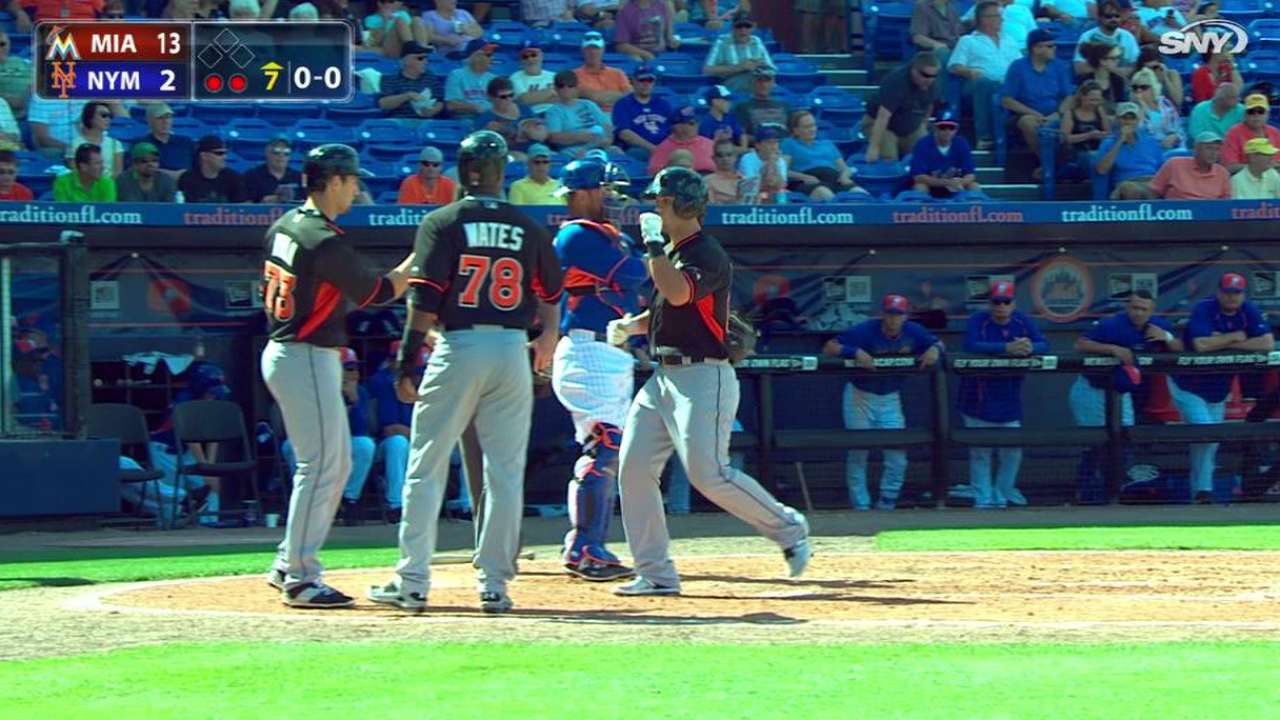 SOUND SMART WITH YOUR FRIENDS
• Shortstop Hechavarria, dealing with the sore shoulder, is a tossup on whether he will play on Tuesday against the Nationals at Roger Dean Stadium. Redmond said it is "50/50" that Hechavarria will start. The shortstop did take some at-bats on Monday in a simulated game. He has only played in one Grapefruit League game, the opener.
• Dietrich has 416 MLB plate appearances, and he has been hit by a pitch 17 times. Dietrich, you guessed it, was hit by a pitch in the second inning by Wheeler.
• Mets first baseman Lucas Duda took batting practice Monday for the first time since straining his left intercostal muscle in mid-February. Duda took 40 swings on a back field at the Mets' Spring Training complex, with eyes toward making his Grapefruit League debut Friday against the Braves.
WHAT'S NEXT
The second time around means another inning and more pitches for Dan Haren. Haren gets the nod on Tuesday at 1:05 p.m. ET against the Nationals at Roger Dean Stadium on Gameday Audio. He threw two innings in his first outing, and he projects to go three innings or around 45 pitches. Stanton, who didn't make the trip to Port St. Lucie, is expected to play.
Joe Frisaro is a reporter for MLB.com. He writes a blog, called The Fish Pond. Follow him on Twitter @JoeFrisaro. Anthony DiComo is a reporter for MLB.com. Follow him on Twitter @AnthonyDicomo. This story was not subject to the approval of Major League Baseball or its clubs.