Cecchini stays positive despite uncertain future
Boston signing Sandoval means third-base prospect might need to switch positions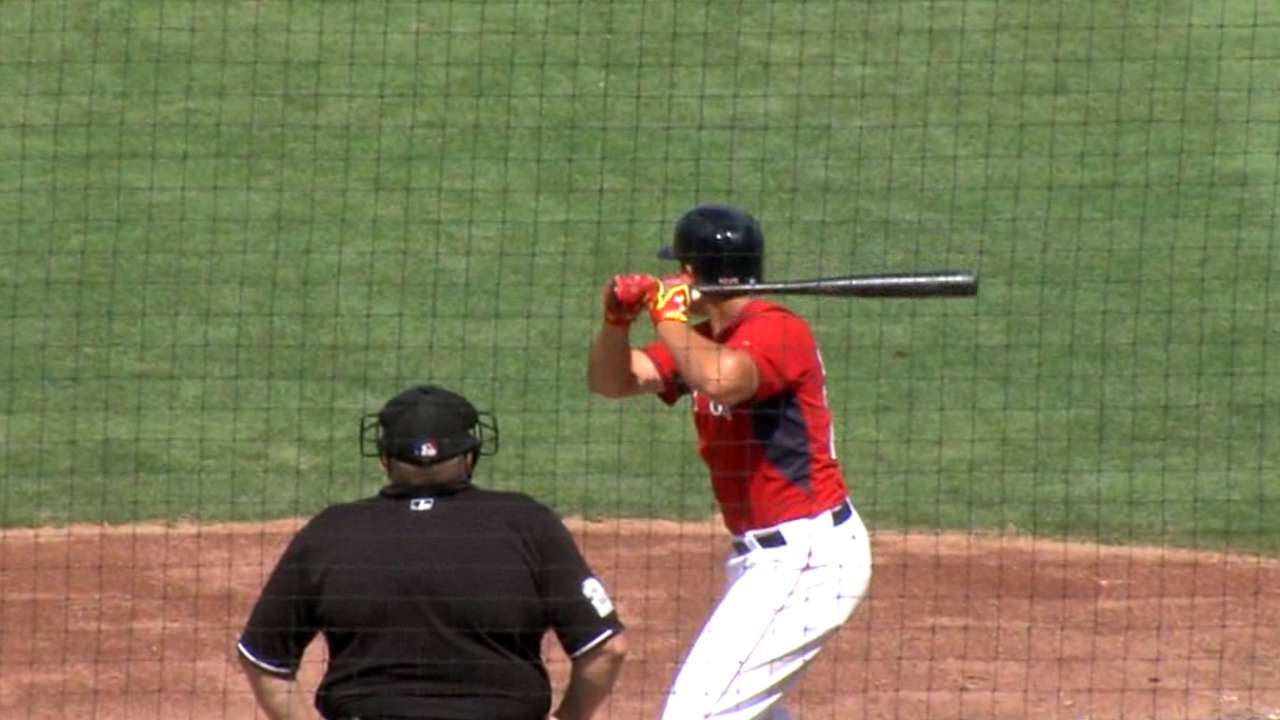 JUPITER, Fla. -- Infectious by nature, it seemed like Garin Cecchini had his disposition tested this winter when the Red Sox signed free agent Pablo Sandoval to a five-year deal that includes a club option for 2020. There went the possibility that Cecchini could be the third baseman of the future in Boston.
Yet the situation could do nothing to dampen Cecchini back in November, and it still hasn't.
With Sandoval back in Fort Myers with most of Boston's other veteran players, Cecchini had the treat of batting third and playing third base for Monday's Grapefruit League game against the Cardinals.
"Well, I mean, honestly when I first heard that they signed him, I was happy because I get to work with someone who was a World Series champion, an MVP," said Cecchini. "I know how good a player he is and I can learn all aspects for the game from him and obviously you see how good he is. It's only a plus that I can learn from someone like that."
But what about the 23-year-old Cecchini's own future? According to MLBPipeline.com's rankings, he is the third-best prospect in Boston's farm system and the eighth-best third-base prospect in all of the Minor Leagues.
"I don't really think about that," said Cecchini. "I've always been told that good players don't get blocked from the Major Leagues. I've always believed that. I feel like I'm a good player and I feel like I can help the Red Sox win, so any way I can help them win, I'm capable of doing it. You just wait for your opportunity and produce at Triple-A and have patience."
If Cecchini does factor into Boston's plans, he might have to switch positions -- perhaps to first base or the outfield. For now, he remains entrenched at the hot corner.
"They told me to strictly work at third base until told otherwise," Cecchini said. "That's what I'm going to do and I'm excited about the opportunity to get to show what I can do at Triple-A. It's going to be good."
Things have mostly always been good for Cecchini when he has a bat in his hand. Blessed with a sweet left-handed stroke and a relentless work ethic, Cecchini is a .298 hitter lifetime in the Minors.
But last year, Cecchini had the first prolonged slump of his career, and his batting average plummeted to numbers he didn't recognize.
Everything got back to normal last Aug. 8, and Cecchini finished the season at a respectable .263 average and .341 on-base percentage.
"August 8 is when I went 3-for-5 and got out of my slump," said Cecchini. "That morning, I figured out what I needed to do. My rhythm was off and my timing was off and I was searching for other things I didn't need to be searching for. I needed to search for much simpler things, and that was rhythm and timing.
"Ever since then, I'm a huge believer in that. Just watching other hitters hit, you can tell that that's what they focus on and that's what they do good. They're always on time and they're always creating their rhythm. That's what I've learned to go back to when stuff starts hitting the fan. Go back to that and it always works."
Ian Browne is a reporter for MLB.com. Read his blog, Brownie Points, and follow him on Twitter @IanMBrowne. This story was not subject to the approval of Major League Baseball or its clubs.