Appel scratched with mild forearm tightness
Astros don't think ailment is serious; prospect says move to skip outing precautionary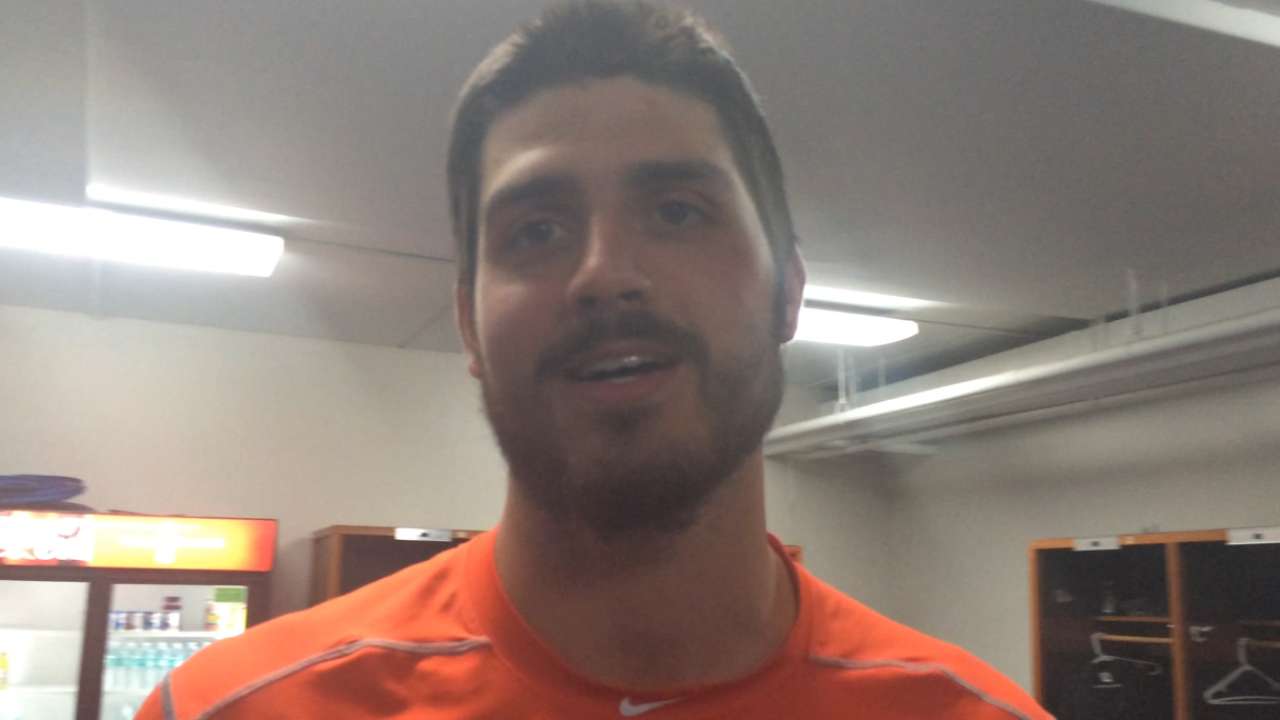 DUNEDIN, Fla. -- The Astros stressed they weren't concerned about the health of former No. 1 overall Draft pick Mark Appel after he was held out of Monday's Grapefruit League game against the Blue Jays with mild right forearm tightness.
Appel, who was scheduled to pitch in relief of Collin McHugh, was in the process of loosening up when he felt some discomfort in the area. He alerted a trainer, who informed a coach, who relayed a message to manager A.J. Hinch in the dugout.
"He was as close to a healthy scratch as you get," Hinch said. "We had a lot of innings here, so it was a pretty easy decision when he's fatigued like that to not pitch him."
At the end of the game, there were no plans for the Astros to have Appel undergo an MRI exam, but that could change. Appel downplayed any concern about the tightness.
"I think people get concerned when they hear that, but for pitchers, that's basically our whole season," he said. "We always have something nagging us. It would have been my second Spring Training appearance. It's one of those things where, yes, it is Spring Training and it's early, and if this were in the beginning of the season, middle of the season, I would have pitched just fine and it would have been nothing to write about -- no story, anything like that. Just would have been a regular day at the ballpark.
"That's really what it is. I'm not worried about anything, not concerned about anything. It is just the trainer's call on just wanting to take it a little bit easy."
Appel worked two innings and allowed three hits and one run while striking out two batters Thursday against the Phillies in his first outing of the spring. It was his first game action since last fall, when he pitched well for the Salt River Rafters in the Arizona Fall League.
Appel said he's pitched through similar -- and even worse -- tightness before, and he stressed that he would have pitched if it were the regular season.
"On a scale of how concerned any of us are on a 1-10 scale, it's a one, not at all," he said. "It's really not a big deal."
Appel, who missed nearly all of Spring Training last year after undergoing an appendectomy, admitted he was "upset" he wasn't able to pitch.
"There's no sense, at least in their eyes, to have me go through something where they aren't 100 percent sure what it is or if there might be any complications or anything like that, even though I'm very confident in that it's something I've felt before," he said. "I've pitched through it many times. Like I said, I've probably pitched through worse. Honestly, I think the biggest factor is Spring Training vs. regular season. Regular season, I'm pitching."
In his first full season in professional baseball last year, Appel struggled to adapt to pitching every fifth day at Class A Advanced Lancaster of the California League, and he was sent to extended Spring Training. He wound up at Double-A Corpus Christi, where he settled in nicely and went 1-2 with a 3.69 ERA in six games (one start).
Brian McTaggart is a reporter for MLB.com and writes an MLBlog, Tag's Lines. Follow @brianmctaggart on Twitter. This story was not subject to the approval of Major League Baseball or its clubs.