Manfred: Cautious approach key to pace adjustments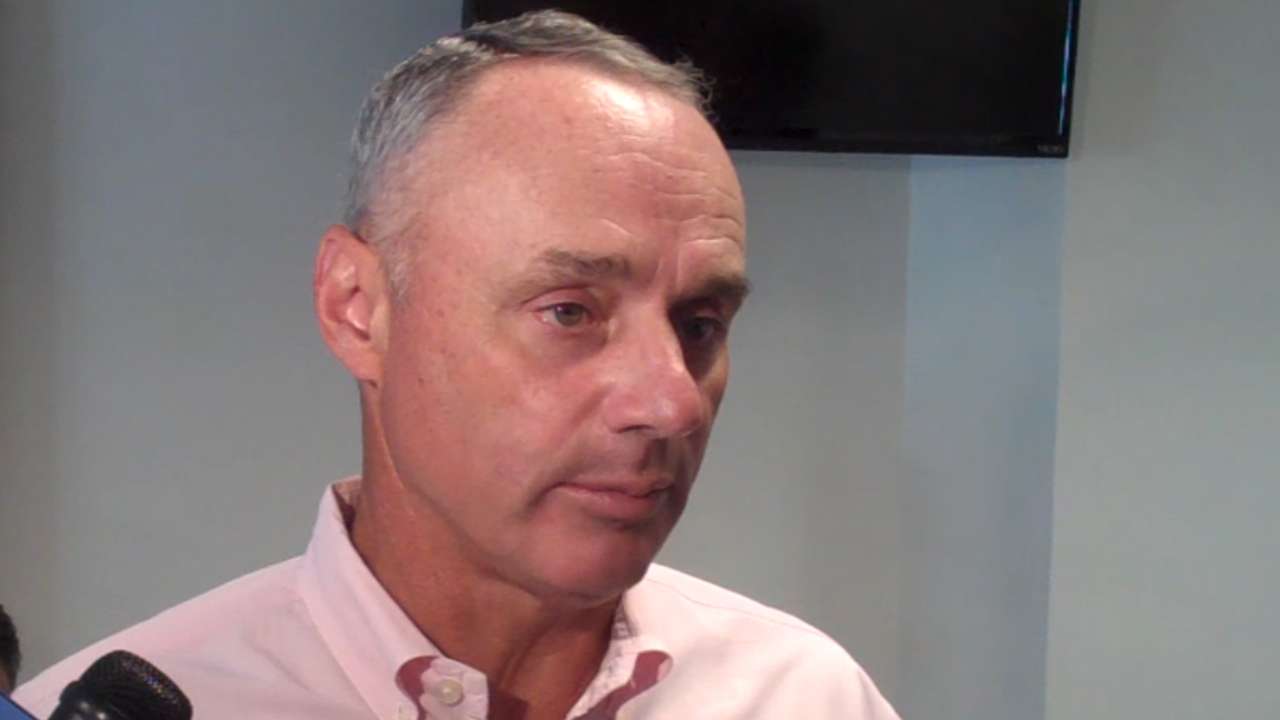 PORT ST. LUCIE, Fla. -- Improving the pace without tampering too much with players' routines is one of the balancing acts Major League Baseball is evaluating in Spring Training.
Commissioner Rob Manfred, who met with the Mets organization on Monday, also spoke with the media about how to speed up the game without impacting it adversely.
"I said this to the players today," Manfred said. "The area where you have to be the most careful in this job is anything that affects the play of the game on the field. Making a mistake in that area is so visible that you have to proceed with caution."
The new Commissioner noted that was a piece of advice offered by Commissioner Emeritus Bud Selig.
One of the pace of play changes in effect this season is hitters must keep at least one foot in the box after every taken pitch.
It's an adjustment for a number of Miami hitters, who have traditionally stepped away, even a few steps. Ichiro Suzuki, for instance, tends to step out of the box by a foot or two after every pitch.
In Grapefruit League games, Ichiro has caught himself doing it, and immediately lunges a foot into the box.
Another concern is hitters may feel rushed and aren't establishing their routines.
"I thought the feedback on pace of the game was positive," Manfred said. "I think they understand what it is we're trying to accomplish and I think they appreciate the fact that we've taken a kind of measured approach to the problem to make sure that we don't unintentionally change the game in a way that may not be positive."
At a time in the game where pitching is starting to dominate, Manfred also said MLB is examining whether the league needs to take any measures to increase run scoring.
"We have thought hard about the trends on the offensive side of the game," Manfred said. "We know what the numbers look like. Where we really are on that project is we're trying to decide, do we have a trend that is going to be persistent in terms of less offense, or do we have a development where there's a little less offense and hitters are going to adjust and it's going to go back in the other direction. So we're not really at the remedy phase."
Joe Frisaro is a reporter for MLB.com. He writes a blog, called The Fish Pond. Follow him on Twitter @JoeFrisaro. This story was not subject to the approval of Major League Baseball or its clubs.