Mesoraco limiting activity after concussion diagnosis
Catcher was hit in mask with foul tip Saturday; no timetable for return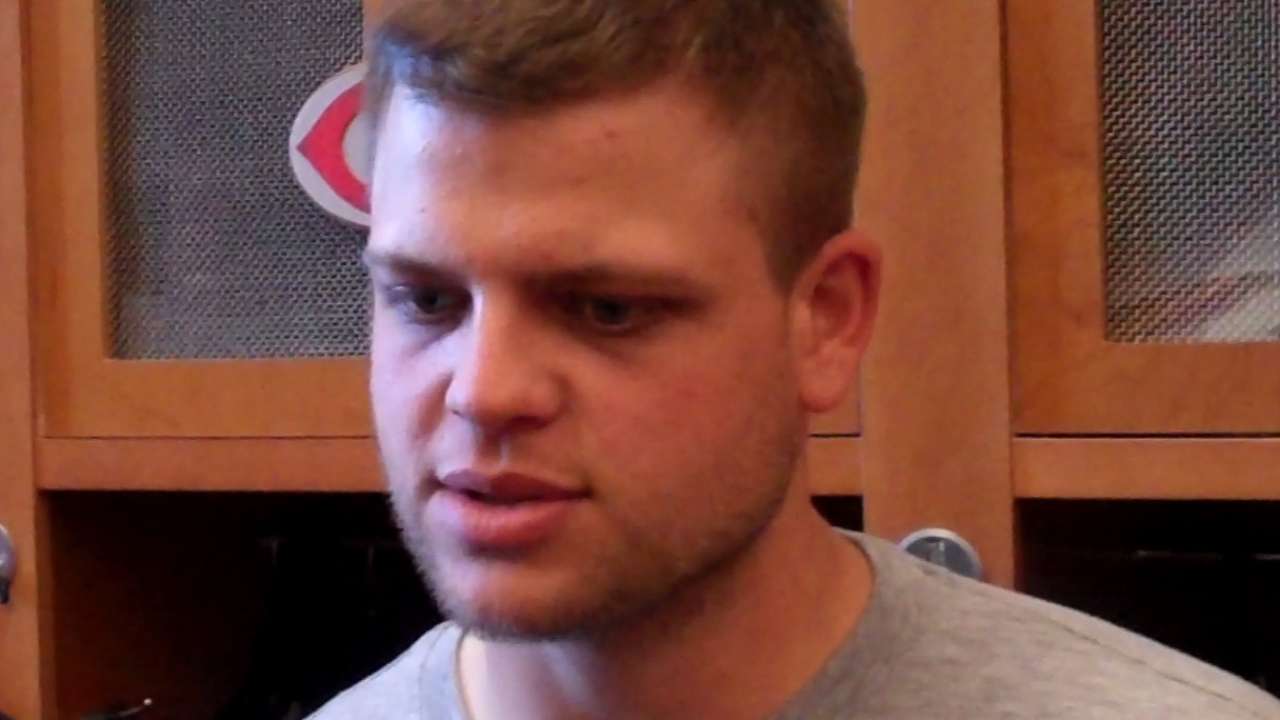 GOODYEAR, Ariz. -- After being diagnosed with a mild concussion, Reds catcher Devin Mesoraco has been following medical protocol, which for the past couple of days has required him to do very little activity.
Mesoraco did nothing on Sunday and was planning to ride an exercise bike on Monday morning.
"It's tough for me to sit around and not do a whole lot," Mesoraco said on Monday. "But basically, that's what you have to do."
Eventually, Mesoraco will progress to running and increased activity. The estimated time that he'll be sidelined remains unclear.
Mesoraco was behind the plate Saturday vs. the Royals when he took a foul tip off of his mask from hitter Erik Kratz.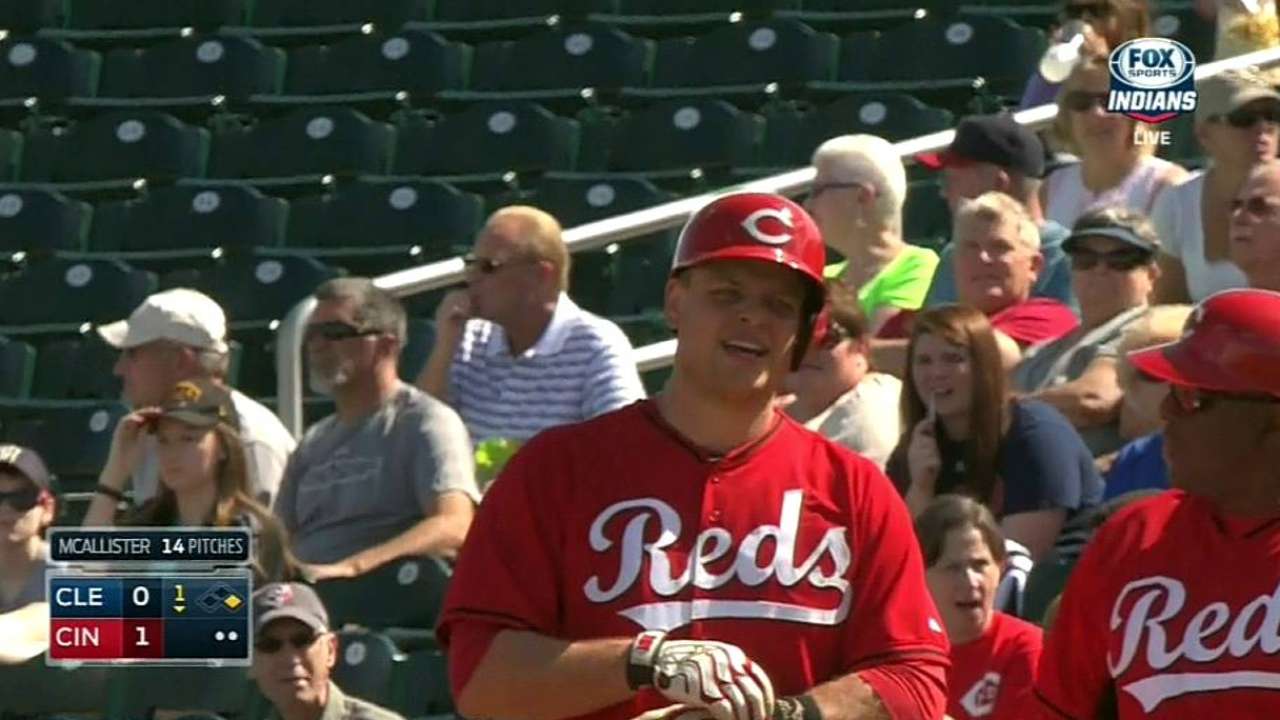 "I don't feel too bad when I'm not doing anything," Mesoraco said. "I think it's when there's a lot of action and things moving around and stuff like that."
The last documented concussion Mesoraco sustained came on July 30, 2012, vs. the Padres, when he was involved in a home-plate collision with Cameron Maybin. It put him on the disabled list for about three weeks.
Mesoraco, 26, felt his most recent head injury was different.
"This one, I have a little bit more headaches and stuff, more hazy," he said. "The more movement that's going on, the more action, the hazier that I get."
A first-time National League All-Star in 2014, Mesoraco batted .273/.359/.534 with 25 home runs and 80 RBIs in 114 games. On January 26, he avoided arbitration when he signed a four-year, $28 million contract with Cincinnati.
Contact with balls, bats and baserunners comes with the territory for catchers. Major League Baseball instituted collision rules in 2014 to help protect them, but head injuries remain a risk when playing behind the plate.
"We might try a different mask, try to put some stuff inside my helmet and try to help alleviate it and keep it from happening again," Mesoraco said. "I don't think I'm super worried or anything like that."
Reds manager Bryan Price said the club would follow all of the mandated concussion protocol for Mesoraco. While recognizing that head injuries have become a "front-and-center issue" in sports, Price did not believe there was a need to worry about Mesoraco's long-term health.
"I would tend to rely on our medical people and what they think more so than coming to my own conclusion," Price said. "I'm certainly not happy. There's definitely a concern. But right now, I don't feel the sky's falling, and I haven't been given any information to suggest that there's a point of concern for long-term residual concerns."
Mark Sheldon is a reporter for MLB.com. Read his blog, Mark My Word, and follow him on Twitter @m_sheldon. This story was not subject to the approval of Major League Baseball or its clubs.