MLB.com Columnist
Anthony Castrovince
Season's tests will come early for Nationals
Span surgery adds to list of solutions Washington will need to find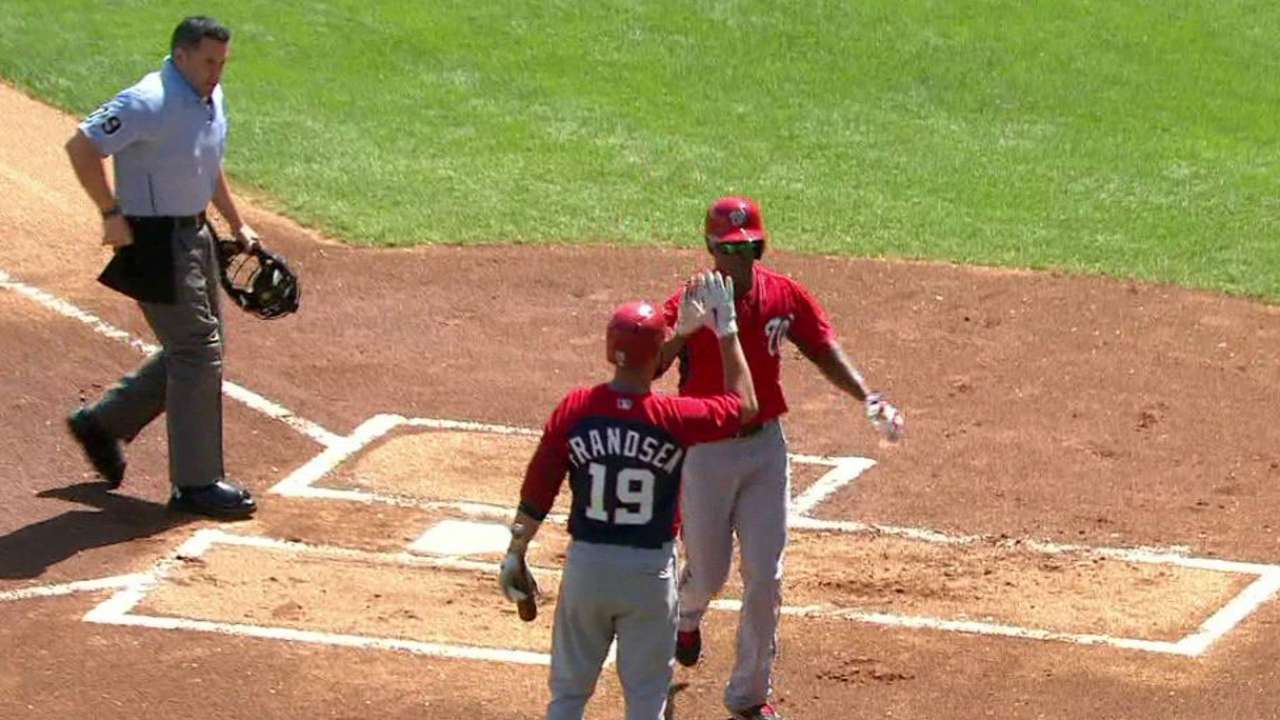 "Where's my ring?" -- that confident question recently uttered by Bryce Harper -- has quickly become the short version of all that is expected out of the Nationals. Most people are touting them as the most obvious of Major League Baseball's early favorites, and some take it a step further and consider them a club capable of pushing toward a 100-win total not broached in this parity-soaked sport since 2011.
This is all basically borne out of a gargantuan investment that added Max Scherzer to a rotation that was already probably the best in baseball. But rings don't come on the might of rotations alone, and on Monday, with the news that Denard Span will miss Opening Day and beyond, we were reminded that the Nats are facing some early offensive obstacles that will test their depth and could, for all we know, inspire trade discussions.
Span had sports-hernia surgery this offseason, and any ballplayer who has had one of those will tell you that the return-to-play timetable is much different than the return-to-form timetable. The latter can take as long as a full season, as the muscles simply don't always function as they once did.
That's what made Monday's news that Span required a second procedure -- what manager Matt Williams called a right "core abdominal-type" injury that could require four to six weeks of rest -- so concerning. It doubles down on a big question, which is not "When will Span be back in the lineup?" but "What will Span be when he's back in the lineup?"
It also, suddenly, makes rookie Michael Taylor one of the more interesting players in the National League East.
Right now, the Nationals are without two key cogs of their offense: Harper's two associates in the outfield.
Jayson Werth had arthroscopic shoulder surgery in early January and just began swinging a bat last week. He'll progress to throwing next week. It remains to be seen if the shoulder stays sturdy enough for the soon-to-be-36-year-old outfielder to return to the power level last reached in 2013, when he hit 25 homers and had a .532 slugging percentage. What we know is that a Nats lineup that lost some power when Adam LaRoche left via free agency could certainly benefit from that kind of power from Werth.
Span was Washington's biggest offensive spark plug last season. Right around the time in late June when Harper publicly opined on what the lineup ought to look like (while notably omitting Span), Span became instant offense with a .339/.398/.445 slash line in his last 74 games. He was as steady a leadoff presence as existed in the game in the second half.
So now the Nationals will need somebody else to provide that spark for at least the first few weeks of the season, assuming it really is four to six weeks before Span can even resume baseball activities.
Maybe Taylor can be that guy. There's no question he'll be the guy in center field, because he is the Nats' most obvious option at the moment. Nate McLouth is experienced, but he's recovering from shoulder surgery of his own and is not yet appearing in Grapefruit games. Tony Gwynn Jr., who recently joined the organization, had a .455 OPS in 127 plate appearances with the Phillies last year.
A converted shortstop with an aggressive mindset at the plate, Taylor is the Nationals' No. 3 prospect, according to MLB.com. He's entering his age-23 season and coming off a strong year that included his big league break-in, but it's important to remember that he's played just 29 games above the Double-A level. Still, one of the best parts of any Spring Training setting is seeing what young players do with opportunities thrust upon them.
Because we don't know when to expect to see Span or what to expect out of him, this is a huge opportunity for Taylor. In keeping with that aforementioned aggression, he swatted a first-pitch homer against the Yankees on Sunday. The Nats would like to see more plate discipline out of Taylor, but here's hoping he doesn't lose sight of the value of seizing the moment in a league geared toward first-pitch strikes.
The Nationals had an elite NL offense last season, ranking third in the league with 4.23 runs per game. More pertinent, the addition of Yunel Escobar (who is currently shaking off what appears to be a minor oblique injury ... and stay tuned on that one) gave them a lineup with eight guys projected to provide average-or-better production.
Now, however, the Nats have got to figure out who will lead off. Even if Taylor temporarily sticks in center, the plate-discipline issue could make him an ill fit for the No. 1 slot. Escobar, who has a career .347 on-base percentage, might be the better alternative.
It's far too early to know if the outfield obstacles will prompt any trade activity. Remember: It wasn't long ago when the Nationals were so deep in the outfield that few fretted when they dealt away Steven Souza to the Rays in a three-team swap. Now, that depth is very much in question, but nobody's expecting general manager Mike Rizzo to start peppering Red Sox counterpart Ben Cherington with calls about Shane Victorino or anything like that.
This is an early test for a team that will be tested all year -- by the upstarts in the East, by the weight of expectations, by the weight of their own recent organizational history. The importance of 2015 cannot be overstated. Span can be a free agent at season's end. As can be Ian Desmond, Jordan Zimmermann and Doug Fister. The super rotation looks to be a one-year luxury, and the question marks in two-thirds of the outfield only augment the need for continued growth from star-in-the-making Anthony Rendon and the need for health out of the much-hyped Harper.
No matter how long Span is out or how affected he is by the surgeries, the Nats still have plenty of pieces to get that ring. But no ring comes without overcoming obstacles like these.
Anthony Castrovince is a reporter for MLB.com. Read his columns and follow him on Twitter at @Castrovince. This story was not subject to the approval of Major League Baseball or its clubs.