MLB.com Columnist
Richard Justice
Rigorous preparation has made Altuve elite hitter
Astros second baseman spends extra time each day in batting cages, studying video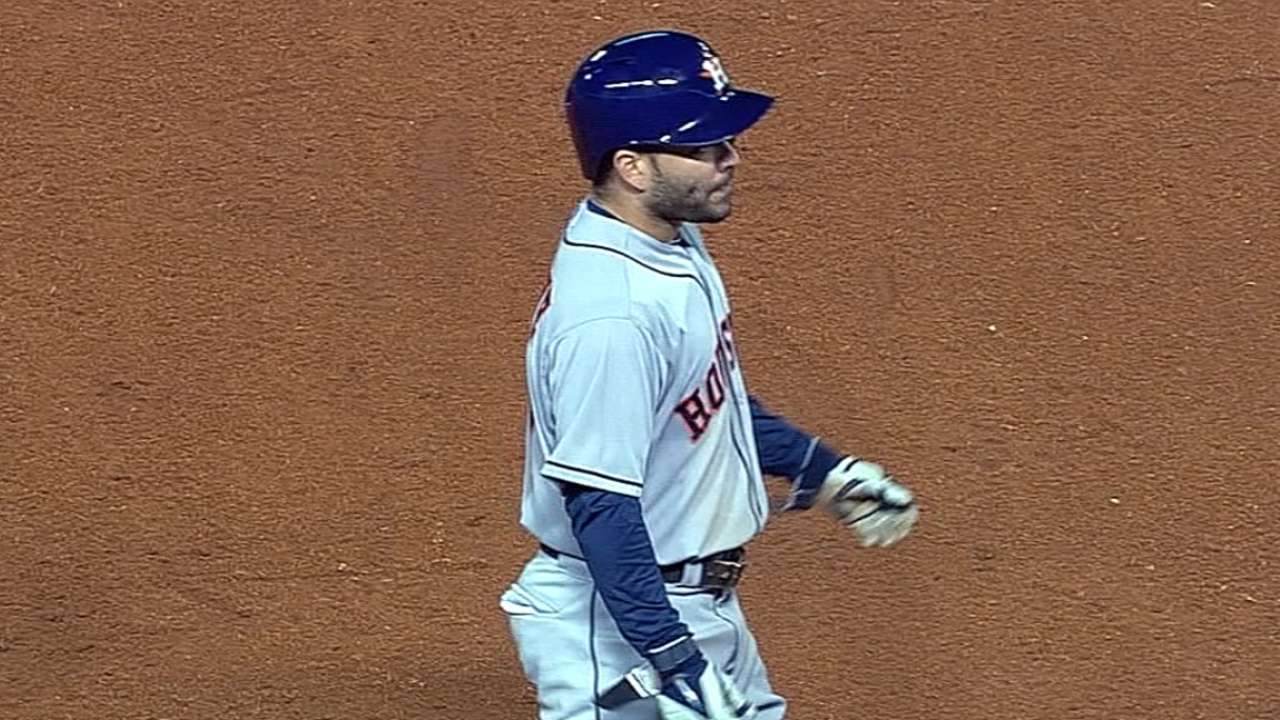 KISSIMMEE, Fla. -- Jose Altuve begins his workday before sunrise. In this routine, he finds comfort. From this routine, he constructed a batting championship.
"Everything he does matters," said his new manager, A.J. Hinch of the Astros.
That's the thing people go back to again and again when discussing the 2014 American League batting champion. Altuve is methodical in his preparation. Not just in batting practice, either, although that takes up much of his usual morning routine.
He takes dozens of swings against an indoor batting machine, then a few dozen more off a hitting tee. He's so attuned to his mechanics that he looks for a certain feel at various checkpoints.
When he's off, he keeps working until he finds it, sometimes leaving the cage drenched in perspiration. Afterward, there are stretching exercises, core strengthening drills and weight lifting. Later, he will take dozens of ground balls at second base and more rounds of batting practice.
"His preparation is just unbelievable," said Tigers designated hitter Victor Martinez, who is both a mentor and friend to Altuve.
Both men are Venezuelan, and because Martinez is 12 years his senior, Altuve idolized him and was inspired by his success. When Altuve reached the Majors in 2011, one of the first congratulatory messages he got was from Martinez.
And last summer, they dueled down the stretch for the American League batting title. Altuve finished just ahead of Martinez, hitting .341 to Martinez's .335.
A congratulatory telephone call followed.
"He told me he was proud of me," Altuve said. "That means so much."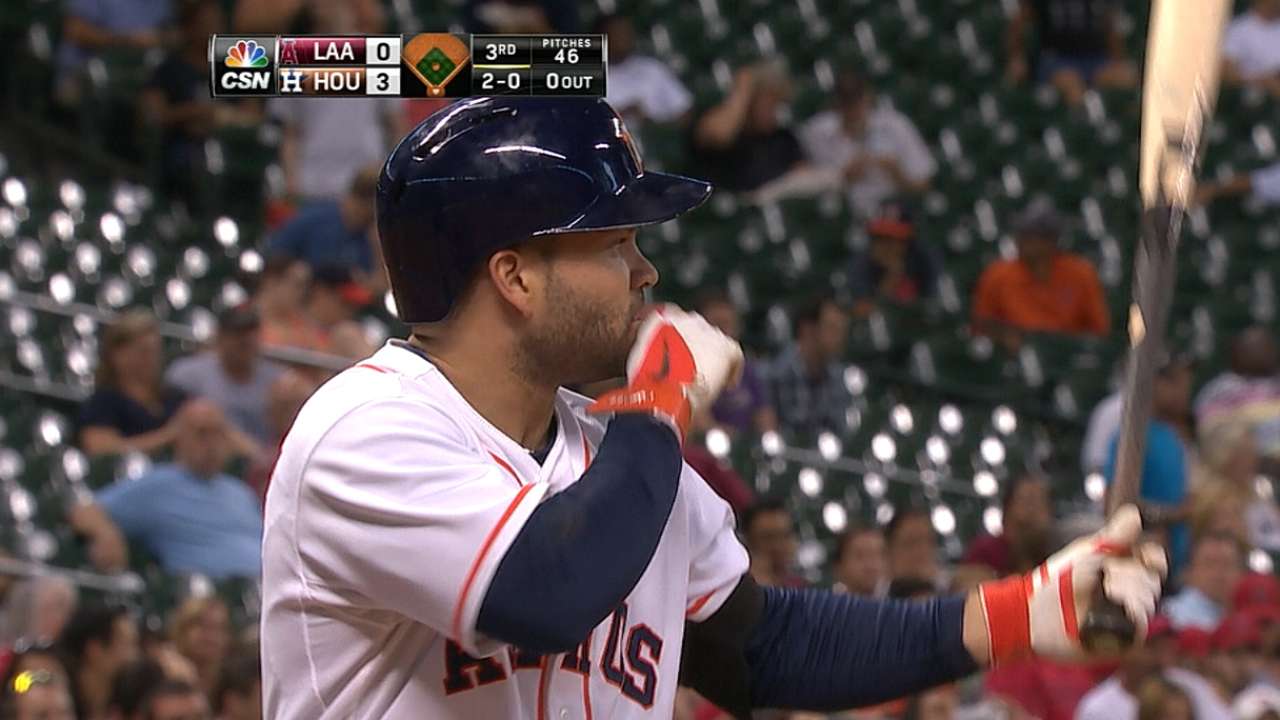 To Martinez, Altuve is a reminder that an athlete's heart and drive should not be underestimated. In those first years in the Majors, Altuve was famous, mostly because he was 5-foot-6.
When Altuve began showing up at tryout camps Venezuela, one Major League team after another declined to offer him a contract for that reason. They told him they loved his skill set and his drive, but, well …
The Astros initially declined as well, but when Altuve kept showing up to try out, they became convinced that he was worth a shot. He was 16-years-old when he signed, 21 when he made his debut.
"I think he's important for the game of baseball," Martinez said. "Before, scouts weren't looking at a guy like him. That just shows you have to have that big heart to play this game. He has that."
Martinez played with another smaller player, Red Sox second baseman Dustin Pedroia.
"The preparation Pedroia has is great," Martinez said. "Altuve is like that. For everybody in the game of baseball, everything he has done is amazing."
Let's rewind. When the 2013 season ended, Altuve was unhappy with himself. He'd hit .283 that year, but he was convinced there was so much more for him. So he went to work. He did some basic things. He paid more attention to nutrition. He got leaner and stronger.
And with the help of then-Astros hitting coach John Mallee, he worked harder at both his physical and mental preparation. He spent hours studying opposing pitchers and went into each at-bat with an understanding of what he wanted to do.
He also amped up a pregame routine that included indoor batting and video study prior to the normal round of batting practice. Late last season, Mallee, blown away by Altuve's success, choked back tears as he discussed the transformation.
"I feel like he's one of my sons," Mallee said.
Mallee will be the first to tell you that, apart from the preparation and the work, Altuve has remarkable physical skills.
"You may never see someone with quicker hand-eye coordination," Mallee said.
That is, Altuve has the ability to adjust to almost anything. If he's looking for a fastball, he can still get the bat on, say, a changeup or breaking pitch.
Mallee left the Astros after last season to become the Cubs' hitting coach. His replacement, Dave Hudgens, is in the process of building his own relationship with his second baseman. He's likely to be impressed, as others have been.
"The ability to kind of make those quick adjustments as pitchers were trying to adjust to him and try new things is pretty impressive," Astros catcher Jason Castro said.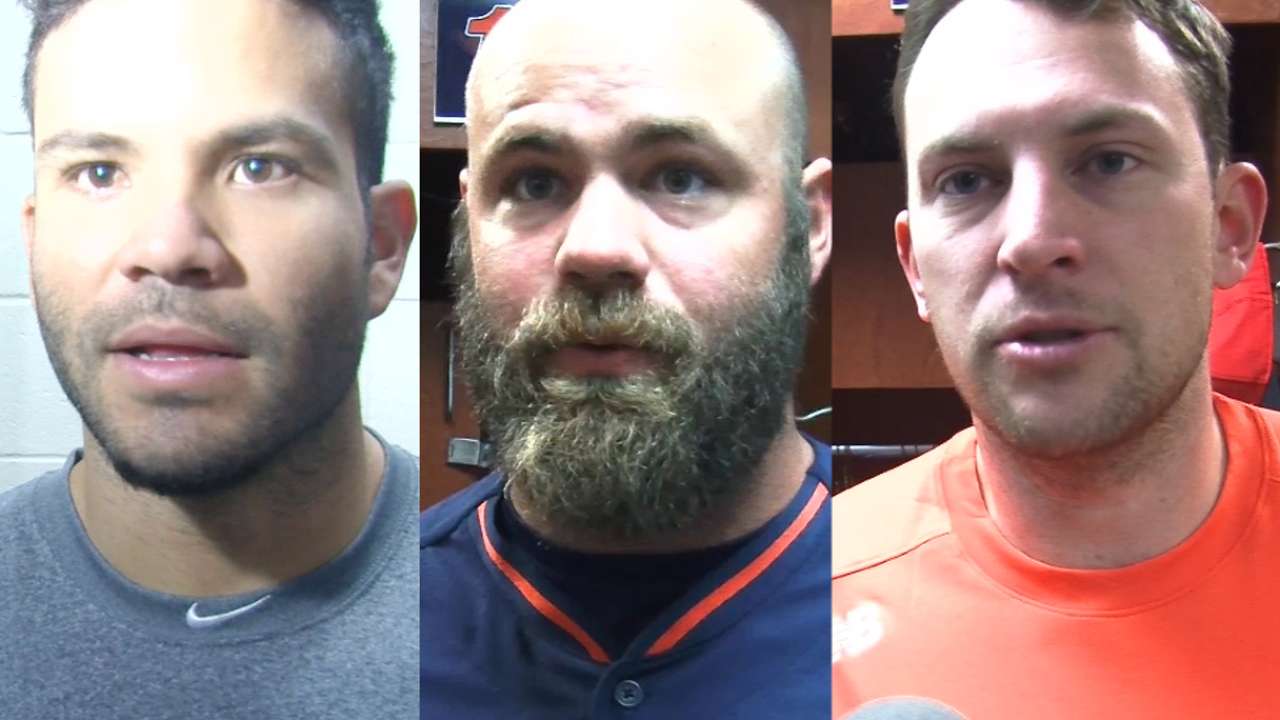 Another Astros catcher, Hank Conger, got to know Altuve well during his time with the Angels.
"It's hard to explain," Conger said. "He's just a tough out. If we tried to come inside on him, it had to be right there. If it was a couple inches off the plate, he'd get the bat on it."
And?
"If you throw a pitch up around his head, he can get the bat on that pitch, too," Conger said.
Altuve was the first Astros player to win a batting title. He led the Majors with 225 hits, 69 multi-hit games, 168 singles and 24 three-hit games. He's just the second player ever with at least 225 hits, 47 doubles and 56 steals in a season. The other was Ty Cobb in 1911.
"The way he thinks through at-bats, the way he describes his at-bats, the way he has a plan for what he's trying to do, he's very elite at his preparation," Hinch said.
Altuve's 225 hits are the most for a second baseman in 78 years. He's the first AL player to lead the league in hits, batting average and stolen bases since Ichiro Suzuki in 2001.
"He can do anything with the bat," Hinch said. "He can handle sliders, he can handle fastballs. The other thing is that the at-bats matter to him. He doesn't want to give any at-bat away."
As for Altuve, he seems unchanged by the success. He showed up at Spring Training looking lean and strong and went right back to his daily routine.
"You feel good when you have a good season, especially because our team had a 19-game improvement," Altuve said. "That means the team was going in the right direction. You see the team right now, and it seems we're going to keep going."
The Astros feel the same way about their batting champion. As they begin to insert new pieces here and there, Altuve stands as the team's foundation.
"All our hitters can see why he's so successful and so consistent," Hinch said.
Richard Justice is a columnist for MLB.com. Read his blog, Justice4U. This story was not subject to the approval of Major League Baseball or its clubs.