Gonzo leads D-backs' 20th b-day celebration
World Series hero's adventure through Phoenix area marks franchise's origin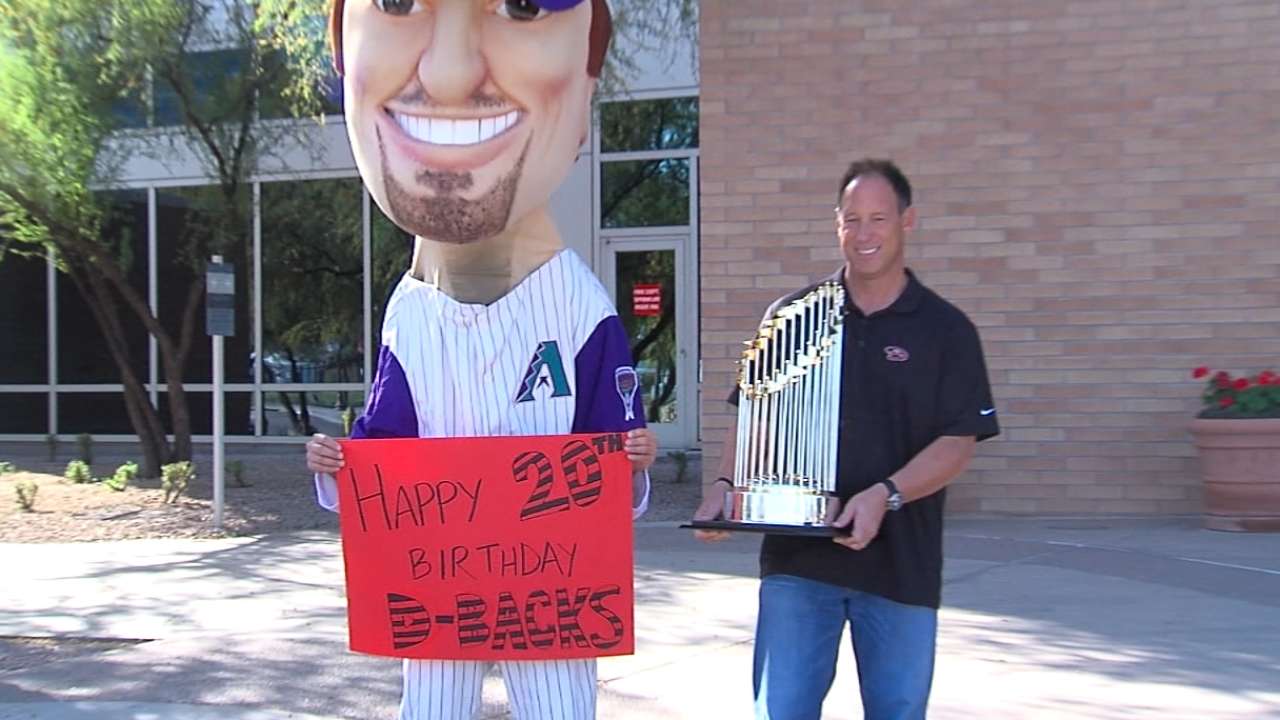 SCOTTSDALE, Ariz. -- It's been almost 14 years since his single to left brought home the winning run in the ninth inning of Game 7 of the 2001 World Series, but Luis Gonzalez can still draw a crowd.
Monday marked the 20th birthday for the Arizona Diamondbacks -- it was March 9, 1995, when Major League Baseball owners voted to award expansion franchises to Arizona and Tampa Bay.
To celebrate the occasion, Gonzalez spent much of the day riding around in a purple convertible Ford Mustang with the World Series trophy in his lap and his "Luis Gonzalez Racing Legend Mascot" in the back seat.
Happy birthday to us! #Dbacks20thBday pic.twitter.com/WTtNQkBh8M

- Arizona Diamondbacks (@Dbacks) March 9, 2015
"It's been a lot of fun," Gonzalez said toward the day's end. "It's been a great birthday, put it that way. It's been pretty cool to go around town and see the fans and how excited they get when they see the trophy."
Gonzalez made a quick stop at Arizona State University and cruised down Mill Avenue before paying a visit to Luis Gonzalez Field, where he did an interview with Channel 3.
•
Photo gallery
Then it was onto downtown Phoenix, where he and his racing legend appeared on Channel 10's morning show and watched while a guest made some Cracker Jack. That seemed to be Gonzalez's favorite stop as he could not stop sampling the product and grabbed a couple of bags to take with him.
Phoenix mayor Greg Stanton met Gonzalez and fans at downtown's CityScape, where D-backs chef Michael Snoke prepared a Churro Dog -- the team's signature dessert at Chase Field in 2015 -- for the occasion.
Joining us to celebrate the #Dbacks20thBday, @MayorStanton and Chef Snoke help blow out the candles on a #ChurroDog. pic.twitter.com/xOQwePtaYV

- Arizona Diamondbacks (@Dbacks) March 9, 2015
After visiting a couple of Chase banks and Sanderson Ford, Gonzalez moved on to Glendale where he stopped for lunch at the Westgate Entertainment District for lunch. Westgate's Cold Stone Creamery presented Gonzalez with an ice cream birthday cake to help in the celebration.
The final stop for Gonzalez and the trophy was Camelback Ranch, where the D-backs were taking on the White Sox.
After posing for pictures with fans, Gonzalez headed up to the owner's suite where he met up with team president/CEO Derrick Hall, chief baseball officer Tony La Russa and general manager Dave Stewart. Gonzalez shook hands with legendary college basketball coach Bobby Knight, a good friend of La Russa's who is in town this week.
Throughout the day, fans told Gonzalez where they were when he got the game-winning hit and thanked him for helping to bring Arizona its first -- and only -- major sports championship.
"It seems like it was just yesterday," Gonzalez said. "It doesn't feel like 14 years ago."
Steve Gilbert is a reporter for MLB.com. Read his blog, Inside the D-backs, and follow him on Twitter @SteveGilbertMLB. This story was not subject to the approval of Major League Baseball or its clubs.