Nelson poised to make impact in Crew's fifth starter spot
Focused, diligent righty has shown consistent improvement through each level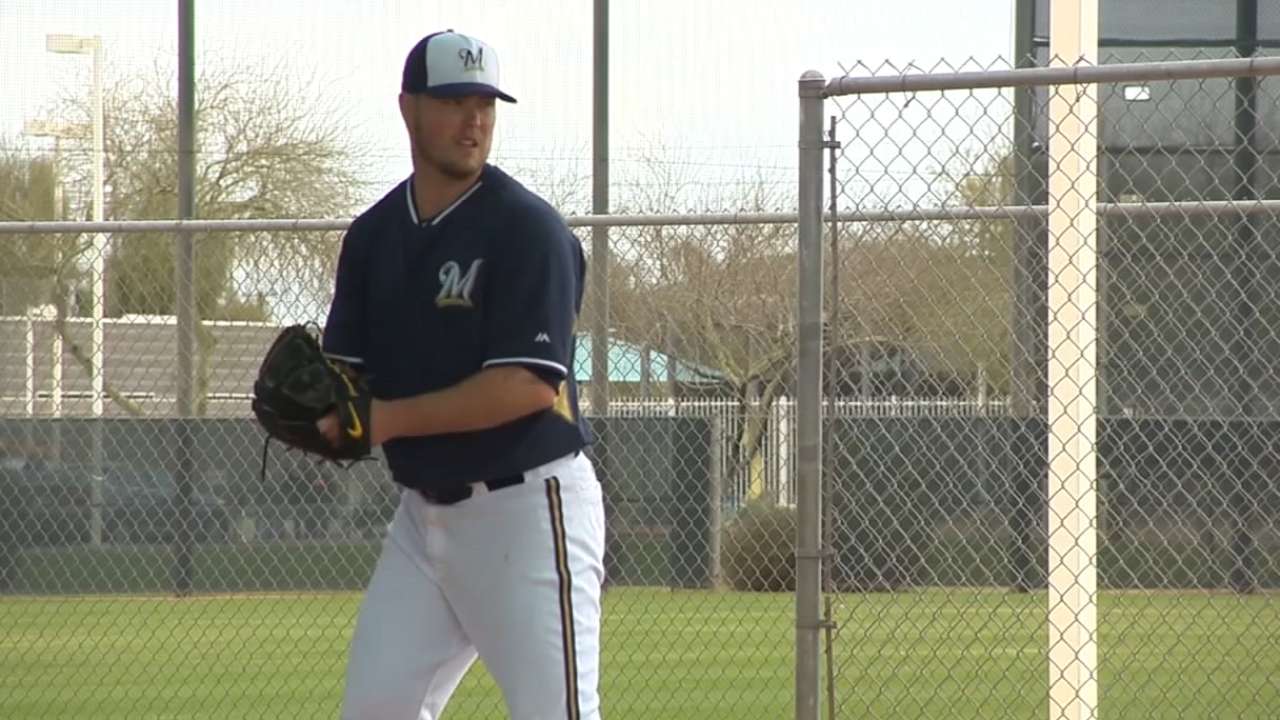 PHOENIX -- Jimmy Nelson was just 2-9 with a 4.93 ERA with the Brewers in 2014, but his Minor League statistics with Triple-A Nashville tell a different story. The right-hander was 10-2 with a 1.46 ERA in 111 innings for the Sounds.
Milwaukee general manager Doug Melvin believes the Minor League version of Nelson, who won the 2014 Pacific Coast League Pitcher of the Year Award, will emerge with the Brewers this season, and the Crew named the 25-year-old the club's fifth starter in January.
"It's nice that they have confidence in me," Nelson said. "It's reassuring, but at the same time, I'm still going to do my same work on the field to get ready for the season."
Nelson's humility and diligent attitude about his pitching is evident in his preparation, which is quiet and focused, similar to his childhood idol, Roger Clemens.
"He was just a workhorse-type pitcher," Nelson said. "I liked his style and his demeanor on the mound, the way he attacked guys."
An intimidating 6-foot-6, 245-pound presence himself, Nelson can use his downhill momentum off the mound to his advantage. He will go after players with a power fastball and slider, as well as a changeup he wishes he would have thrown more last season.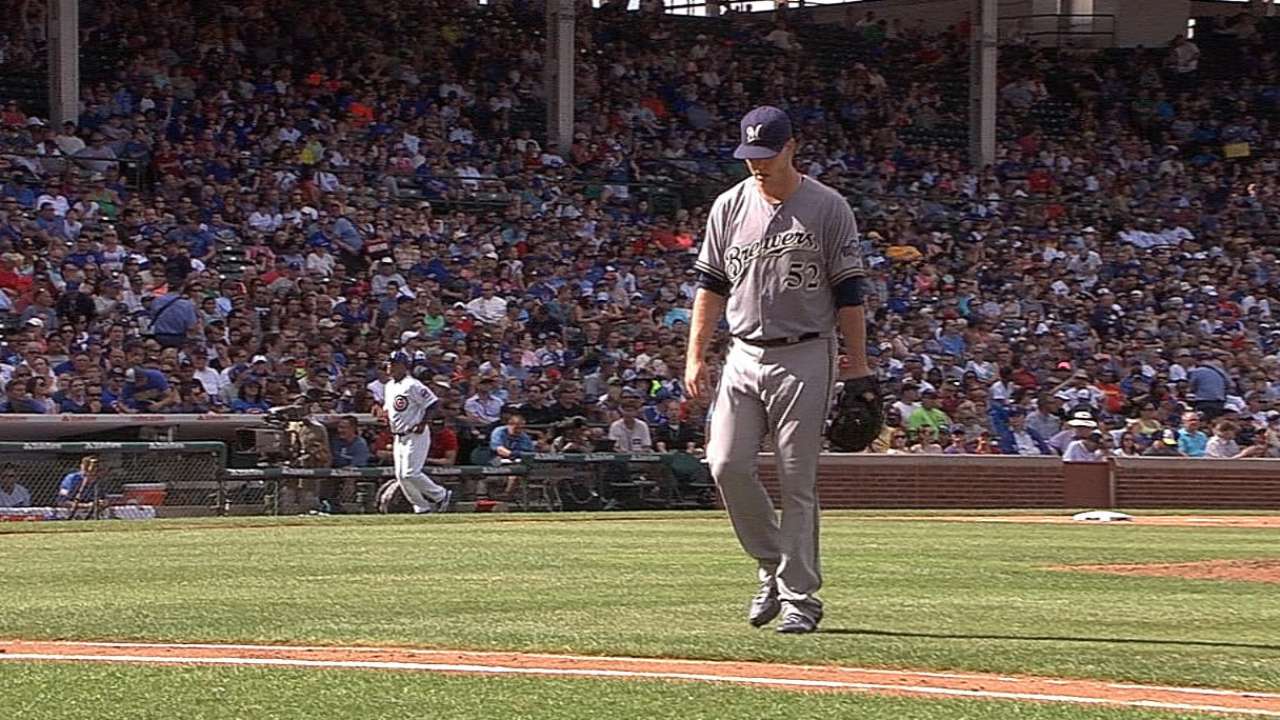 Brewers manager Ron Roenicke is also a fan of Nelson's fierce concentration, because it reminds him a lot of himself as a player.
"That's OK," Roenicke said. "It works for some people. Everyone has a different personality. I couldn't mess around much and still play. I could off the field, but when I was on the field and at the park, I just had a hard time having fun, laughing and trying to perform well."
What makes Nelson poised to have a better season than last year is his track record of improving over time as he gains more exposure at each level. Between his 2013 and '14 seasons in the Minors, he lowered his ERA 2.21 runs and pitched almost 28 more innings, while giving up 16 fewer runs and 18 fewer walks.
Nelson's attitude is something he learned from his parents. His father Jim played linebacker for the University of Florida, and his mother played basketball at Florida State. They certainly helped him with their athletic genes, but his parents also instilled in him the value of overcoming obstacles and bad performances.
"Both my parents are hard workers," Nelson said. "Even if something doesn't go their way, they still try to work through it and learn from it. Those are characteristics I've looked up to and tried to imitate."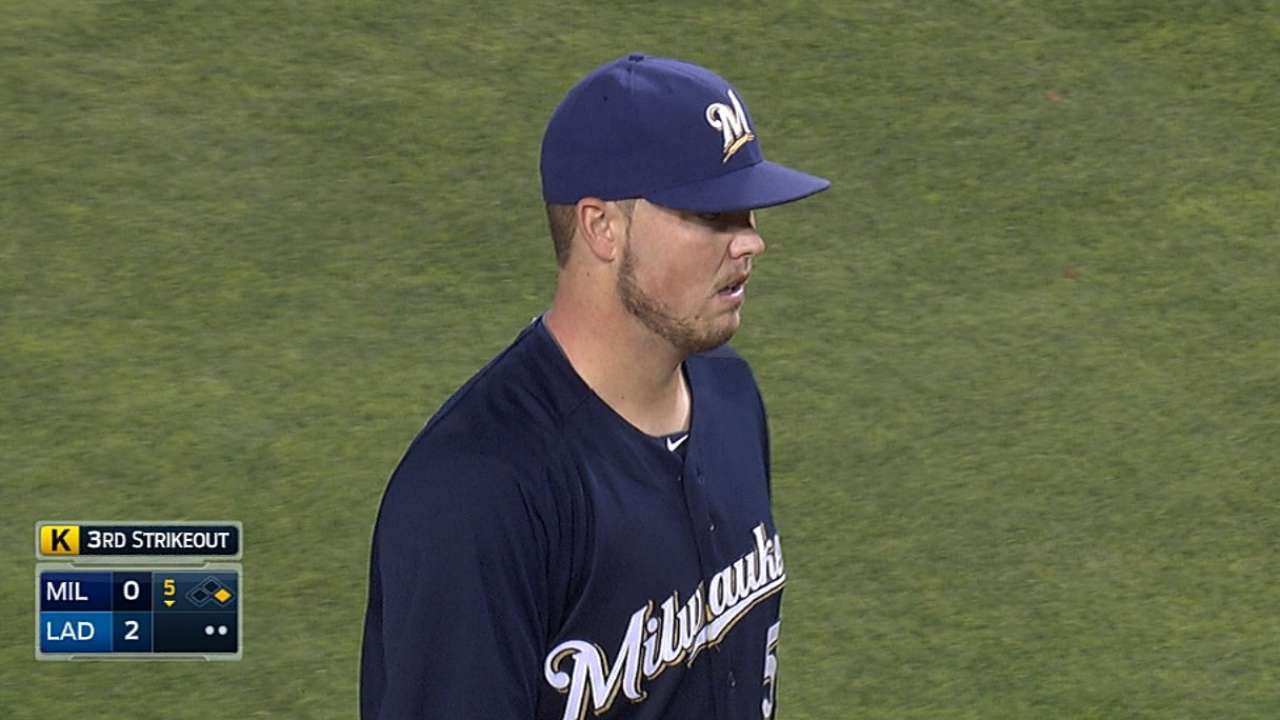 Fellow pitchers Matt Garza and Kyle Lohse, whose lockers by no accident are right next to Nelson's in the spring clubhouse, have tried to teach him what they can about how to have success at the highest level.
"When I got up, they told me not to do anything more than I have been doing, because what I had been doing had been successful," Nelson said. "They helped me a lot with the mindset of it, and just watching those guys do their routine in between starts is really good, too."
As for breaking that intense, Clemens-esque demeanor? Roenicke thinks it could happen soon.
"It comes with time, it comes with confidence in what you're doing," he said. "So hopefully, you will see that sometime."
Nick Krueger is a junior majoring in journalism at Arizona State University. This story is part of a Cactus League partnership between MLB.com and ASU's Walter Cronkite School of Journalism and Mass Communication. This story was not subject to the approval of Major League Baseball or its clubs.