Prognosis uncertain, Lee tries to stay positive
Phils southpaw hoping for best with balky left elbow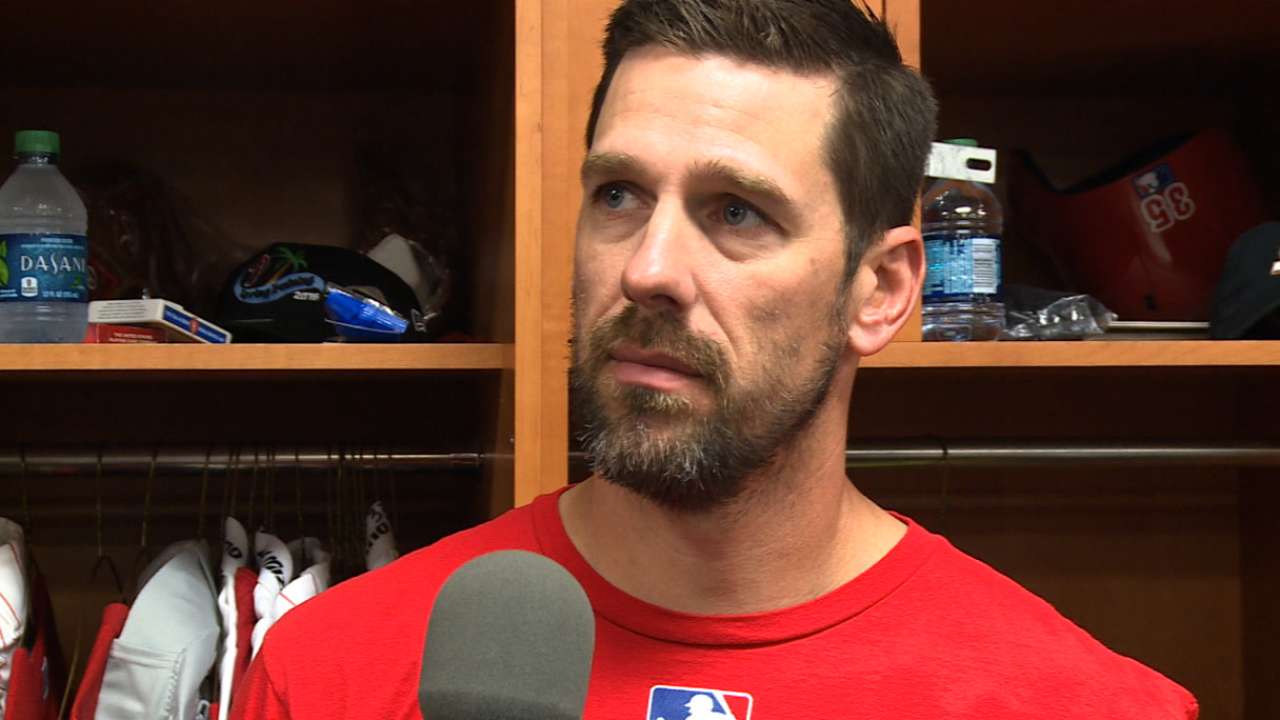 CLEARWATER, Fla. -- Cliff Lee stood in front of his locker early Monday morning and faced down the prospect of his baseball mortality with the same demeanor he has when he stands on the mound and faces down hitters.
Calm. Business-like. Almost detached.
Lee is experiencing discomfort in his valuable left elbow again, in the same spot he felt it last season when a strained flexor tendon shut him down for the final two months of the season. And despite his measured tones, make no mistake: This is a big deal. For the Phillies, who need a lot to go right this year. For contenders, who could see him as the final piece they need to win it all. Most importantly, for the 36-year-old former Cy Young Award winner and his family.
Inside, Lee might have been experiencing a tsunami of emotions, a jumble of clashing feelings.
Optimism that this will turn out to be just a minor setback. "I hoped to nip it in the bud as quick as we can and hope that it's just a little twinge or something from really cranking it up the first time in a while," Lee said.
Rage at the unfairness of it all. "I just know I did everything to prevent it. That's really all I could do, so there's nothing I look back and say, 'I should have done this, I should have done that.'"
Bafflement at what went wrong. "I truly felt nothing for months, and then all of a sudden there it is after the first time I pitch in a game."
Dread that he may need an operation. "Basically if I have the surgery this season will be done, possibly my career I guess. I don't know. We'll have to see."
Resignation that he has little control over what happens next. "So long as I'm satisfied with how I prepared, there's nothing more I can do."
Outwardly, Lee discussed each scenario in a clinical monotone, delivered with an invisible shrug. Even as he was admitting that this was bothering him, his tone and body language suggested that he was discussing what he planned to have for lunch.
"Obviously, it's very disappointing with all the stuff I did in the offseason to prevent something like this from happening," Lee said. "It's frustrating. There's still a possibility it's scar tissue and it's normal, but there's also the possibility it's coming back, and that's very frustrating."
There are few things more unnerving than uncertainty, and right now Lee stands on a road with several forks. Once he knows what lies ahead, he can prepare and deal with it. But that won't happen until at least after Lee tries to throw again and until he gets a second opinion on the MRI he had over the weekend from renowned orthopedist Dr. James Andrews.
The test results so far have shown only mild inflammation in a small area. That's encouraging. It reminds Lee of last year, though. That isn't. There's a chance it could just be scar tissue breaking up. There's a chance it could be something worse.
Last season, Phillies club physician Michael Ciccotti, Dr. David Altchek from the Mets and Dr. Andrews all recommended against surgery.
"They all said last year it's in the upper-90s-percent chance it'll heal just fine with rest, and like 3 percent chance you might need surgery," Lee said. "Obviously you're going to take your chances on rest and rehab, and that's what we did. So, potentially I'm the 3 percent that needs surgery, and potentially it's scar tissue breaking up and it's normal. But I think it's early to know which one it is."
Lee has done what he could. A reporter wondered Monday whether he might need to make an adjustment to account for the fact that he's a baseball senior citizen. Invisible shrug.
"I felt like I've changed everything I needed to change to prevent. I don't know how to go out there and be anything other than what I am," Lee said. "I just wish it didn't exist. I wish it wasn't a problem.
"At this point, there's nothing I can do about it, other than listen to the advice of our trainers and medical staff and try to do everything I can to get back on the field and play. Because that's obviously what I want to do. That's what I'm here for. That's really it."
Until further notice, Lee and the Phillies just have to hope for the best and prepare for the worst.
Paul Hagen is a reporter for MLB.com. This story was not subject to the approval of Major League Baseball or its clubs.