Breaking down the Phillies' 2015 Top 30 Prospects
Crawford tops list; Nola one of five pitchers in top 10 who weren't with organization to start 2014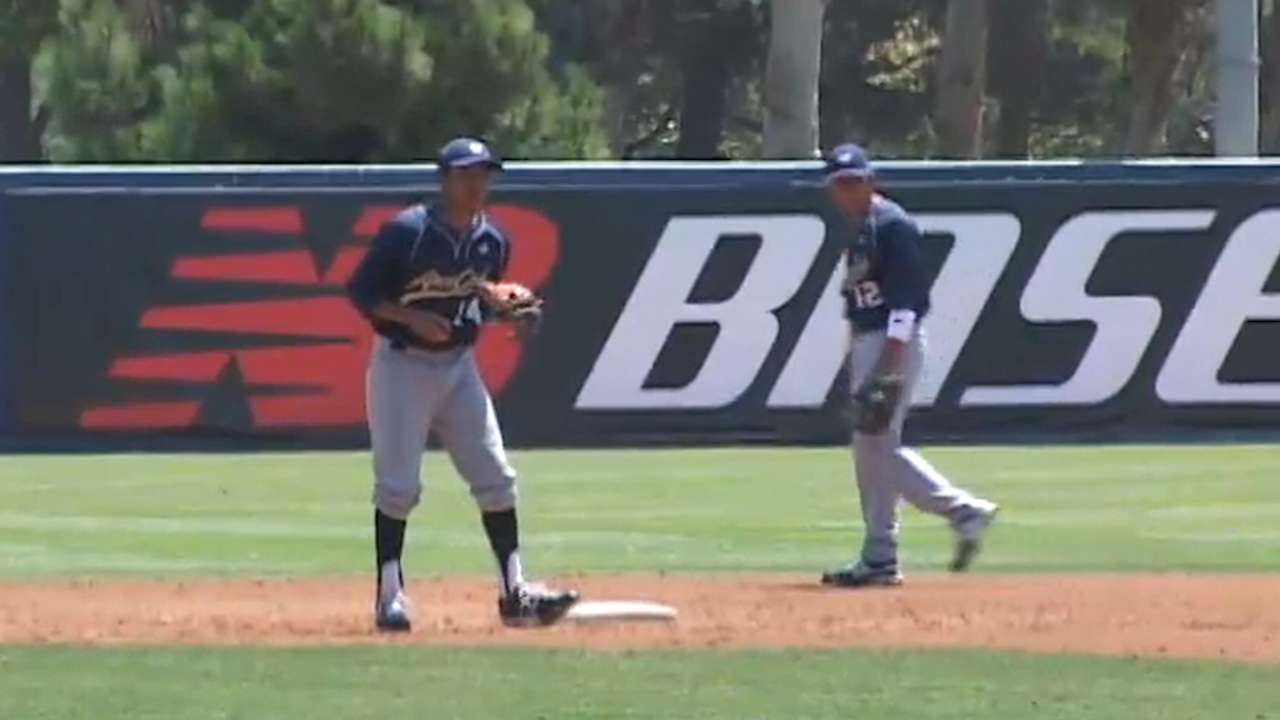 Starting with the First-Year Player Draft last June and continuing into the offseason, the Phillies have acquired a significant amount of young talent in the past eight months, which is reflected in their 2015 Top 30 Prospects list. Right-hander Aaron Nola, the seventh overall pick in 2014, is one of five pitchers ranked in the top 10 of this year's list who weren't a part of the organization at the start of last season.
Shortstop J.P. Crawford, the club's first pick in the 2013 Draft, has taken over the top spot on the list following a stellar first full professional season. He earned All-Star honors in the South Atlantic League and continued to play well after a midseason promotion to Class A Advanced Clearwater.
Right-handers Franklyn Kilome and Ricardo Pinto haven't reached full-season ball yet, but they put themselves firmly on the radar in 2014. Along with catcher Deivi Grullon and outfielder Cord Sandberg, they represent the organization's next wave of budding prospects.
Phillies' 2015 Top 30 Prospects
Biggest jump: Franklyn Kilome, RHP (2014: Unranked | 2015: No. 10)
Biggest fall: Aaron Altherr, OF (2014: No. 5 | 2015: 25)
Best tools
Players are graded on a 20-80 scouting scale for future tools -- 20-30 is well below average, 40 is below average, 50 is average, 60 is above average and 70-80 is well above average.
Hit: J.P. Crawford (55)
Power: Maikel Franco (65)
Run: Roman Quinn (80)
Arm: Deivi Grullon (70)
Defense: Crawford (65)
Fastball: Nefi Ogando (75)
Curveball: Jesse Biddle (55)
Slider: Tom Windle (60)
Changeup: Aaron Nola (60)
Control: Nola (60)
How they were built
Drafted: 14
International: 8
Trade: 7
Rule 5: 1
Breakdown by ETA
2015: 6
2016: 9
2017: 9
2018: 5
2019: 1
Breakdown by position
C: 2
1B: 0
2B: 1
3B: 2
SS: 1
OF: 8
RHP: 9
LHP: 7
Teddy Cahill is a reporter for MLB.com. Follow him on Twitter at @tedcahill. This story was not subject to the approval of Major League Baseball or its clubs.