Strength guru Barwis helps motivate Mets
Large group of players sought trainer's guidance for offseason conditioning program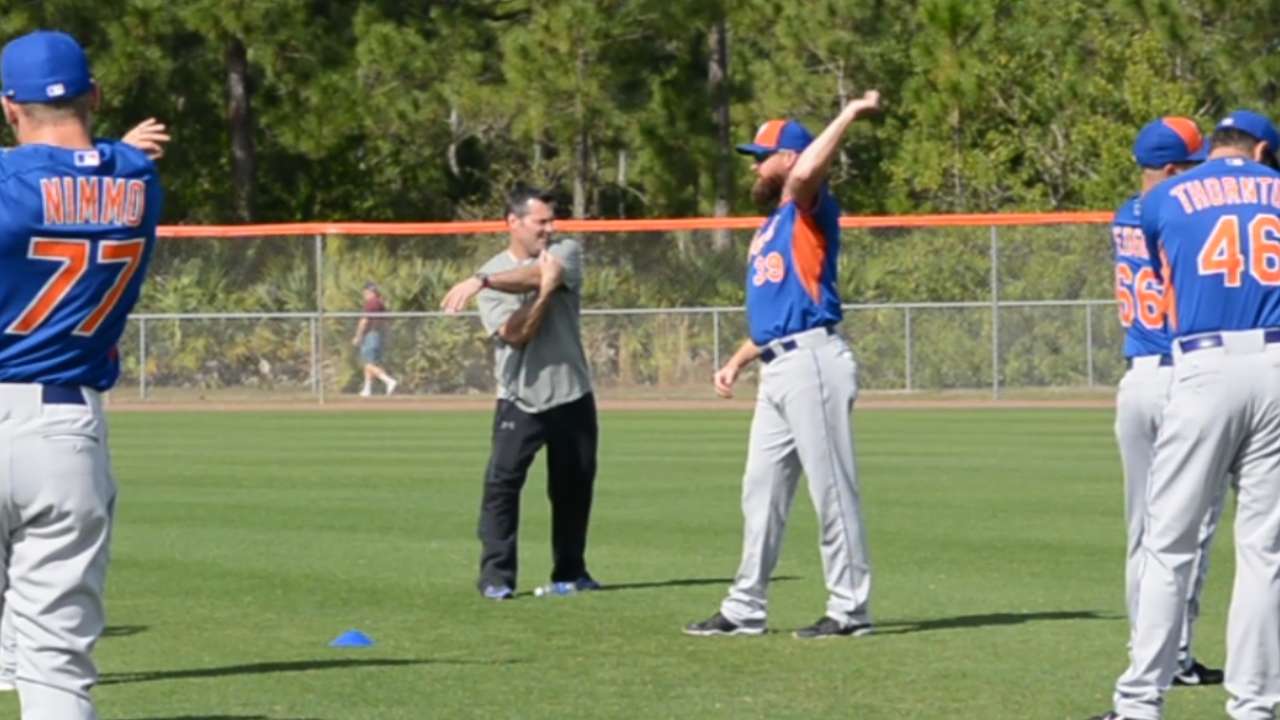 PORT ST. LUCIE, Fla. -- For the briefest of moments, I swear I see something resembling sympathy in Mike Barwis' eyes. Barwis had just made us lug weight plates twice the size of our heads across the gym, then run -- always running, never walking -- back and forth and back and forth, a new exercise waiting at the end of each lap. There are more weights, then hurdles and benches. There are resistance bands and medicine balls.
Finally, we are afforded a measure of relief -- stretch time -- and Barwis catches my eye as I struggle to contort my body into an unfamiliar formation.
Barwis knows I'm no athlete. He doesn't care.
This, I understand, is nothing compared to the workouts that roughly 30 Mets subjected themselves to on a daily basis this offseason, about one-third of them repeat customers from the year before. It is certainly nothing compared to what the dozens of disabled patients who relearned how to walk under Barwis' tutelage endured. And yet I can't shake this overwhelming feeling, this growing urge, this primal reflex that I want to collapse.
I ignore it for now and get to my feet as Donny Vanker, one of the men working overtime to transform Barwis' fitness system into a multifaceted empire, shoots me a glance.
"That was just the warmup," Vanker said.
* * * * *
Wilmer Flores remembers the first time he saw snow.
Stepping out of Detroit Metropolitan Wayne County Airport last winter, Flores realized the depth of his commitment when he noticed the snow banks piled high on each side of the road. The Mets had told him it would be good for his career to attend a four-week fitness camp that they were sponsoring in Michigan, and Flores, who did not have a clear position or career path, listened.
Rather than relax in the warmth of Venezuela, Flores, Juan Lagares, Lucas Duda and several others trudged through snow the first day of camp, then through the most difficult series of drills and stretches any of them could imagine.
"I had never worked out like that before," said Flores, who grew more agile over the four weeks. Duda lost 10 pounds. Barwis gained traction within the Mets community.
Barwis and Mets chief operating officer Jeff Wilpon met in 2008 at the University of Michigan, and they kept in touch and began looking for ways to collaborate. The initial Michigan program proved successful enough -- Flores established himself as a shortstop candidate, Duda hit 30 home runs, Lagares won a National League Gold Glove Award -- that the Mets opened an unused portion of their Port St. Lucie complex and rented it to Barwis.
Weight machines now line one wall, with a plot of cheery green artificial turf in the center. Around it sit various torture instruments -- hurdles, medicine balls, resistance bands, box jumps and so forth. Near the entrance are shelves lined with Barwis' branded merchandise, including workout gear and dietary supplements.
Barwis' influence leaks into the rest of the Mets' facility, where trainers zip around on golf carts, toting water bottles full of bright-pink Barwis protein shakes. In addition to authoring workouts for roughly 30 Mets this offseason, Barwis wrote up nutrition programs as well. David Wright now eats a salad every day for lunch. Flores loads up on some variation of the same thing: breakfast is oatmeal, eggs, brown bread and yogurt; lunch is chicken and brown rice; that's followed by more chicken and sweet potatoes for dinner.
"You have to make the sacrifice," Flores said. "It's not only just hard work, hard work, hard work at the gym. I really realize now that being a successful baseball player is not easy."
Not all Mets players have bought into the system. Though Zack Wheeler reported to Port St. Lucie early, for example, he did not want to pay Barwis thousands of dollars when he could work out at the Mets' regular facility for free. (Union chief Tony Clark said Sunday that he has no problem with the facility's setup.)
Veterans such as Michael Cuddyer and Curtis Granderson, accustomed to their own programs, largely stayed away. The Mets did subsidize the cost of Barwis' camp, with some Minor Leaguers paying as little as $2,000, but the cost varied based on the length of the program. The club subsidy was smaller for big leaguers, meaning they paid more for the same program. And while the Mets encouraged their players to attend, no one was forced to take part. The players didn't have to be forced into attending. For most, the pull of peer pressure was enough.
With Spring Training now in full swing, the Mets' front office and clubhouse staffs have also begun popping into the facility, many of their members participating in less-intensive tri-weekly classes. Players' wives have their own sessions. Even some of Barwis' independent clients, including Seattle Seahawks lineman James Carpenter, have traveled to Florida to continue training. During one of Carpenter's recent workouts, Mets principal owner Fred Wilpon walked in alongside president Saul Katz, raising his eyes as the Seahawks lineman knocked a boxing glove clean off Barwis' hand.
"I love science and even teaching," Barwis said. "But that environment's a little different than me. I like excitement. I like energy. I like inspiring people to achieve. I don't like negative things. I only like positive things. And that's really why I'm here, because it's a positive, explosive environment."
* * * * *
Among the most dastardly exercises Barwis throws at me is a pushup drill. Bryan Wright, a former University of West Virginia running back who followed Barwis first to Michigan and then to Port St. Lucie, positions us in a circle on the turf. At first, his commands are easy -- up, down, up down. Then Wright starts pausing, alternating the flow for a second. Three seconds. Six. Two. Five.
We stop in the "up" position for a moment and hold it, and Wright, who is directly in my line of vision, stares me down. There's that look of sympathy again -- or is it mischief? The line seems so thin. My arms are visibly shaking, but Wright is a statue, no longer moving or barking commands. Finally, I collapse, and he goes through a few more rotations with the survivors before moving on to a different exercise. At this point, my upper body feels numb.
"Halfway done!" Barwis yells from across the gym.
* * * * *
Barwis likes to tell the story of Brock Mealer, the brother of a Michigan football player, whom doctors gave a 1 percent chance of walking after a car accident on Christmas Eve in 2007. Two years later, once his medical insurance ran out, Mealer turned to Barwis, who developed a rehab program based on his knowledge of neuromuscular systems and biomechanics. (Barwis has a bachelor's degree in exercise physiology from the University of West Virginia, a master's in athletic coaching and a truckload of certifications. He practices what he calls "neurological re-engineering," developing exercises in the hopes of retraining the brain.)
"Everything that I've devised is based on science and how the body is engineered," Barwis said.
The happy story ends with Mealer, unassisted, leading the Michigan football team onto the field for their 2010 season opener. And that is where the latest chapter of Barwis' story begins. Taking the blueprint he developed for Mealer and expanding upon it, Barwis began focusing on helping injured and paralyzed patients walk again. His website is littered with testimonials from spinal cord injury victims and paraplegics.
One recent Saturday, a woman named Ashley Moberly rolled into the facility on the wheelchair she has used full-time since 2010, when a horse-riding accident robbed her of the ability to walk. Finding little relief in physical therapy back home, Moberly turned to Barwis and walked a few steps the first day. On this occasion, she walks nearly half the football field without assistance, as employees gather around and shout encouragement.
"It's so life-changing," Moberly said. "It's stuff that a neurologist wouldn't understand. I've been to every therapist in Monroe [La.], I've driven two hours there and back to get to therapy, and it's a joke. They lift my leg three times and say, 'OK.' But this is just like being struck by lightning. You just have to believe."
* * * * *
An old hamstring injury begins taunting me about 40 minutes in, as I balance my legs on a medicine ball with my arms on the ground and my torso in the air. We're supposed to roll from side to side, which is agonizing on the scar tissue colonizing my left leg. So when Bryan Wright, the trainer supervising us, looks away, I cheat a little. I take a break. He looks back and I try to make sure he doesn't see, before he looks away again and I collapse. Then Barwis comes over and I make sure to summon whatever reserves of strength I have left, so he doesn't see me resting on the ground.
And that's when I get it -- I don't want to disappoint this guy. I'm not athlete and I may never see him again, but I'm going to finish this workout. There's just something about Barwis I don't want to let down.
* * * * *
Two days later, David Wright laughs at the experience. "He loves putting a hurting on you," Wright said of Barwis. "On us, too. He loves seeing you when you're at a breaking point."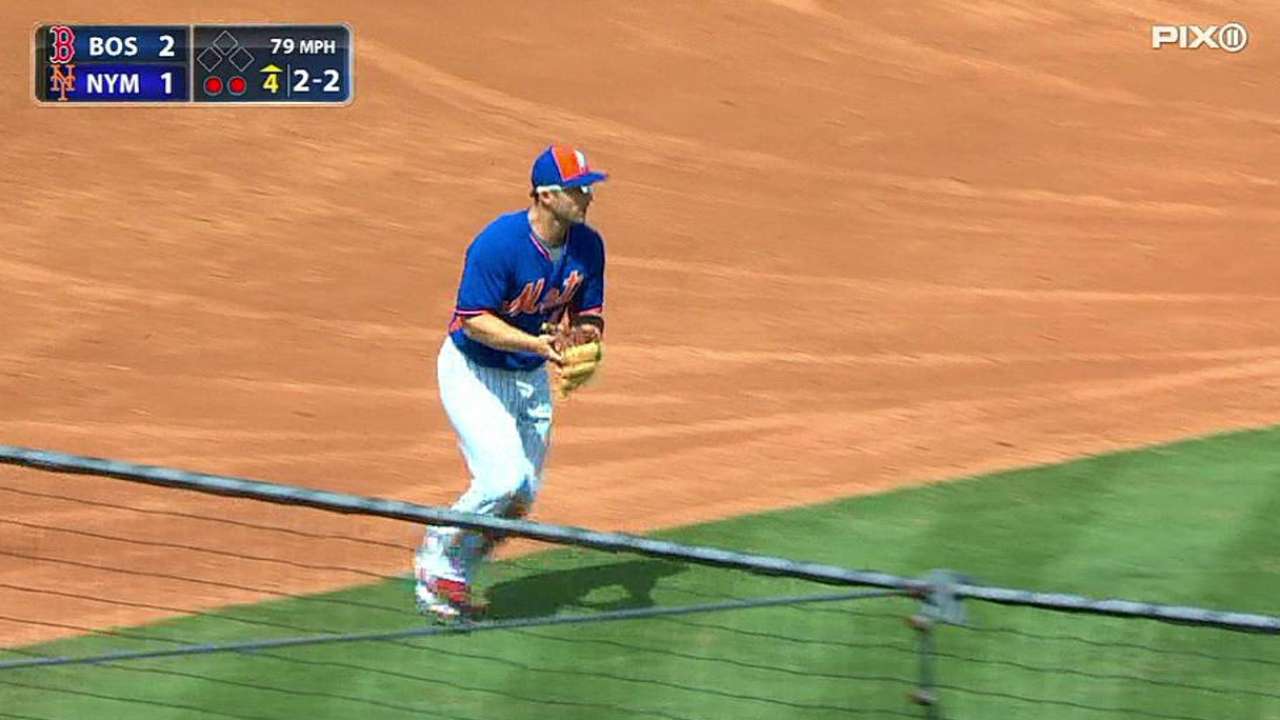 There are other things that Barwis could be doing with his life. He recently starred in the reality show "American Muscle," alongside some of the highest-profile athletes he trains. He's looking to make his supplements and clothing line profitable, and his relationship with the Mets has already been lucrative. With the knowledge he's gained, he could go teach exercise physiology somewhere and make a nice living.
Barwis, however, prefers his one-on-one interactions with clients, from professional athletes to paralyzed patients such as Moberly.
In Port St. Lucie, he is now a significant piece of what the Mets are trying to accomplish. Around the time Wilpon met Barwis back in 2009, the Mets experienced such a historic rash of injuries that they emblazoned signs with the words "Prevention and Recovery," posting them throughout their Spring Training complex. They never want to go through that again. Over the offseason, the Mets parted way with strength coach Jim Malone and hired Dustin Clarke, a hand-picked Barwis disciple who will work with the Mets on a daily basis. Barwis will continue to consult, while working full-time on his other endeavors.
Barwis' employees describe him as whip-smart, driven and one of the leaders of his industry. He describes himself as "just a guy." And it's true that Barwis' methods -- he brands them his Barwis Methods, capital "B" and capital "M" -- are unconventional. His paralyzed clients cannot typically use medical insurance on his services, as they would for physical therapy, because what he does is so far removed from the industry standard. Recently, Barwis established a foundation to help more paralyzed patients use his services, and to train new associates.
Barwis is, in other words, here to stay. So the Mets will keep sending players his way, because they're certain his unconventional enterprise is working.
"Look -- I have an excellent trainer that I use back at home," Wright said. "I've got an excellent trainer back in New York that I use during the offseason. When I'm out on the West Coast, I have a guy I use that I really like. But there's nothing they can do to simulate what we do here. I can't get this anywhere else."
Anthony DiComo is a reporter for MLB.com. Follow him on Twitter @AnthonyDicomo. This story was not subject to the approval of Major League Baseball or its clubs.