Breaking down the Marlins' 2015 Top 30 Prospects
Flurry of trades gives list new look; Kolek No. 1 after top three from 2014 dealt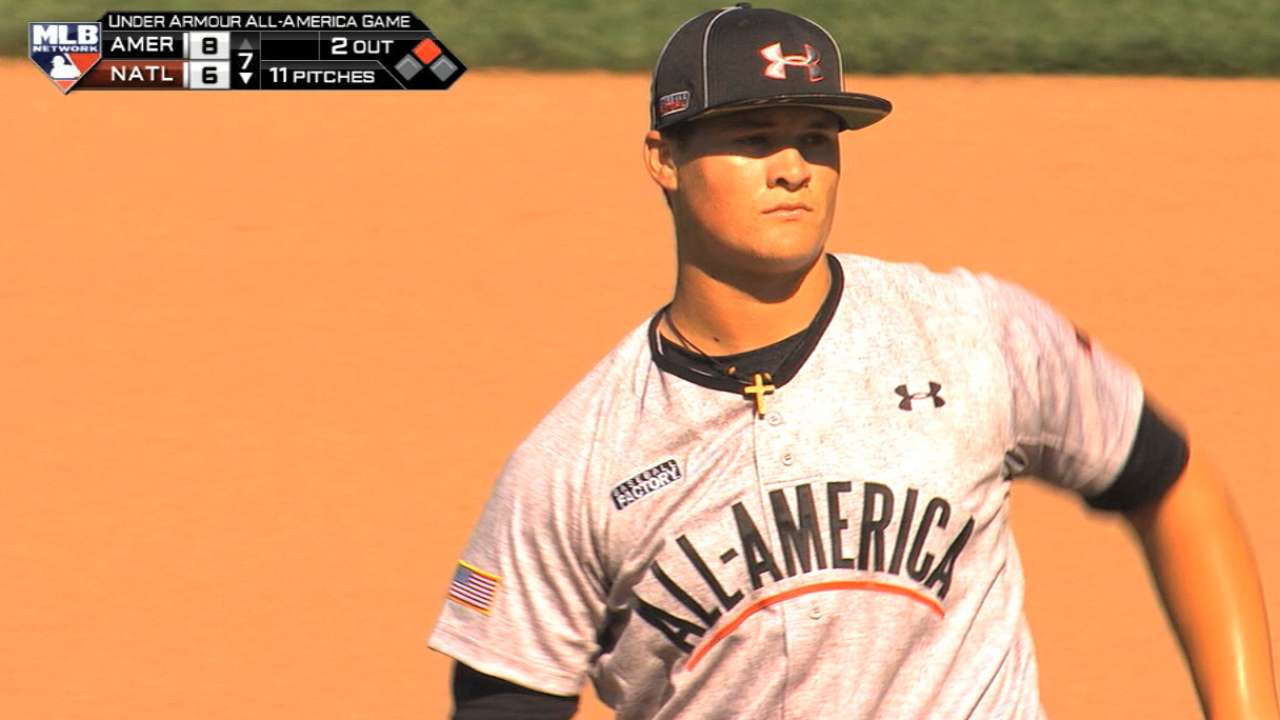 A flurry of trades that began in July and continued into the offseason has given the Marlins' top prospects list a new look. Half of the players who began last season ranked in the top 10 have been traded, including the top three players on the 2014 list -- left-hander Andrew Heaney, third baseman Colin Moran and outfielder Jake Marisnick.
Right-hander Tyler Kolek, the second overall pick in the 2014 First-Year Player Draft, has taken over atop the rankings. He is one of nine players from last year's Draft class to begin his first full professional season on the list.
Among the players moving up the list are catcher J.T. Realmuto and left-hander Jarlin Garcia. Realmuto made his Major League debut in 2014, while Garcia posted the lowest walk rate in the South Atlantic League (1.4 per nine innings).
Marlins' 2015 Top 30 Prospects list
Biggest jump: Jarlin Garcia, LHP (2014: Unranked | 2015: No. 6)
Biggest fall: Jesus Solorzano, OF (2014: No. 15 | 2015: Unranked)
Best tools
Players are graded on a 20-80 scouting scale for future tools -- 20-30 is well below average, 40 is below average, 50 is average, 60 is above average and 70-80 is well above average.
Hit: Avery Romero (55)
Power: Justin Bour (55)
Run: Anfernee Seymour (80)
Arm: J.T. Realmuto (60)
Defense: Realmuto (55)
Fastball: Tyler Kolek (80)
Curveball: Michael Mader (55)
Slider: Kolek (60)
Changeup: Justin Nicolino (60)
Control: Nicolino (65)
How they were built
Draft: 21
International: 4
Trade: 3
Rule 5: 2
Breakdown by ETA
2015: 8
2016: 7
2017: 7
2018: 8
Breakdown by position
C: 2
1B: 1
2B: 2
3B: 1
SS: 4
OF: 3
RHP: 10
LHP: 7
Teddy Cahill is a reporter for MLB.com. Follow him on Twitter at @tedcahill. This story was not subject to the approval of Major League Baseball or its clubs.