Veteran starter looking for another marquee moment
Marquis hopes to earn a spot with the Reds and play his 15th season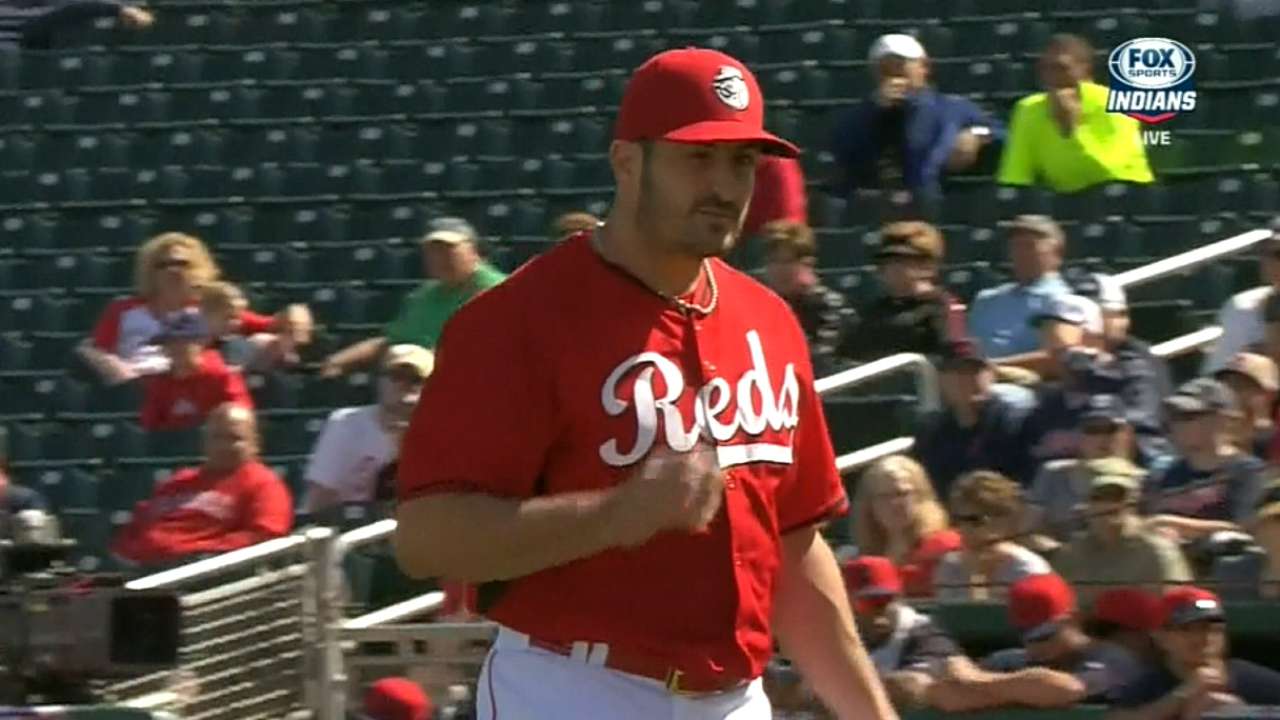 GOODYEAR, Ariz. -- Jason Marquis doesn't know when to quit. He's 36, the father of three, a veteran of 14 big league seasons.
Marquis hasn't thrown a pitch in a big league game since July 19, 2013, because of a torn ligament in his right elbow that required Tommy John surgery.
And for the first time in his professional career, Marquis is in Spring Training not on a guaranteed contract. Nope, he is here as a non-roster invitee, battling to lay claim to one of the open spots in the rotation of the Reds. If things go the way Marquis hopes, Cincinnati will become the ninth big league team on his resume.
"I've worked too hard to let it end with an injury," said Marquis. "I never want to be that guy sitting at home on the couch, wondering if I could still be pitching. I feel too good to walk away.
"If I'm not getting guys out, that's something else, but I feel I can still get guys out."
The early returns this spring are good.
In his second appearance of the spring, Marquis worked three perfect innings, striking out three, in a 10-1 Reds victory against the Mariners on Sunday afternoon. Sunday's performance gives him five shutout innings this spring, a step toward proving to Cincinnati that he belongs.
The Reds are looking for pitching help.
They know Johnny Cueto and Mike Leake will be in the rotation to open the season. Homer Bailey is another veteran they are counting on, but coming off elbow surgery, it looks as if he could open the season on the disabled list.
Initially Cincinnati indicated that Marquis and fellow veteran Paul Maholm were in the running for the final two spots in the rotation, along with prospects Tony Cingrani and Anthony DeSclafani. If Bailey isn't ready to open the season, Marquis or Maholm would seem likely to claim at least one spot for an experienced pitcher.
And healthy, Marquis provides a veteran presence with a successful resume. He had a six-season run of double-figure victories from 2004-09, and he has appeared in the postseason five times. In 2010, however, the elbow problems flared up, leading to the surgery, after Marquis pitched through an 80 percent tear in the elbow ligament for 3 1/2 seasons.
Marquis began his comeback in the Phillies' Minor League system last season, 10 1/2 months after the surgery, and worked seven shutout innings in his first start. But in his fourth start, he pulled an oblique muscle and tried to pitch through that in an effort to prove his elbow was healthy.
Now, 17 months post-surgery, Marquis is adamant that "at 36 I may be better than I was at 26. You learn from your experiences."
And Marquis got a lesson early in his pro career. In his first full year in pro ball, 1997 at Class A Macon, he won 14 games.
"I was thinking this is easy," he said.
The next year, at Class A Advanced Danville, Marquis lost his first 10 decisions.
It definitely wasn't "easy."
"I dominated in Little League and high school," said Marquis, who pitched his youth team to a third-place finish in the Little League World Series and pitched his high school team to a New York City championship.
"I had never failed until then. I learned my lesson. You tweak your delivery. You make adjustments. You aren't always going to feel the best. You aren't always going to have perfect mechanics. You aren't always going to have location. You always have to find a way to get the job done, though."
This winter, the challenge was finding a job. He had several teams show interest, but he waited until Jan. 21 to sign, wanting to make sure that the opportunities teams told him would exist would be there.
The Reds provided a comfort zone. Having played three years with the Cardinals, when current general manager Walt Jocketty had the same job in St. Louis, and for one year with the Nationals, when Cincinnati third-base coach Jim Riggleman was the manager, he knew he could trust them.
"If I do what I am supposed to do, it's my job to lose," Marquis said. "I am confident I can do that."
Jocketty and Riggleman know firsthand what Marquis can do. He has the elixir for what can ail a pitcher in a hitter-friendly environment like Great America Ball Park -- a sinker to die for. Marquis did, after all, earn his only All-Star selection in 2009, when he called Coors Field home and helped the Rockies claim a postseason berth.
"They know what I bring to the table, not only as a pitcher, but as a mentor to young guys," Marquis said. "I can pass along what I have learned in the game."
Marquis has handled successes and failures. He has never backed down from a challenge.
And at the age of 36, Marquis isn't about to start now.
Tracy Ringolsby is a columnist for MLB.com. This story was not subject to the approval of Major League Baseball or its clubs.