Scioscia pleased with 'professional' Street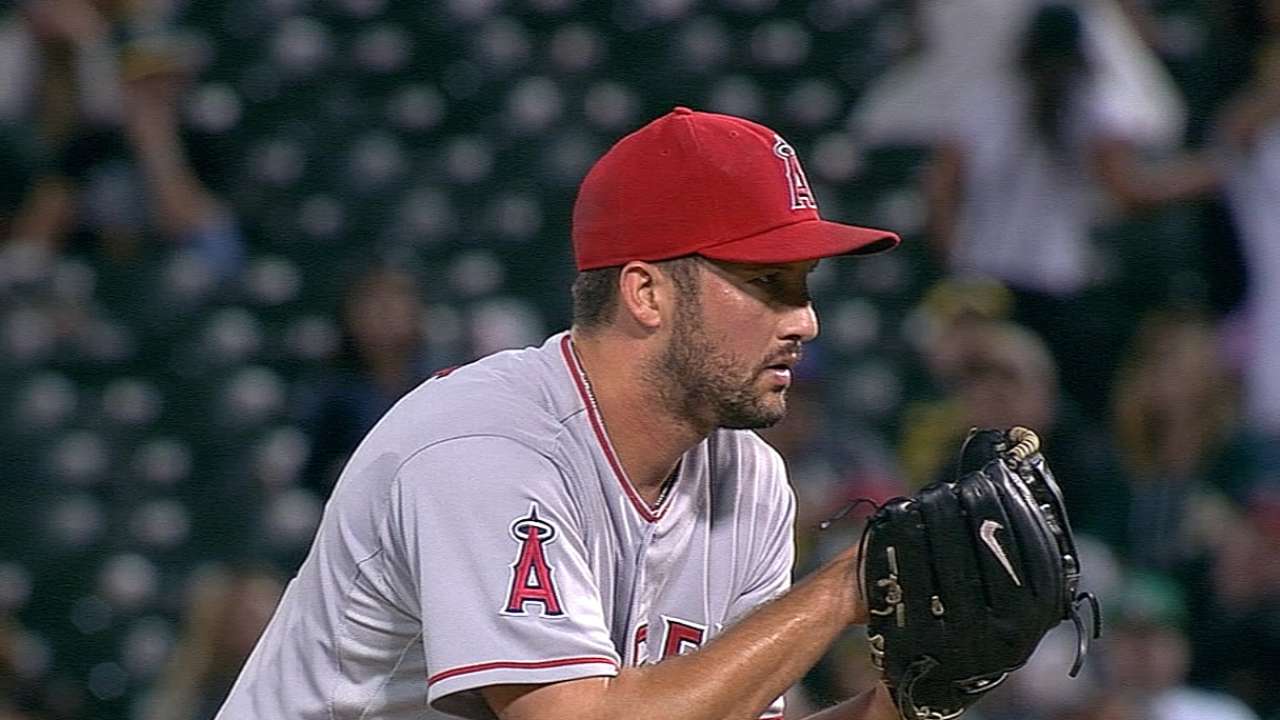 TEMPE, Ariz. -- Huston Street was brought to the Angels last summer to pitch the ninth inning, but that's not how things work in Spring Training. Street trotted out of the bullpen for the top of the fourth inning Sunday in the Angels' game against the Royals -- his first spring outing of the year, but also his first spring outing for the Angels.
Street was acquired from the Padres last July, finishing out the season with the Angels. He allowed a hit in a scoreless inning in his first outing this spring.
"Street looked good," Angels manager Mike Scioscia said. "He says he's not worried about velocity early on, but the ball came out with some nice zip and he threw some good sliders, too."
Beyond that, Scioscia says he has liked what he has seen out of Street in the veteran reliever's first camp with the Angels, watching Street go about his business. Street had 17 saves for the Angels en route to a total of 41 for the 2014 season, and he posted a 1.71 ERA in 28 games after the trade.
"He's a professional," Scioscia said. "It's not like he just knows what's going on and what people need to do. He knows what he needs to do, and he's really good at it."
Worth noting
• Sean Newcomb, the Angels' No. 1 pick (15th overall) in the 2014 First-Year Player Draft and the organization's No. 2 prospect, per MLB.com, had an impressive debut with the club Sunday, striking out one and allowing a hit in his one inning of work. "You can see that explosive fastball, and he showed a really good breaking ball, too. He looked really strong today," Scioscia said.
• For the second straight day, the Angels' late-innings pitching gave up a lead, this time with Jeremy McBryde giving up a two-run advantage with four earned runs on five hits while recording just two outs. Trevor Gott, acquired in the Street trade with San Diego, got the final out, but the damage was done. "Let's talk about the first eight innings," Scioscia quipped after the game.
• Mike Trout launched his first homer of the spring -- and the first for the Angels through four games -- with a towering shot to left-center that cleared the berm and sent fans scrambling down the other side to find the ball. The Angels finished the game as one of five teams with only one homer so far this spring, joining the Rockies, Marlins, Twins and Phillies.
John Schlegel is a national reporter for MLB.com. You can follow him on Twitter @JohnSchlegelMLB. This story was not subject to the approval of Major League Baseball or its clubs.