Hudson begins comeback with solid debut
D-backs right-hander hurls two scoreless innings vs. Giants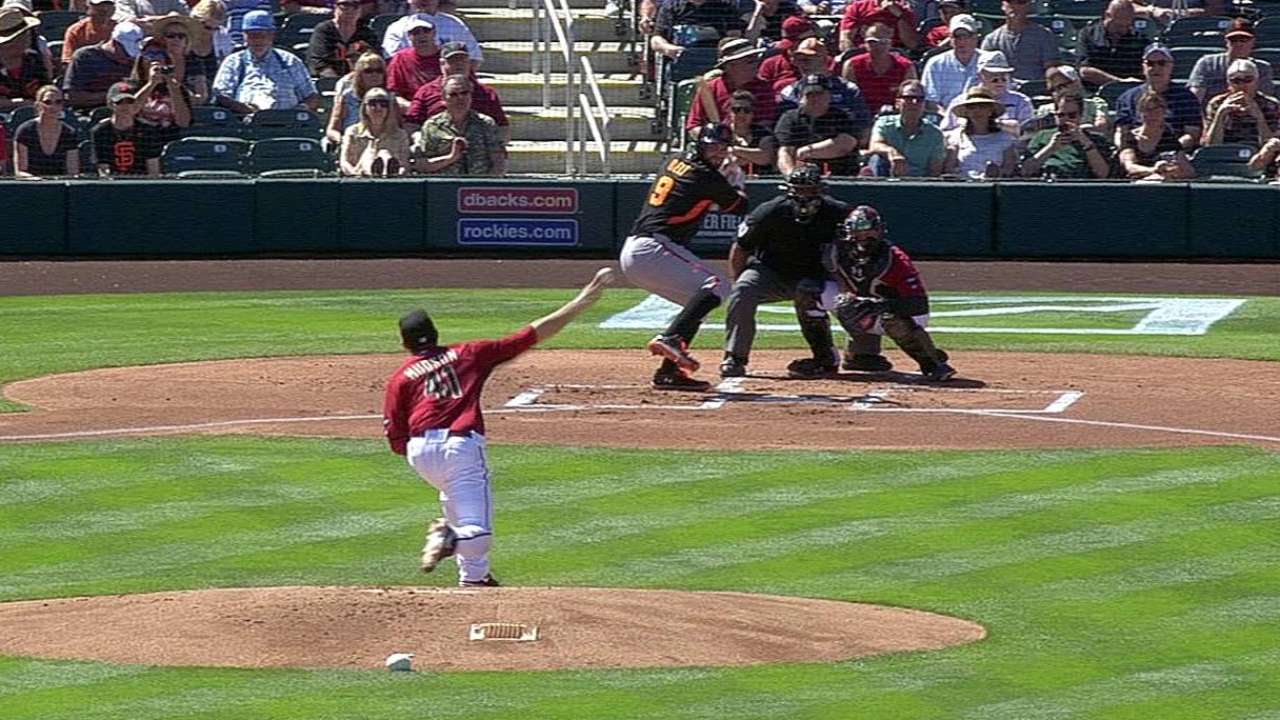 SCOTTSDALE, Ariz. -- It had been so long since Daniel Hudson last took the mound for a start that the right-hander forgot his usual pregame routine Sunday.
He found himself in the bullpen, not knowing how many warmup pitches to throw, asking pitching coach Mike Harkey about his typical regimen, then sitting in the dugout before the game with a little too much time on his hands.
But, as Hudson said, if those are his biggest issues at this stage, then that's a positive sign.
On Sunday, the 27-year-old was making his first Cactus League appearance since 2012 and his first start since that same year. After missing most of 2012, all of 2013 and most of 2014 because of two injuries to his ulnar collateral ligament, Hudson can finally look forward to a "normal" spring. That began with two shutout innings against the Giants, who fell to the D-backs, 10-5.
"The whole outing, I accomplished everything I wanted to accomplish, which was just get out of it healthy and go from there," Hudson said. "So we'll see how I feel the next couple of days and go from there when we get closer to the 13th, when I'm supposed to go again."
Hudson, who gave up just one hit while striking out one, said his fastball felt good coming out of his hand. He missed on a couple of two-strike pitches, he said, but was happy with the way the day went overall. He's expected to factor into the starting-rotation competition, but since he hasn't thrown more than an inning in a Major League outing since June 2012, Hudson will take what he can get.
"I'm up for anything at this point," he said. "I don't really care if I'm pitching in the fifth inning in a mopup role or I'm starting games. As long as I'm out there getting guys out, that's all I want."
Said manager Chip Hale: "This is going to be a joint decision. He's going to be involved in it. The health of his arm is the most important thing. We have to figure out what the best thing is for him and the club together."
• The announced attendance of 12,976 at Salt River Fields at Talking Stick on Sunday was a sellout and a single-game record, eclipsing the previous mark of 12,871 set March 16 last year against the Brewers.
The ballpark now has 82 sellouts since it opened in 2011.
• Across town, in the D-backs' 12-2 split-squad win against the Giants at Scottsdale Stadium, right-hander Jeremy Hellickson threw two shutout innings in his Cactus League debut.
He allowed one hit (a Travis Ishikawa single in the first) and struck out one batter.
• Mark Trumbo, who hit 14 homers in his first year with the D-backs last season, has now gone yard in back-to-back Cactus League games.
"Any time you can drive the ball, I think it's a good thing," Trumbo said. "I think overall as a team, that was more impressive than anything today -- the energy, it seemed like it continued down the line. Each and every guy passed the baton to the next guy."
Joey Nowak is a reporter for MLB.com. Follow him on Twitter at @joeynowak. This story was not subject to the approval of Major League Baseball or its clubs.