Bogaerts' bat stays hot, Victorino to return Tuesday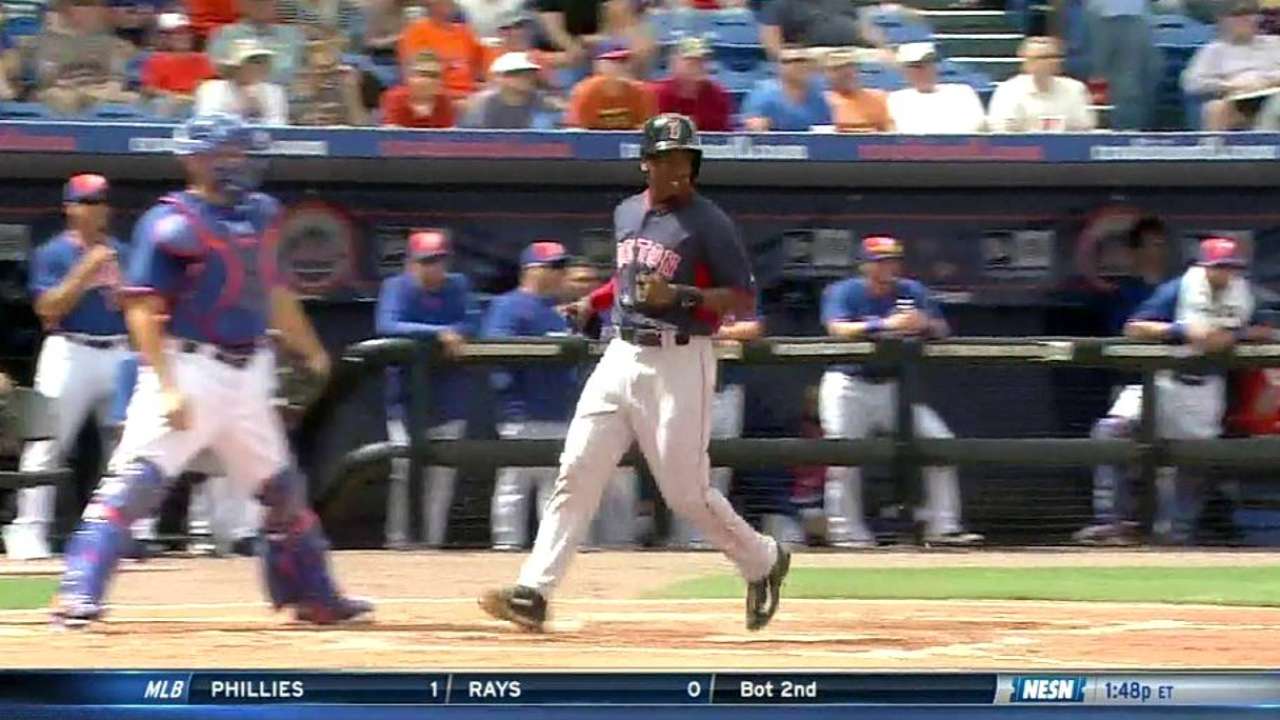 PORT ST. LUCIE, Fla. -- Red Sox shortstop Xander Bogaerts continued his strong Spring Training start Sunday in Boston's 6-3 win against the Mets at Tradition Field.
Bogaerts hit his second home run of the spring, a three-run shot in the fifth inning, and also had an RBI single to give him six RBIs in eight plate appearances. He had two of Boston's five hits and drove in four of the six runs.
Bogaerts had 12 homers and 46 RBIs in his first full season with the Red Sox last year, and manager John Farrell said that Bogaerts appears more relaxed at the plate this spring.
"The only breaking ball he saw in the whole sequence was a hanging breaking ball he put a great swing on," Farrell said of Bogaerts' home run off the Mets' Hansel Robles that gave the Red Sox a 5-2 lead. "He recognized it. I think equal to that, there's so many at-bats where he's staying back and hitting some balls the other way. He had a long fly ball (Saturday) to move a runner, and today an RBI single the other way when he was down in the count. He looks balanced and he's waiting for pitches to get to him."
• Victorino to return Tuesday: Farrell announced after Sunday's game that right fielder Shane Victorino will be held out of games for one more day as a precaution.
Victorino, 34, had some general soreness in his quadriceps and hamstrings following Friday's game against the Marlins and has been held out of the past two games, but was scheduled to return to action Monday against the Cardinals in Jupiter.
Farrell said that plan has been amended and that Victorino now will play Tuesday against Tampa Bay in Fort Myers.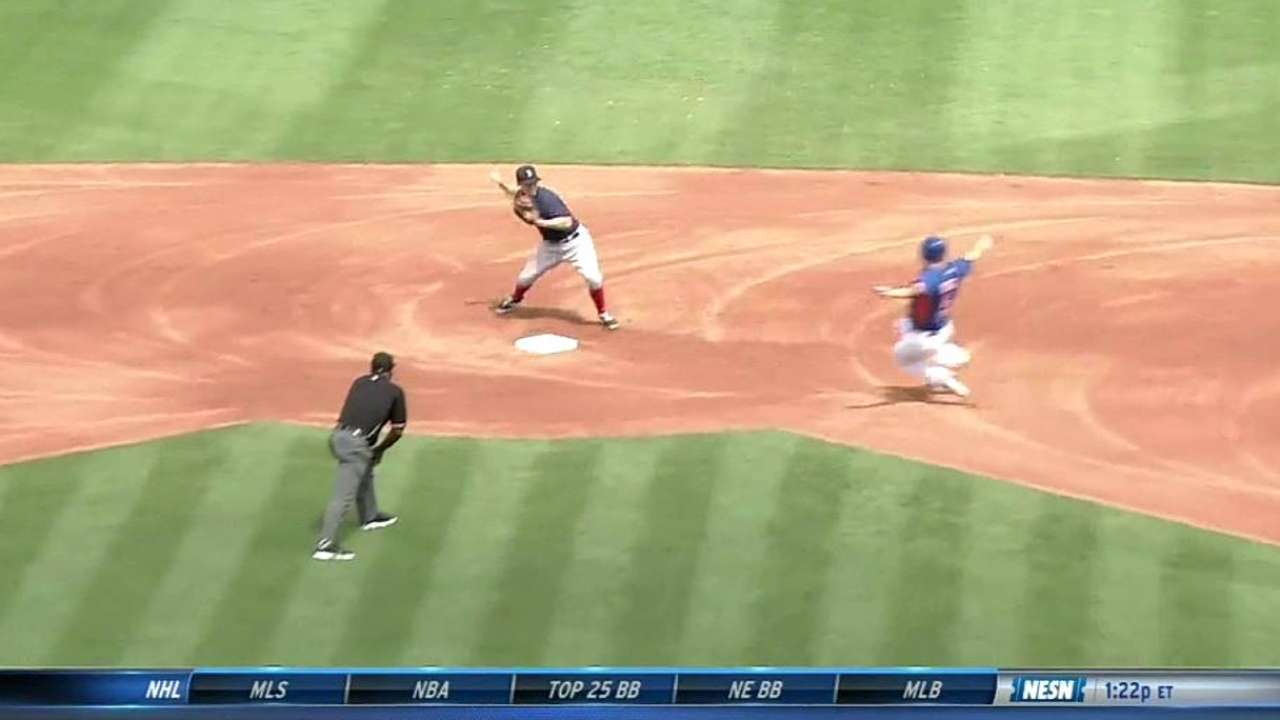 "We're going to give Vic one more day," Farrell said. "It was recommended by medical staff. He went through a full workout (Sunday). He was eager and ready to go, but he's being held back a day."
• Weeks gets unexpected start: Non-roster invitee Jemile Weeks was not penciled into Farrell's starting lineup when the Red Sox arrived Sunday in Port St. Lucie. But when Sean Coyle took a bad-hop grounder off his lip during batting practice, Weeks replaced him at third base. Farrell said Coyle required three stitches to his lower lip but didn't chip any teeth.
Weeks went 1-for-2 and scored two runs batting in the No. 9 spot.
"He's done everything we've asked," Farrell said of Weeks, who also can play second, shortstop and center field. "He's swinging the bat well, he's running the bases aggressively and making good decisions. He's an interesting guy because of his versatility and athleticism. He takes advantage of an opportunity."
Steve Dorsey is a contributor to MLB.com. This story was not subject to the approval of Major League Baseball or its clubs.