Camp notes: Kluber sets tone for Indians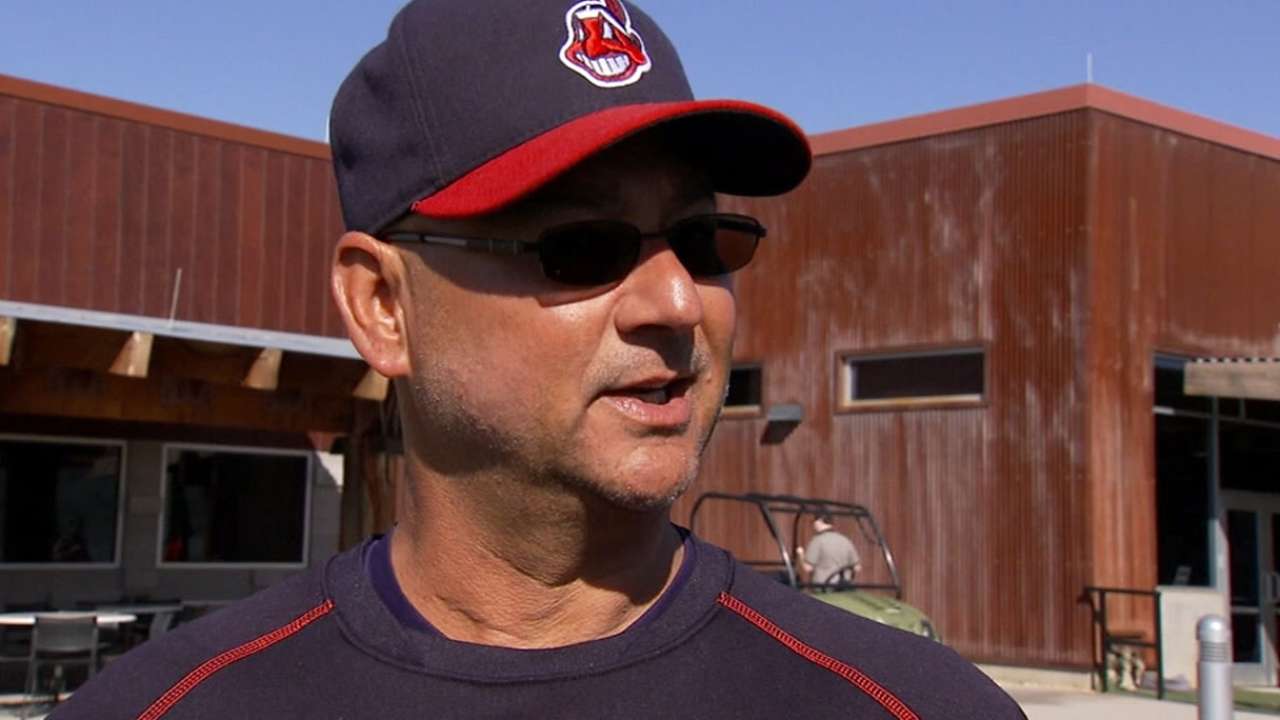 SURPRISE, Ariz. -- Just as Corey Kluber sets the tone in every game he starts, he also sets the tone for the rest of the starting rotation.
When Kluber takes the ball every fifth day, the rest of the Indians' starters are often observing him, taking mental notes on how he attacks hitters, conducts his business and controls a game.
"They watch each other a lot and the smarter they are, the more they watch," Indians manager Terry Francona said. "You want to see how guys are attacking guys and what they're swinging at. We have so many advanced reports and things like that, but when you see guys live and you see maybe what a guy is struggling with, they talk a lot about how they attack certain hitters and things like that."
Other notes from Sunday:
• Zach Walters started at shortstop on Sunday.
"He's going to move around all spring," Francona said. "He's got that one tool; he can hit the ball out of the ballpark. I know he doesn't look like the biggest guy in the world, but he's got silly power."
Walters, listed at 6-foot-2 and 210 pounds, hit 10 home runs in 62 games last season and has played second base, shortstop, left field and right field in his career.
"He hits the ball so far and he's a switch-hitter, and if he can ever master moving around the diamond, he could be so valuable to a team," Francona said. "But it's not easy."
• Nick Swisher was scheduled to participate in drills Sunday, however there is still no specific timetable set for his return to game action.
"He's got to clear hurdles, then he's got to repeat it and he's got to handle some of the day-to-day stuff," Francona said. "It'd be great to have everybody out there, but I don't think it makes much sense to push a guy when he had both knees done. Let's let him feel good about himself first."
• Right-hander Josh Tomlin was scratched from his start Sunday.
"His shoulder's a little cranky," Francona said.
• Gavin Floyd, who was originally scheduled to start Sunday's game but was previously pushed back because of general soreness, threw long toss instead.
Floyd is making a comeback after fracturing his right elbow last season and is scheduled to throw a side session on Tuesday.
• Adam Moore, who was hit in the hand with a backswing Friday, wanted to get back in the lineup Sunday, but Francona doesn't want to rush anything and opted to hold Moore out. Moore will travel with team to Peoria on Monday.
• The Indians announced Sunday that they have agreed to one-year contracts with 11 pre-arbitration eligible players: right-handers Cody Allen, Cody Anderson and Shawn Armstrong, left-handers Kyle Crockett, Nick Hagadone, Ryan Merritt, outfielder Carlos Moncrief and infielders Jose Ramirez Giovanny Urshela, Zach Walters and Tony Wolters.
The Indians still have 12 players who are not yet eligible for arbitration on their 40-man roster.
William Boor is a reporter for MLB.com. Follow him on Twitter at @wboor. This story was not subject to the approval of Major League Baseball or its clubs.