McCarthy makes Dodgers debut, Seager hits game-winner
Jensen slugs two-run homer in eighth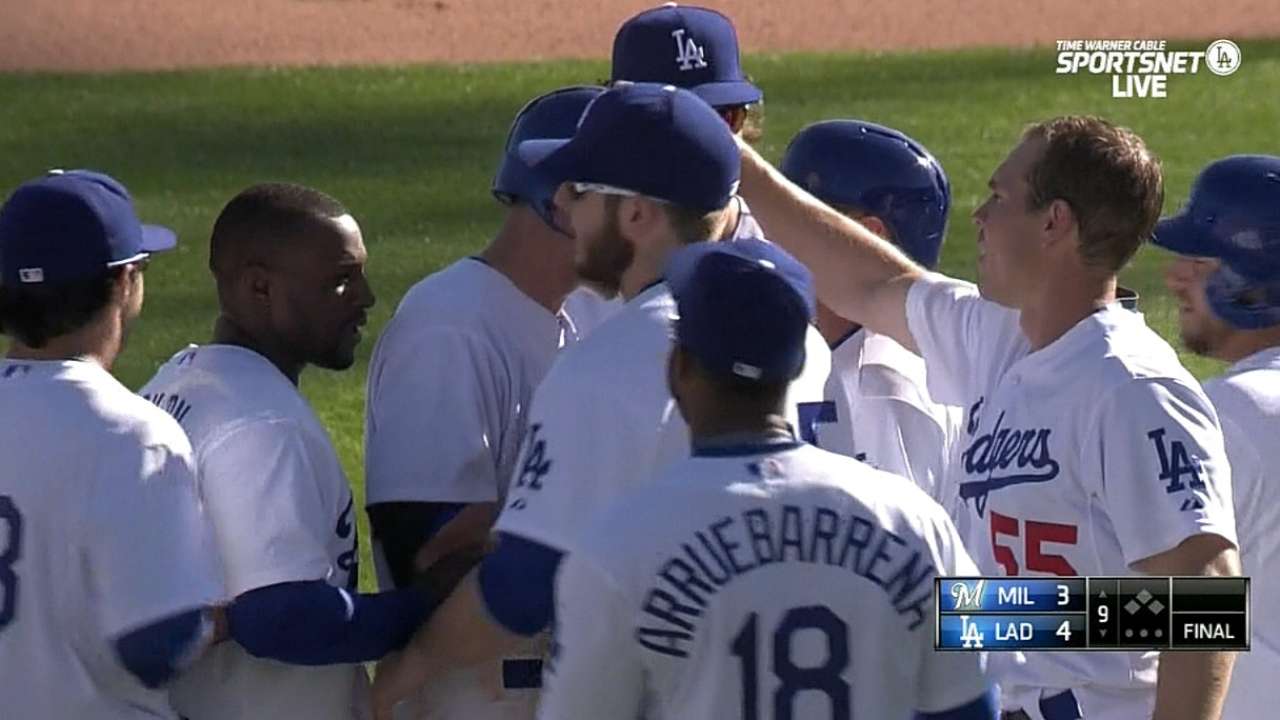 GLENDALE, Ariz. -- Mike Fiers made his first start of the Spring, allowing one unearned run in 2 2/3 innings for Milwaukee against the Dodgers on Sunday.
Corey Seager was the hero for the Dodgers, knocking in the game-winning RBI in the bottom of the ninth to score Jarek Cunningham for a 4-3 win.
The Brewers scored in the first inning off Brandon McCarthy, who was debuting for the Dodgers. Gerardo Parra singled and was doubled home by Carlos Gomez. That was the only run allowed by McCarthy in his two innings.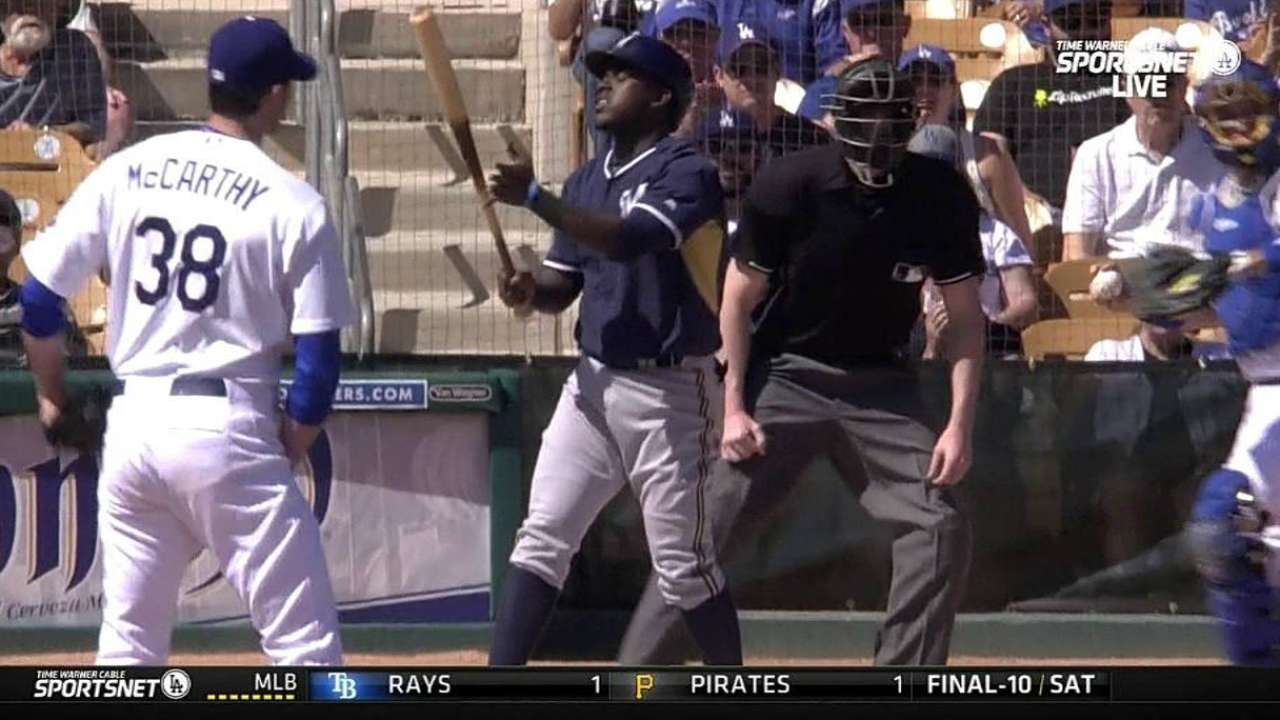 The Dodgers tied the game with an unearned run in the third inning, when Parra dropped Yasiel Puig's high fly near the foul line, allowing Kike Hernandez to score from second as A.J. Ellis was thrown out at the plate to end the inning.
Milwaukee regained the lead in the fifth inning off Dodgers reliever Juan Nicasio on an RBI single by Hunter Morris.
Kyle Jenson slugged a two-run home run off Michael Blazek in the bottom of the 8th for a one-run lead, but Milwaukee answered in the top of the ninth, as Matt Clark tied it at 3-3 with a home run off Ryan Buchter.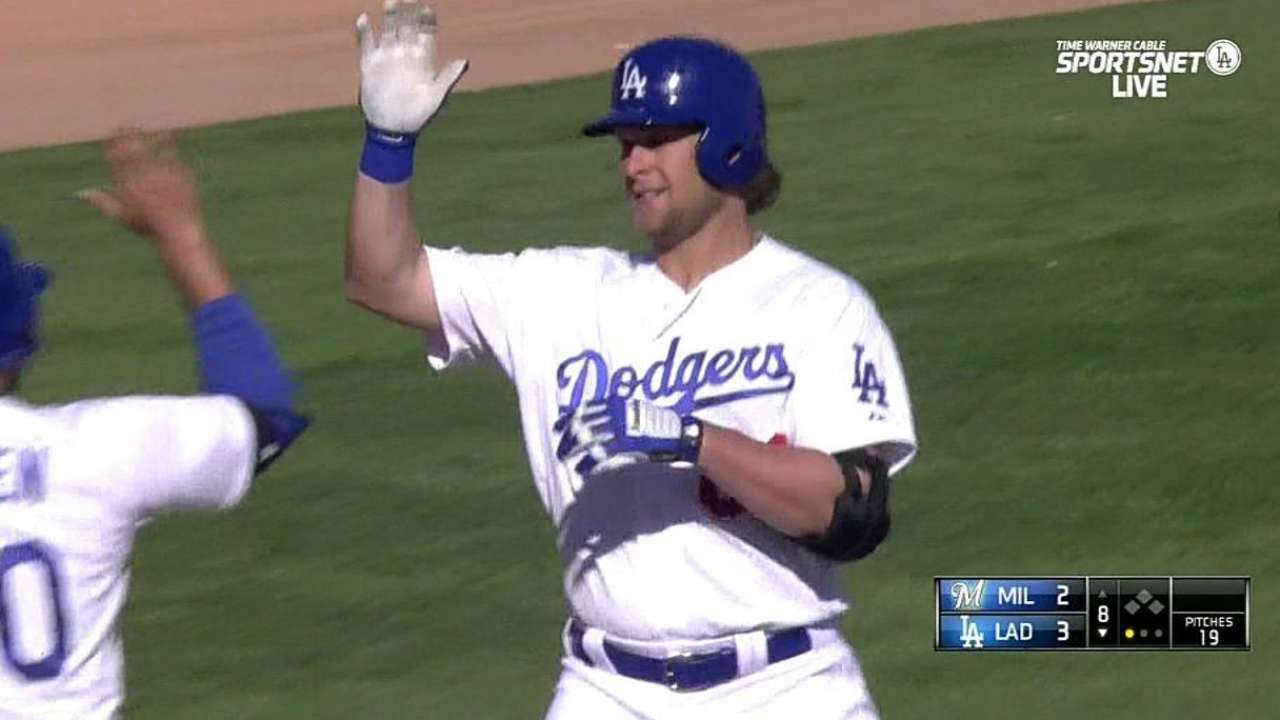 Up Next
Brett Anderson, signed to be the fifth starter, will make his Dodgers debut Monday against the Giants and Matt Cain. It will be Anderson's first game action since undergoing back surgery last season. Scheduled to pitch in relief are Erik Bedard, Brandon League, Carlos Frias, Chris Hatcher and Yimi Garcia. Carl Crawford (bruised shin) is expected to return to the lineup at DH.
Ken Gurnick is a reporter for MLB.com. This story was not subject to the approval of Major League Baseball or its clubs.