MLB.com Columnist
Barry M. Bloom
Despite playoff absence, Girardi's best season was 2014
Yankees manager guided injured, distracted team with finesse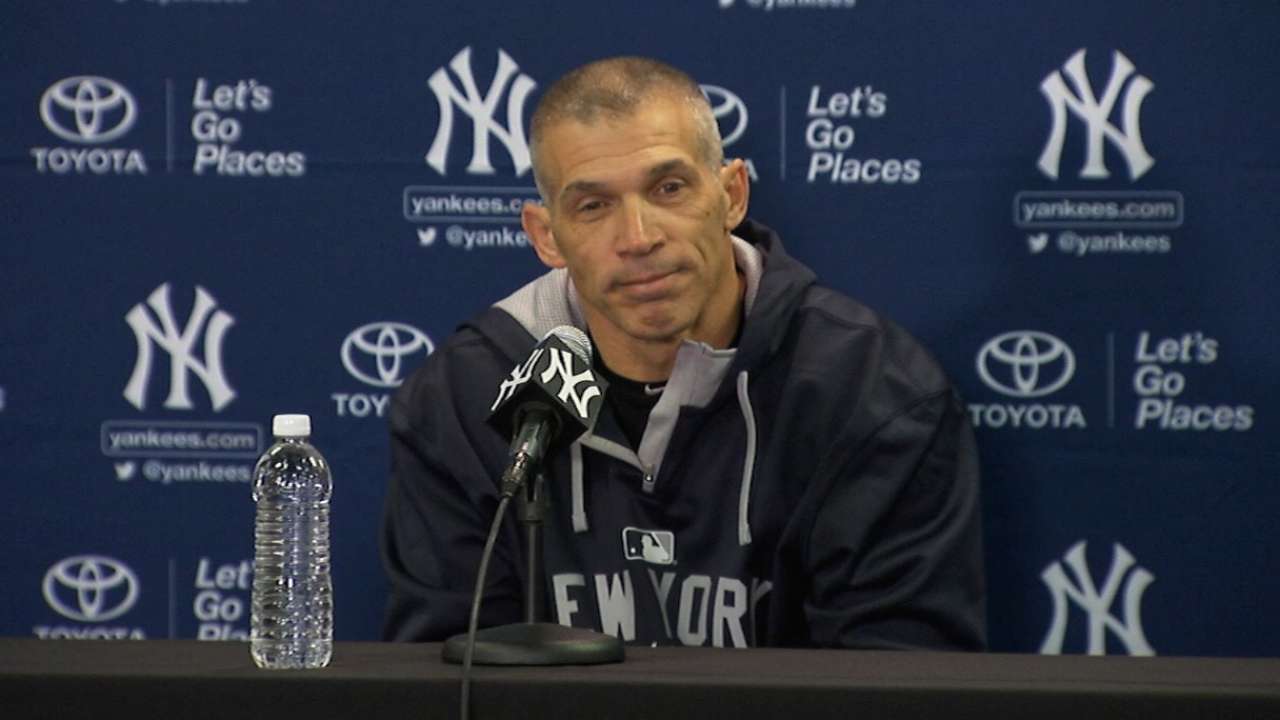 TAMPA, Fla. -- The Yankees didn't make the playoffs last season, but Joe Girardi may have done his best work during the seven years he's managed a club that's expected to win the World Series every year and did that under him for the last time in 2009.
"There are just things that you have to handle every year that are all part of the job description," Girardi said in an interview after the Yankees defeated the Nationals, 3-2, on Sunday at George M. Steinbrenner Field. "The great thing about my job is that I go to the same place every day, but every day is different. Every challenge is different. I don't know that you can prepare yourself for it. You just have to deal with it."
This was all on the Yankees' menu last year: Four-fifths of the projected starting rotation was out for either all or significant parts of the season. Mark Teixeira wasn't healthy because of a wrist injury, and the Yanks had no legitimate backup first baseman. When Carlos Beltran played, it was with a right elbow that was so sore he had to undergo surgery on it immediately after the season.
And then there was a little matter of regularly playing an about-to-retire Derek Jeter, who batted .230 with a .277 on-base percentage in the last 24 games of an illustrious 20-year career.
Despite all this, the Yankees still finished with 84 wins, four behind the 88-win A's, the last team into the postseason in the American League.
None of it surprised Brian Cashman, the team's longtime general manager.
"Joe's been pretty consistent on a year-by-year basis," Cashman said on Sunday. "We hired a guy who can handle a lot, and he keeps proving that. I mean, obviously the challenges change, whether you're the team to beat or you have the injuries we've had the last two seasons or the distractions. He just has been aces all the way."
Last year, though, was special. The Yanks stayed in the playoff race with the likes of David Phelps, Brandon McCarthy, Shane Greene, Vidal Nuno, Chase Whitley and Chris Capuano in the rotation, combining to win 25 games.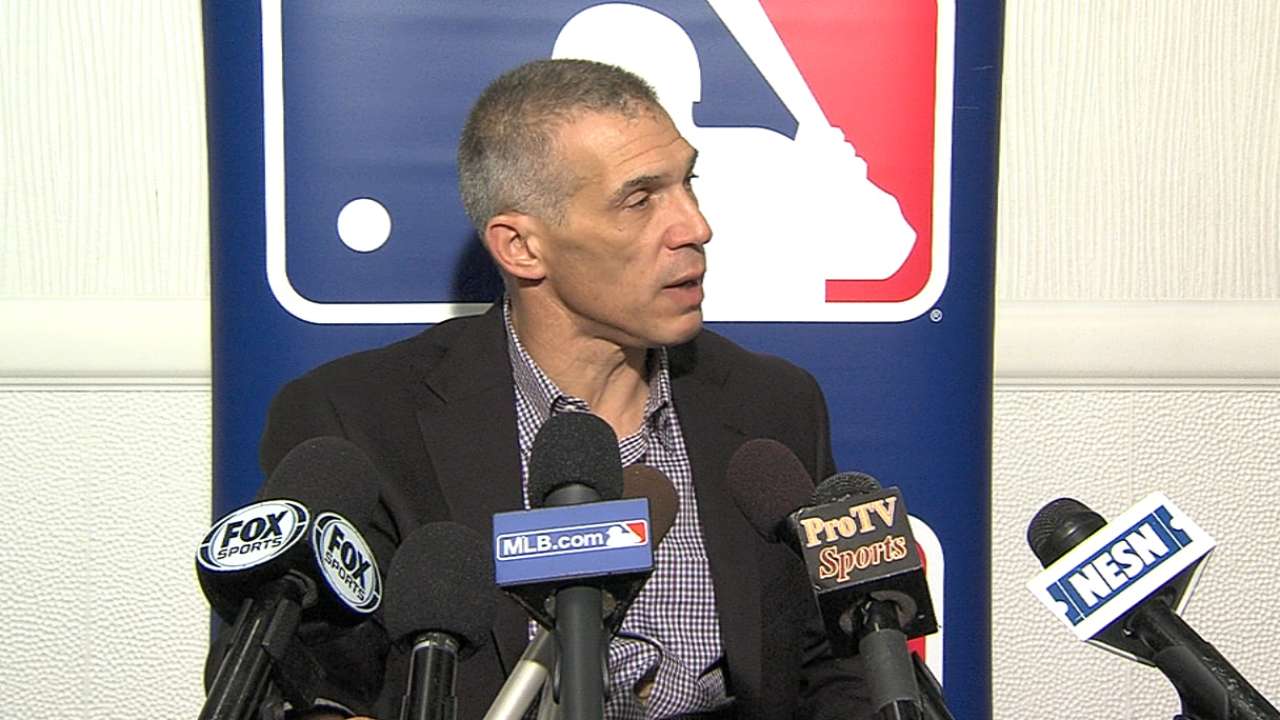 Among their highest-priced players, Teixeira hit .216 while adding 22 homers and 62 RBIs; Beltran hit .233 with 15 homers and 49 RBIs; Alfonso Soriano was released early in the season, his career over; Masahiro Tanaka won 13 games, but he sustained an elbow injury that caused him to miss almost the entire second half; and CC Sabathia was never right, shutting down for the season because of a knee injury after starting only eight games.
"I think Joe did a fantastic job," said Sabathia, who has pitched for Girardi since the 2009 season. "If you look, right around [midseason] we had a whole new roster. For him to keep us playing and keep us in it was a great job, I thought."
Although Girardi gave much of the credit to his coaches "and the guys inside that room," he had to push the right buttons. Girardi utilized a mastery of statistics and a feel for whom to insert when and where and in what situation, keeping the Yankees alive for the second AL Wild Card slot until four games remained.
"No matter what we went through, they kept grinding it out," Girardi said about the players. "They kept fighting and fighting and fighting, which is a testament to them. That doesn't always happen in sports."
But of all his juggling, Girardi did his best work with Jeter, who rebounded to hit .341 with a .370 on-base percentage in his final 12 games. The final run included his last homer, as well as that walk-off base hit to right against the Orioles in Jeter's final at-bat at Yankee Stadium on the incredible night of Sept. 25.
"No. 2 brought that every day, too, a winning attitude," said Girardi, obviously referring to Jeter. "He brought that every day. He wanted to fight, and that's what he did."
There were slumps, of course. Jeter's bat speed was so slow that his batting average fell from a second-half high of .280 on July 29 to a season low of .249 on Sept. 16. By that time, with the Yanks still on the outskirts of a playoff spot, some members of the media pressed Girardi to sit Jeter or at the least drop him much lower than his accustomed No. 2 spot in the batting order. That never happened.
"He was never thinking of taking Jeter out, so there wasn't anything for him to deal with there," Cashman said. "There was nothing to deal with except plug him in and let him go."
There were two problems. Jeter's possible replacements were hitting worse than he was, Brendan Ryan finishing the season at .167 and Stephen Drew at .150.
But even more so, the Yankees had sold thousands of tickets for the 17 home games in September that included Jeter Day on Sept. 7 and his last home series against the Orioles from Sept. 22-25. Most of those games drew in excess of 40,000, with Jeter Day and five of the last six selling out.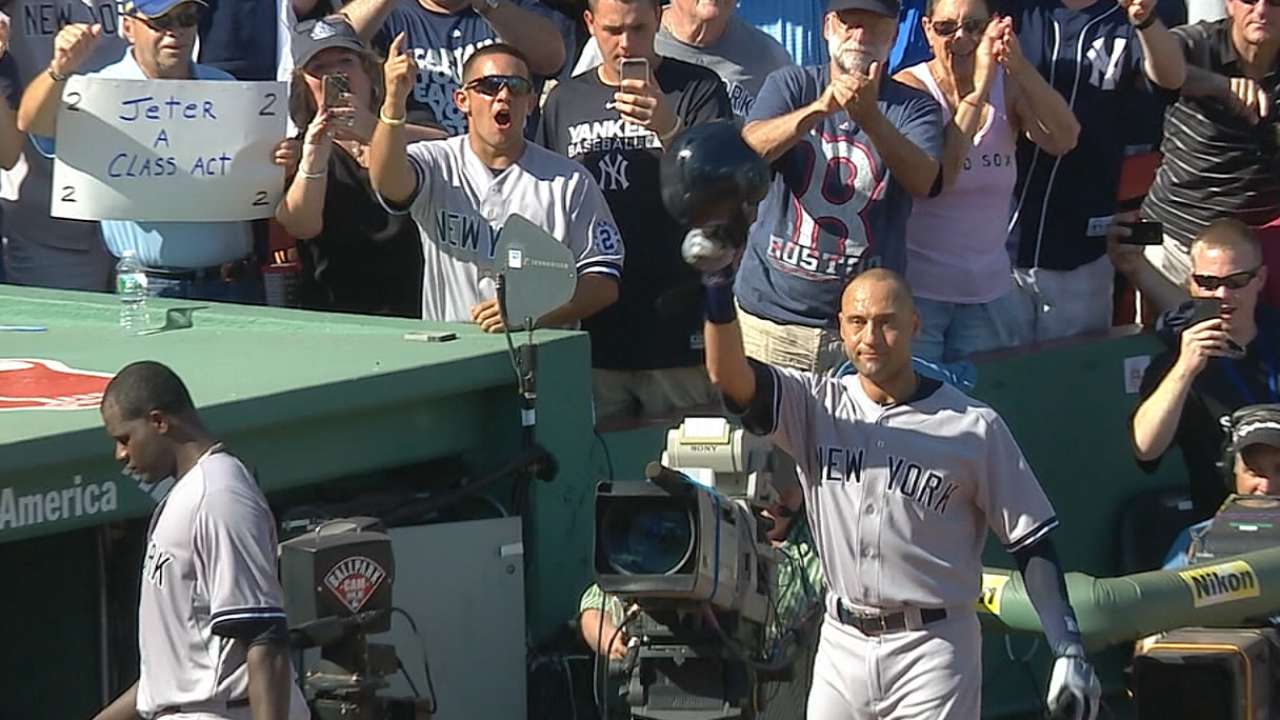 Fans not only expected to see Jeter play, but they expected to see him bat in the home half of the first and a least four times in the game. What was a manager to do?
"I tried to be fair to everyone involved, give our team a chance to win every day and do my job," Girardi said. "I know there was a lot of talk about changing the order. But the question always came down to, who? We didn't have anyone hitting. You want me to move him, but for who?"
Girardi had to balance the needs of the club's marketing, Yanks fans, history, Jeter and the ultimate goal of winning. It was a Herculean task that Girardi managed with incredible success and grace, and it won't get any easier this season with a nearly 40-year-old Alex Rodriguez returning from a one-year suspension.
"I never worried about [all] that," Girardi said. "My responsibility is to the team, the organization and the players inside this room first. That's not taking anything away from the fans. When you get eliminated, then you can do things for the fans. But my job is to the organization first."
Certainly, though, during some seasons, the job is far more challenging than others. To Girardi's point, last year, when Ichiro Suzuki led the club with a .284 batting average, he didn't have much offensive pop to massage. Still, somehow the Yankees finished only four games out.
Put all of this together and that's why, in the end, last season may have been Girardi's most masterful job.
Barry M. Bloom is a national reporter for MLB.com and writes an MLBlog, Boomskie on Baseball. Follow @boomskie on Twitter. This story was not subject to the approval of Major League Baseball or its clubs.