Cervelli earning rave reviews from Pirates' pitchers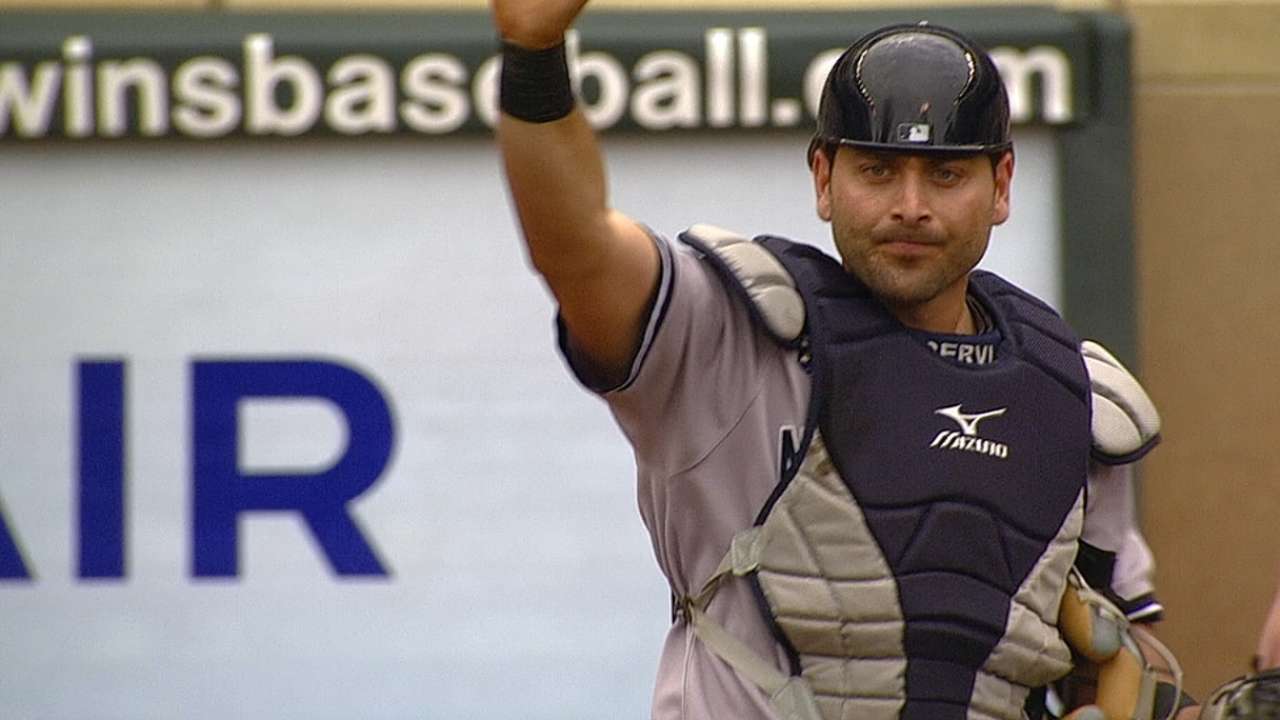 DUNEDIN, Fla. -- When Francisco Cervelli reported to Pirate City a few weeks ago, he faced one challenge more demanding than the others. He had to begin learning an entirely new pitching staff, develop those relationships and put them into action so he'd be comfortable behind the plate by Opening Day.
So far, so good.
At least, according to the pitchers throwing to the Bucs' new everyday catcher, the ones going out of their way during postgame interviews to laud Cervelli's defensive work.
Cervelli caught three perfect innings from right-hander Casey Sadler in Sunday afternoon's 1-0 win over the Blue Jays at Florida Auto Exchange Stadium. He caught lefty Jeff Locke as he allowed only one hit against the Yankees on Friday night. And he was behind the plate for Gerrit Cole's Spring Training debut Wednesday.
Cole was complimentary of his battery mate after his start. Locke raved about Cervelli's work behind the plate, saying he "picked up where [Russell Martin] left off." Now, you can sdd Sadler to the list after Sunday's outing.
"He's going to do his homework and know his pitchers and have that relationship with those pitchers so that everything is just like clockwork," Sadler said. "It makes everything a lot easier. I was greatly impressed."
Cervelli's background work and confidence in himself can rub off on his pitchers, Locke said Friday night and Sadler echoed that sentiment.
Cervelli and Sadler had spoken exactly one time before Sadler's first pitch, and that conversation came earlier on Sunday. Cervelli told Sadler he had done his homework on the 24-year-old pitcher, and he knew the Jays hitters well.
"I told him before the game, I was like, 'I trust you,'" Sadler said. "The rhythm was good. I'm excited. I'm excited to get to throw to him some more. It was a pretty good day."
It's still early, and Cervelli has plenty of homework left to do. He'll spend plenty of time in the bullpen and behind the plate getting to know the rest of the Pirates' pitching staff.
But the early reviews have been positive.
"He's doing fine. He works with the guys. He's had a history of working well with pitchers," Pirates manager Clint Hurdle said. "He has a history of game-planning well, defending well, and that communication lifeline that he's got with guys is good. He's been very good."
Adam Berry is a reporter for MLB.com. Follow him on Twitter at @adamdberry. This story was not subject to the approval of Major League Baseball or its clubs.