Sadler making most of his opportunity in camp
Right-hander giving a good impression so far; Harrison returns to lineup Monday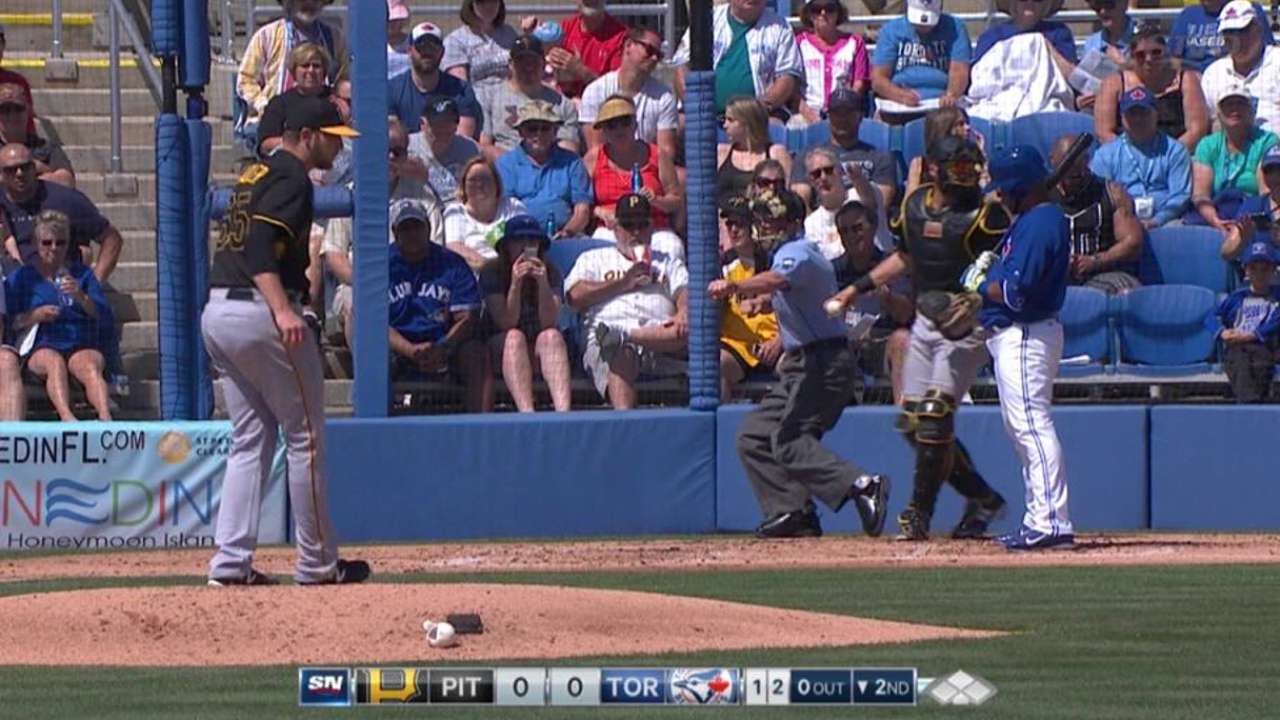 DUNEDIN, Fla. -- Pirates right-hander Casey Sadler has only made six appearances in the Major Leagues, but his approach against most of the Blue Jays' projected Opening Day lineup on Sunday suggested he's plenty comfortable facing big league bats.
Sadler struck out three batters in three perfect innings to begin the Pirates' 1-0 win at Florida Auto Exchange Stadium. He's now thrown five scoreless, hitless innings this spring.
Sadler used his full arsenal of pitches for the first time Sunday, though his focus was mostly on just locating his fastball. It's still early in Spring Training, so most players are still finding their timing, but Sadler has made a concerted effort to attack hitters.
The results were encouraging on Sunday afternoon. Sadler, who went 11-4 with a 3.03 ERA for Triple-A Indianapolis last year, ran up a full count against Toronto slugger Jose Bautista and didn't give in, eventually ending a nine-pitch at-bat with a called third strike.
"I'm not going to throw you a breaking ball," Sadler said. "I'm going to come right at you and force you to put it in play."
Pirates manager Clint Hurdle said the 24-year-old Sadler's brief time in the Major Leagues last season, when he gave up nine runs in 10 1/3 innings, may be a factor in his more aggressive approach.
"Sometimes players, when they get called up, they've got to try to figure some things out. Sometimes they go right at it the way they did in Triple-A. There [are] times they give them too much respect, back off a little bit," Hurdle said. "I think he realized he's going to be best served by sinking that ball, being aggressive to both sides of the plate, using his changeup.
"That's what he did today, and that's what all the pitchers got to do anytime you face a lineup that can do damage. Keep the ball down, eliminate mistakes and make them swing the bat."
Around the horn
• Josh Harrison (twisted left ankle) will play third base Monday afternoon against the Twins at McKechnie Field. Corey Hart, who's been out with a cut on his left foot, will serve as the designated hitter during a "B" game Monday morning against the Twins at Pirate City.
• Andrew McCutchen will be the designated hitter in Monday's "A" game. He has not yet appeared in center field this spring, but Hurdle said the Pirates are simply easing him into the season.
• The Pirates will get their first look at Jung Ho Kang as a third baseman Monday afternoon, as he's scheduled to sub in for Harrison at third during the game.
• Right-hander Vance Worley, competing for the final spot in the Pirates' rotation, will start the "B" game Monday. Mark Melancon and Clayton Richard are also scheduled to pitch.
• Stetson Allie, the only player yet to appear in a game, told MLB.com that he has been nursing a strained left hamstring for seven or eight weeks, but he could be cleared to play after running drills Sunday.
Adam Berry is a reporter for MLB.com. Follow him on Twitter at @adamdberry. This story was not subject to the approval of Major League Baseball or its clubs.