Martin suddenly in running for one of rotation vacancies
Fredi says righty has earned chance to land spot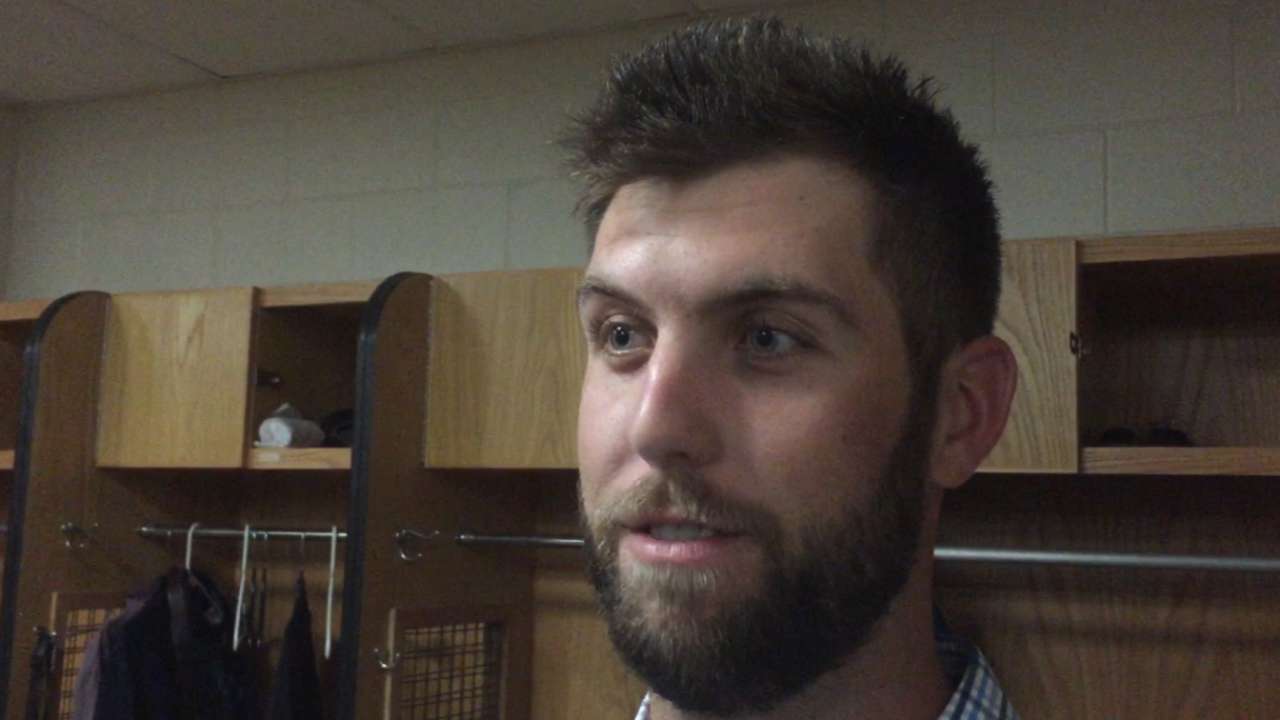 KISSIMMEE, Fla. -- Despite his recent success at the Minor League level, Cody Martin has remained in relative obscurity. The Braves left him unprotected for December's Rule 5 Draft and he came to Spring Training knowing he was not being considered a legitimate candidate for the one open spot in Atlanta's rotation.
But with Mike Minor expected to begin the season on the disabled list with a left shoulder injury, the Braves have two vacant rotation spots. Thus, Martin now finds himself with an opportunity to fill one of them.
"He's earned that opportunity and chance," Braves manager Fredi Gonzalez said."It's wide open. We went from having a fifth spot open to having two spots open. So why not put him in the mix there?"
Given the chance to pitch in place of Minor on Sunday afternoon at Osceola County Stadium, Martin made the most of his opportunity. He notched three strikeouts and pitched around a pair of walks over two scoreless innings. His effort propelled the Braves toward a combined no-hitter in their 2-2, 10-inning tie against the Astros.
"My big thing was just to throw strikes and try to get my fastball going," Martin said. "Last year, my command in camp was terrible. I was walking guys in the zone and I was getting hit around. I was like, 'What am I doing?' Looking back, I was just overthrowing. I was coming out of the 'pen thinking I'm going to throw 96 [mph]. Well, I don't throw 96. I'm not going to light up the radar gun, but I am going to hit my spots and throw four pitches for strikes. If you do that, good things can happen."
Martin has produced a 3.52 ERA in 40 appearances (37 starts) for Triple-A Gwinnett over the past two seasons. Though he does not have overpowering stuff, he might be able to provide the kind of consistency the Braves are seeking at the back end of their rotation.
The other candidates for the final two rotation spots include a pair of non-roster invitees -- Eric Stults and Wandy Rodriguez -- and a pair of highly regarded prospects -- Mike Foltynewicz and Manny Banuelos.
While Stults seems to be a solid option, Rodriguez's candidacy is hindered by the possible recurrence of injury woes that have limited him to 18 starts over the past two seasons. The Braves like Foltynewicz's arm, but they are debating whether he and Banuelos are ready to be part of a Major League rotation.
With uncertainty surrounding some of the other candidates, Martin suddenly finds himself with an opportunity that he did not necessarily expect to receive when he came to camp.
"He's an interesting guy," Gonzalez said. "We talk about him all the time in the coaches room. He's a guy that wins in Triple-A. He's got great command. He throws his secondary pitches for strikes. He doesn't light up the radar gun. [Minor League pitching coordinator Rich Dubee] said it best: 'The only way we can know if he can pitch in the big leagues is to pitch him in the big leagues.'"
Mark Bowman is a reporter for MLB.com. This story was not subject to the approval of Major League Baseball or its clubs.