Slowey opening eyes in Phillies' camp
Right-hander tosses three perfect innings vs. Rays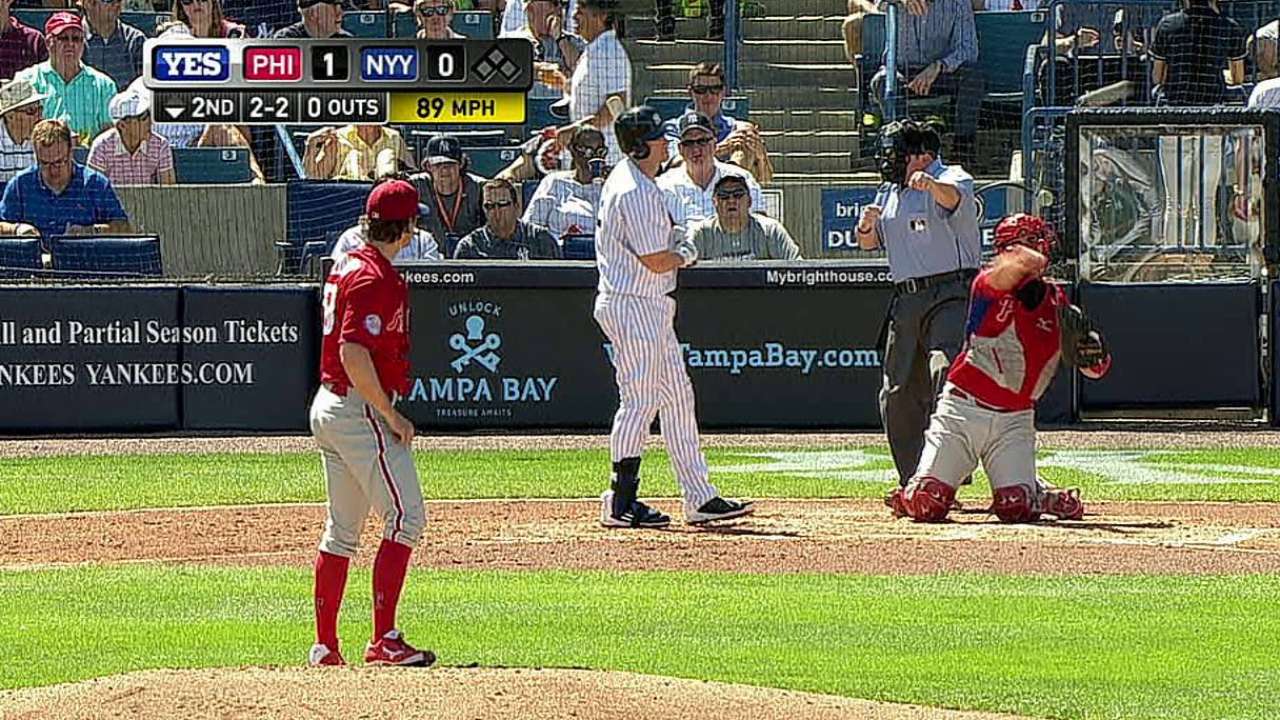 PORT CHARLOTTE, Fla. -- Kevin Slowey is quickly becoming one of the pleasant surprises of the early days of Spring Training.
The 30-year-old right-hander retired all nine batters he faced after starting the Phillies' 5-4 win over the Rays on Sunday at Charlotte Sports Park. He's in camp as a non-roster invitee after being released by the Marlins last June. In Grapefruit League play this year, Slowey has allowed one single in five innings.
"I think at this point in my career, I know what makes me good. And if I can execute that, things usually turn out well. If I can't, usually they don't turn out so well. The last couple games I've been able to get ahead with fastballs in the zone and let our defense do the work," he said.
The conventional wisdom coming into camp had Slowey competing with David Buchanan and Miguel Alfredo Gonzalez for the fifth spot in the rotation. That calculus may have changed with Sunday's announcement that Cliff Lee, the 2008 American League Cy Young Award winner, is once again experiencing discomfort in his elbow.
Slowey doesn't want to benefit from Lee's misfortune.
"I was not aware of that, but that makes me sad," Slowey said. "Hopefully he'll be OK. He's a good man. We'll be praying for him for sure. It stinks. More than anything, I feel for him.
"I wanted them to know early on I'll do anything it takes, in any capacity, whenever they need me to do it. Last minute, if I know ahead of time, it doesn't matter to me. I'm willing to do whatever it takes this spring and then carry it on to the season."
Said manager Ryne Sandberg: "He was impressive. He threw all fastballs. I don't know if I've ever seen that before. He was able to change speeds on them."
Worth noting: General manager Ruben Amaro Jr. said there is one team that has "stepped up" its efforts to acquire left-hander Cole Hamels in the past few days, but declined to be more specific.
"We're keeping an open mind," he said. "We're open-minded on everything. The transition, the rebuild, all that stuff didn't stop on Feb. 25. It's going to continue."
Paul Hagen is a reporter for MLB.com. This story was not subject to the approval of Major League Baseball or its clubs.