Lind could join lineup soon after sore back improves
Veteran first baseman has history of back issues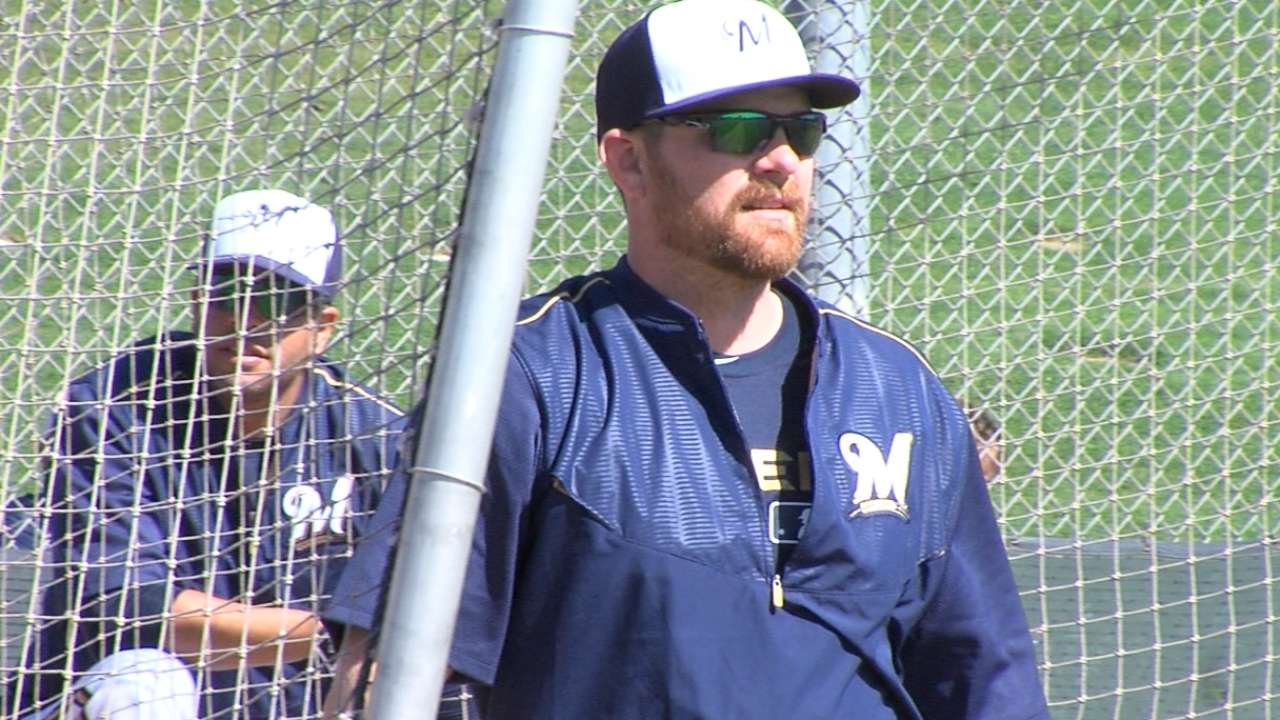 GLENDALE, Ariz. -- Brewers first baseman Adam Lind on Sunday said his sore back that kept him out of the first week of Cactus League games is improved and he could make his spring debut in a couple days.
Lind has a history of back issues but he took batting practice in the cage Sunday morning and if the back responds well Monday Lind could be in the lineup Tuesday against the Reds, Milwaukee manager Ron Roenicke said.
"I am way better than I was Thursday," Lind said of the lower back stiffness that also plagued him at times during his nine seasons with the Blue Jays. "It's better it's the first week of camp instead of the last. Hopefully, it will go away and stay away for a while. Hopefully, it's my body just getting into baseball shape.
"It's part of me. I never know when it's going to pop up. That's kind of the problem with the whole thing. I didn't really show any symptoms before it happened. It just kind of got tight through the course of a day. By the next day, it was kind of bad. All I can do is do the best I can to try and stop it from happening."
Because the soreness is in Lind's lower back, swinging a bat doesn't aggravate the injury.
"That's what's weird," the 31-year-old said. "As bad as I've ever been, it's never hurt to hit. It's running and bending over that hurts."
Lind briefly played in the Brewers' exhibition game against UW-Milwaukee on Wednesday and then felt soreness while fielding ground balls on Thursday.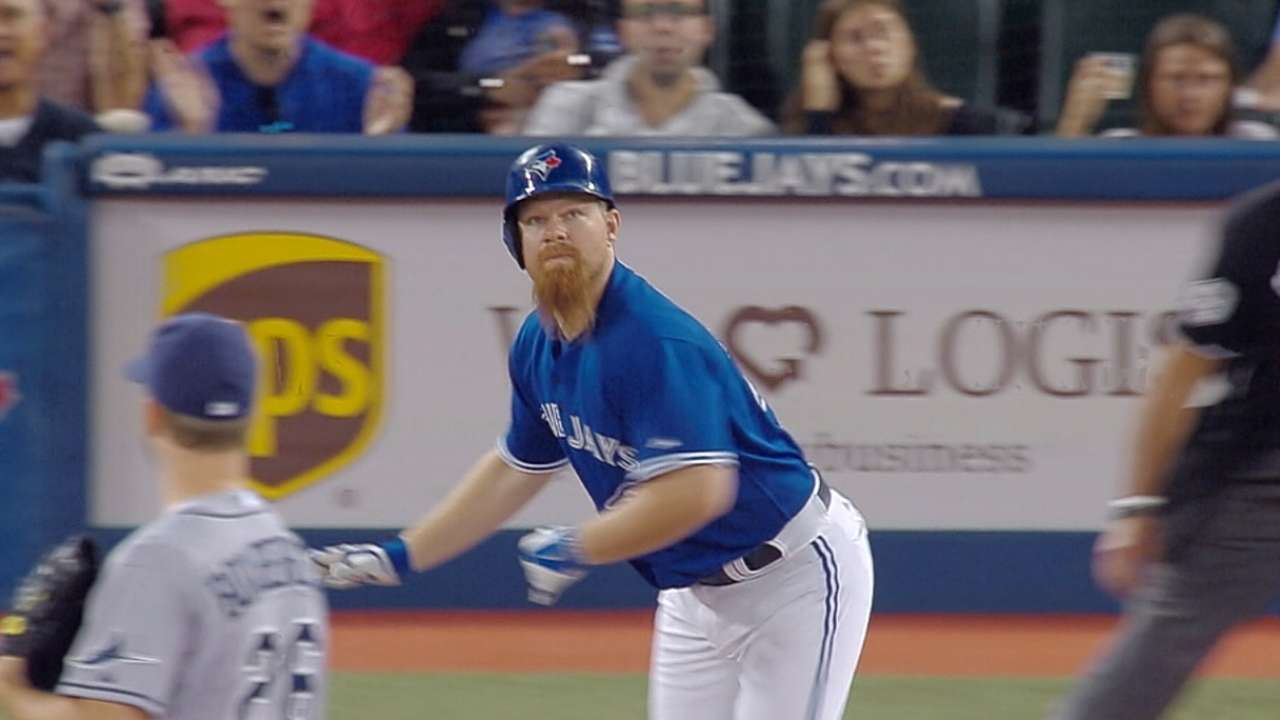 Here are more Brewers notes from Sunday:
• Right-hander Taylor Jungmann struck out three in two innings Saturday against the Rangers, but it was more than the results that impressed Brewers manager Ron Roenicke.
"I really liked it," Roenicke said. "The difference between the innings he pitched against the college team, I know he got five strikeouts in two innings but he did not throw ball where he wanted to. He just had really good stuff that day. Yesterday, I saw that low fastball; that's his game. And I saw that great breaking ball. This guy spins a curveball as good as anybody."
Jungmann, too, was happy with the outing in which he allowed a pair of hits but not a run.
"I was a little off with my rhythm and timing the first time out (against UW-Milwaukee)," Jungmann said. "The breaking ball was a little shaky a couple times I threw it but I threw a couple good ones, too. ... The way I look at it is if you can throw a breaking ball out here you can throw it anywhere, as dry as it is (in Arizona). You have to learn how to spin it out here."
Jungmann, the Brewers 2011 first-round draft pick out of Texas, learned quite a bit in recent seasons. He is in his fourth big-league camp but has himself on the cusp of pitching in his first Major League game.
"We brought him into camp that first year (2012) and he handled himself great for a young guy, worked hard and all that. Then he didn't go out and pitch well during the year," Roenicke said. "The next year was so-so. Then last year he opened up some eyes and now all of a sudden you're looking at a sixth starter."
Jungmann was 12-10 with 3.57 ERA and 147 strikeouts in 153.2 innings at Double-A Huntsville and Triple-A Nashville last season.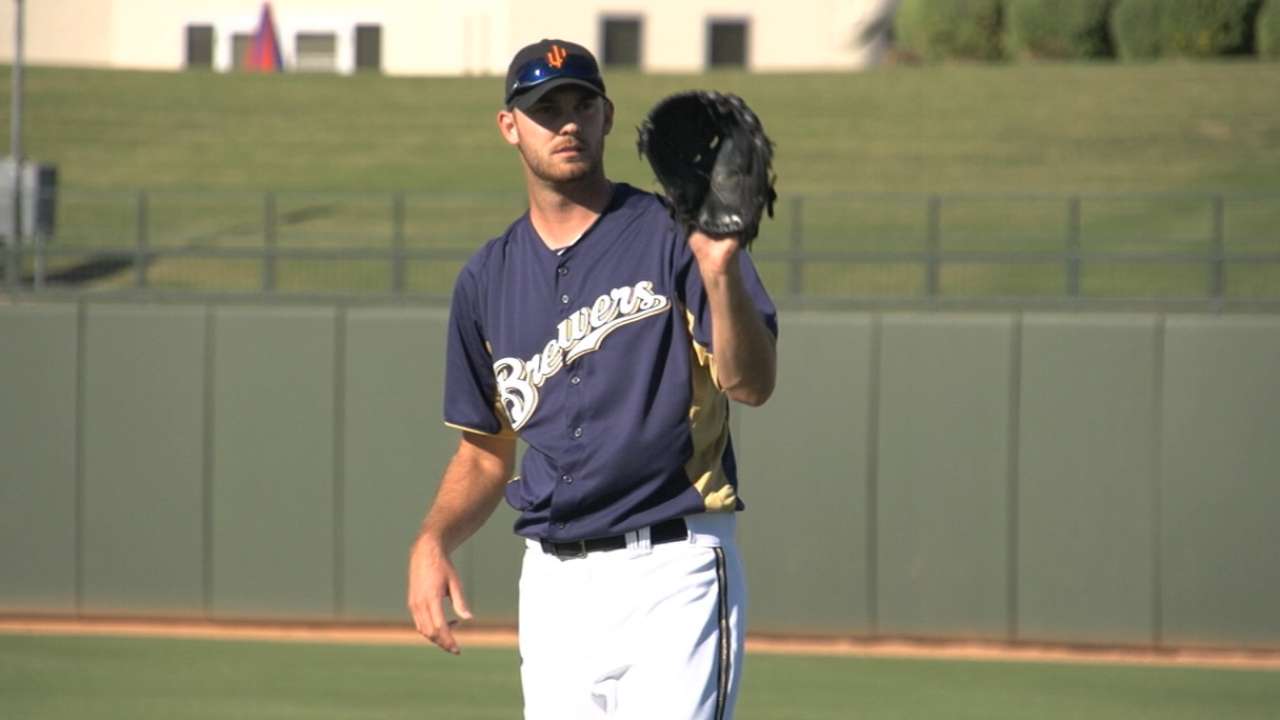 • Closer Francisco Rodriguez has an appointment this week in Venezuela to clear up any issues in obtaining a work visa, Brewers manager Ron Roenicke said.
Rodriguez and the Brewers two weeks ago agreed in principle to a two-year, $13 million contract that has a club option for a third season.
Visa issues also delayed Rodriguez's arrival last spring but he was the closer on Opening Day and converted 44 save opportunities.
• Dontrelle Willis missed his schedule appearance on Saturday after he woke up with a sore neck, but manager Ron Roenicke hopes the left-hander gets back on the field by the middle of the week.
Willis last appeared in the Majors in 2011 and is attempting a comeback after injuries limited him to 27 games over the past three seasons.
"The clock is ticking and he realizes he has this opportunity and he doesn't want to give anything away," Roenicke said of Willis, a non-roster invitee to camp who signed a Minor League deal in late-January.
Willis will throw a bullpen session Monday, take a day or two off and then, Roenicke hopes, get into a game on either Wednesday or Thursday.
"Some personality," Roenicke said. "You don't want to have any kind of favoritism in what we do, but when you like guys that much and see what they do, you pull for them."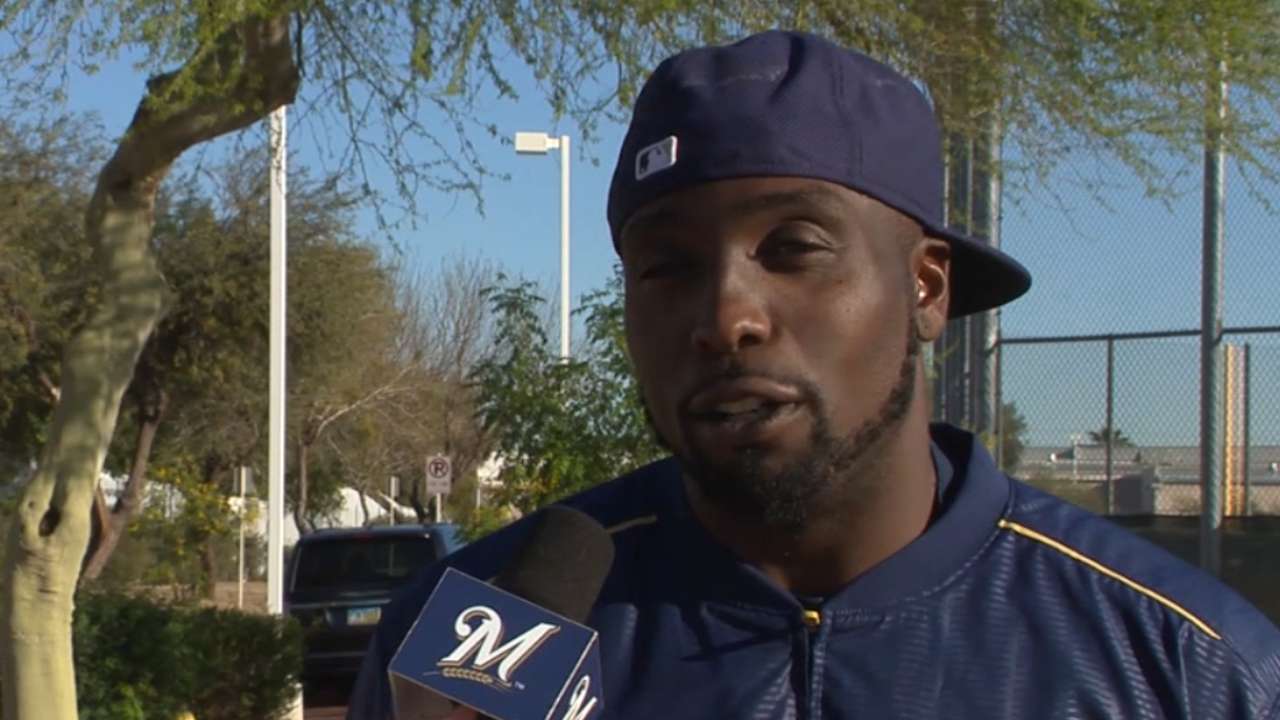 Chris Gabel is a reporter for MLB.com This story was not subject to the approval of Major League Baseball or its clubs.