Castro, Osuna leading next wave of Blue Jays prospects
DUNEDIN, Fla. -- The Blue Jays supposedly traded away the farm a couple of years ago but in the end it turns out the cupboard wasn't left as bare as previously thought.
There's no denying that Toronto's system took a major hit prior to the 2013 season when most of its top prospects were traded away in deals with the Marlins and Mets. It seemed to be the classic case of sacrificing the future to win in the present. But in hindsight, perhaps that assessment was too harsh.
Last year, Marcus Stroman, Drew Hutchison, Aaron Sanchez and Daniel Norris proved that the future might be bright afterall. This season, right-handers Miguel Castro and Roberto Osuna might drive home that point even more.
"We've got some good players down there," Blue Jays manager John Gibbons said. "I know we made those trades two years ago with Miami and with the Mets for [R.A.] Dickey. We got stripped down pretty good, but our guys that have been around knew there were some pretty good players still down there and we're starting to see that. We feel like we hung onto to some of the right guys that could have gone into those trades as well."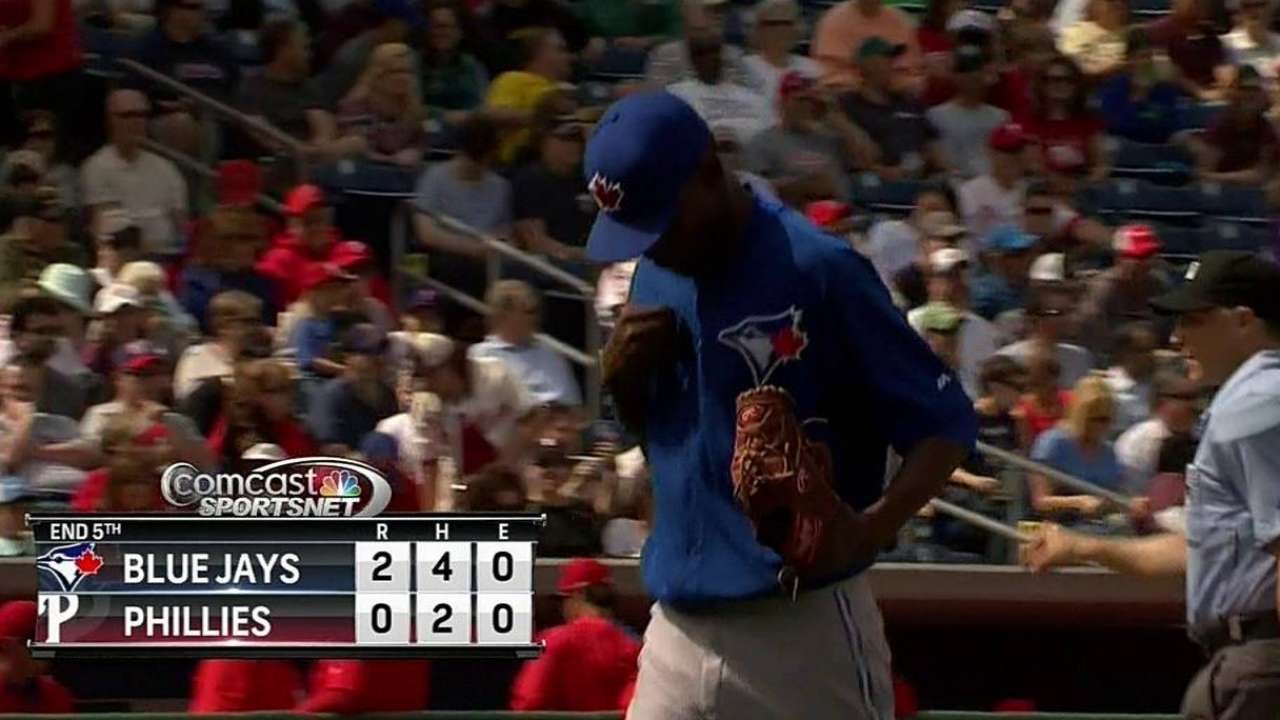 The noticeable upside of Castro and Osuna has been one of the most positive storylines to emerge from Blue Jays' camp this spring. Castro is only 20 years old but has the ability to hit 100 mph on the radar gun already has scouts drooling over the possibilities. Even more impressive than the velocity is that he actually seems to be able to command it.
Osuna started to receive a lot of hype a few years ago, but his progress stalled after requiring Tommy John surgery. He's now almost two years removed from that procedure and appears to be back to full strength at this year's camp with low-to-mid 90s velocity and a plus slider.
Neither pitcher has appeared in a game above Class A Dunedin, but both are being talked about as potential fits this season. That seems somewhat odd for an organization that used to advance its pitchers at a snail's pace with well-documented innings limits and a piggy backing strategy of using multiple starters in one game.
But that changed last year when Stroman was called up to the big leagues after a brief assignment in Triple-A Buffalo. Norris advanced through all three levels of the system in one year and Hutchison recorded 184 2/3 innings despite missing the previous season with Tommy John.
"I can't say it was necessarily a change in philosophy but we started pushing some younger guys through the system a little bit quicker and even brought some of them up in September," Gibbons said. "So if [Castro's] really, really good this spring there's an outside shot he could be on the team simply because he's advanced. He has a great arm."
Gregor Chisholm is a reporter for MLB.com. Read his blog, North of the Border, and follow him on Twitter @gregorMLB. This story was not subject to the approval of Major League Baseball or its clubs.