Reluctant at first, Feldman finding ways to adjust
Pitcher didn't want to distract from executing pitches, but is working on holding runners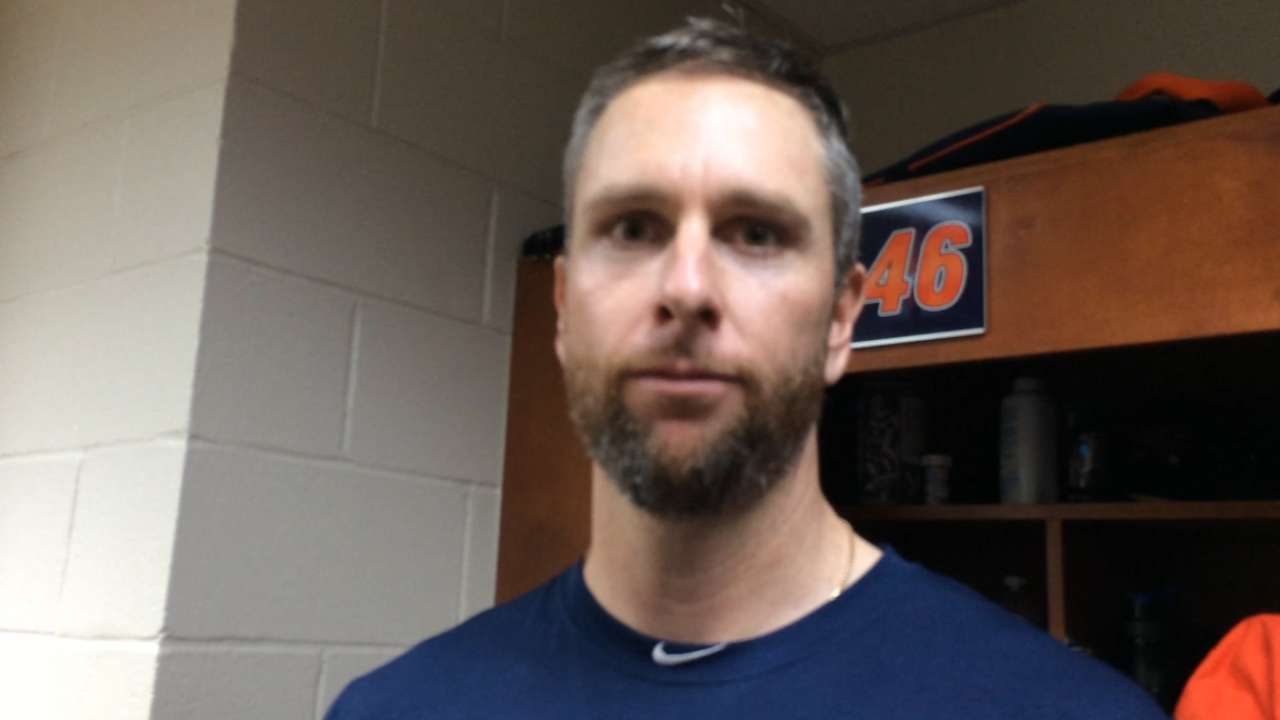 KISSIMMEE, Fla. -- After leading the Major Leagues with 35 stolen bases allowed last year, Astros right-hander Scott Feldman has been making it a point of emphasis this spring to be quicker to the plate to hold runners better.
Feldman, who allowed one run on two hits in two innings in his Grapefruit League debut on Sunday afternoon at Osceola County Stadium, said he's been reluctant to try to be quicker to the plate in the past because he was worried it would take away his focus from executing pitches.
"I don't want to be last in the game in stolen bases [allowed] like I was last year, so I'll try to improve on it," he said.
Feldman, who stands 6-foot-7, has more moving parts than the average pitcher, so holding runners has always been a challenge.
"I'm just trying to move a little quicker down the hill," he said. "I'm not really the fastest guy. I don't have too many triples in my career. I think that if I could just try to get a little quicker, that would help. Just give [catchers] Jason [Castro], Hank [Conger], whoever's back there, a chance to not just have a track meet when I take the mound."
Astros manager A.J. Hinch, a former catcher, said controlling the running game has been a priority in camp.
"Ninety feet is very important," he said. "Giving away bases by pitchers being 1.5, 1.6 [seconds] to the plate or disregarding baserunners is a point of emphasis so far in camp. It doesn't mean you have to pick. You can do it in a lot of different ways.
"The pitchers have been shown and been encouraged that they have a responsibility when the runner is on base that it just doesn't stop. Your No. 1 priority is definitely the hitter, but if we can keep the double play in order, if we can keep guys on first base with one out, if we can keep the traffic from moving on the bases, then we'll procure more outs."
Feldman said he had a "bit of a breakthrough" regarding holding runners recently when he was working with Double-A pitching coach and former big leaguer Doug Brocail in the bullpen.
"I felt like I got a lot better that day and tried to carry it onto the game today," he said. "It's something I'm always going to have to work on and stay on top of."
Feldman also worked Sunday on a changeup he hopes to throw more this year. The righty threw one earlier in his career, and when he was playing catch with his agent in the offseason, he encouraged Feldman to bring it back.
"He said, 'You had a good changeup in college. Why can't you throw a changeup anymore?'" Feldman said. "He's been harassing me about that. I started messing around in the offseason and told [pitching coach Brent] Strom I wanted to work on it here in Spring Training."
Feldman said Nolan Ryan, an executive advisor who's in camp this week, told the pitchers on Saturday about the importance of a changeup, even if you throw 100 mph like he did.
"I think it's pretty valuable for all of us," Feldman said.
Brian McTaggart is a reporter for MLB.com and writes an MLBlog, Tag's Lines. Follow @brianmctaggart on Twitter. This story was not subject to the approval of Major League Baseball or its clubs.