Rangers react to Yu's injury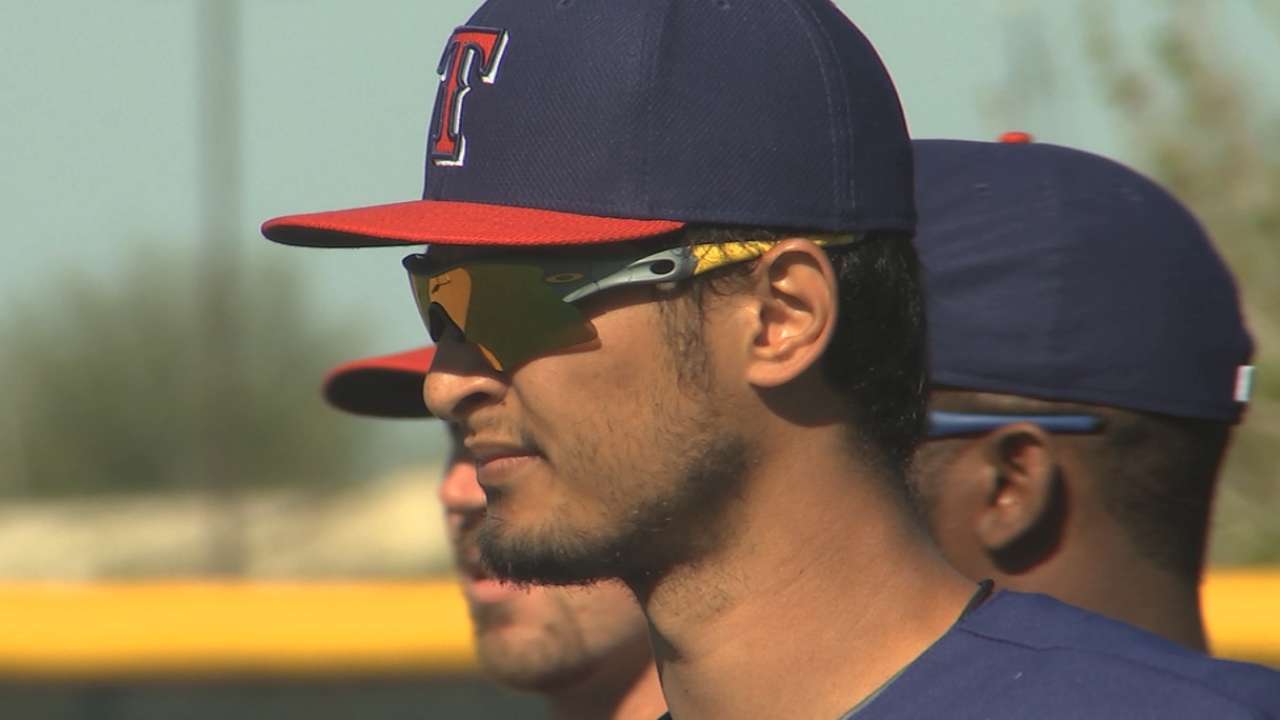 SURPRISE, Ariz. -- On Saturday afternoon, a few hours after Yu Darvish was told he might need Tommy John surgery, the right-hander approached several Rangers teammates and told them his season could be over.
On Sunday morning, the players were still reacting to the news and the real possibility that their staff ace will not pitch this season.
"I don't think anybody expected it to be as bad as it looks right now," Rangers third baseman Adrian Beltre said. "It was supposed to be only tightness. After the game, I asked him and he said there was no problem, it was only a little tightness. We are all shocked when we heard the news."
Darvish, who has been diagnosed with a tear in the ulnar collateral ligament in his right elbow, will get a second opinion from Mets medical director Dr. David Altchek on Tuesday in New York before deciding his next course of action. The 28-year-old, who missed the final seven weeks last season due to mild inflammation in his right elbow, exited his spring debut on Thursday after just one inning.
"I encouraged them all to feel what they have to feel, but also there is a time for what is important today," Rangers manager Jeff Banister said. "What's important today is to continue to work and move forward, get themselves ready and continue to compete. Whatever the news is and whatever direction we need to go in, they'll be able to get comfortable with that and feel what they have needed to feel. …The other thing is, each one of these guys has their own job to do and they have to be where their feet are. They can't focus on anything other than that."
It's very unlikely Darvish will pitch through the injury. The Rangers estimate it would be four months before Darvish pitches in a game and six weeks without throwing if the pitcher chose to rest his arm. Darvish could be ready at the beginning of next year, if he chooses to have Tommy John surgery.
"I always just left it in the hands of the doctor and left it up to God and prayed about it," said veteran starter Colby Lewis, who had Tommy John surgery in high school and shoulder surgery in 2004. "I always opted to get it fixed. I never wanted to take that down time and think about I didn't get it fixed and six months later it still hurts. If I'm going to miss the time I'd rather be hurt and have it fixed."
"I've got his back personally," Rangers starter Derek Holland said. "I'm going to do whatever it takes, I'm going take the load from there and go. If I have to wear it all the way out there and be the guy, then fine. I'm going to do whatever it takes."
The Rangers' rotation now consists of Holland, Lewis, Yovani Gallardo and likely Ross Detwiler. The club will look to a group that includes Ross Ohlendorf, Nick Tepesch, Nick Martinez, Lisalverto Bonilla and Alex Gonzalez for the fifth spot. The club could also look outside the organization.
Gonzalez is scheduled to pitch Monday against the A's, and Lewis will start Tuesday against the Angels. Gallardo is on tap to pitch against the White Sox on Wednesday.
"It's one guy. Yu has been great for us pitching, but we lost one guy," Beltre said. "We will do our job individually and collectively to win ballgames. He pitched once every day five days. If we as a team do our jobs, it might make it easier for him to take his time to come back. We believe we can win still."
Jesse Sanchez is a national reporter for MLB.com. Follow him on Twitter @JesseSanchezMLB. This story was not subject to the approval of Major League Baseball or its clubs.