Herrera's versatility increasing his odds of making roster
Phillies' Rule 5 Draft selection hitting .333 during spring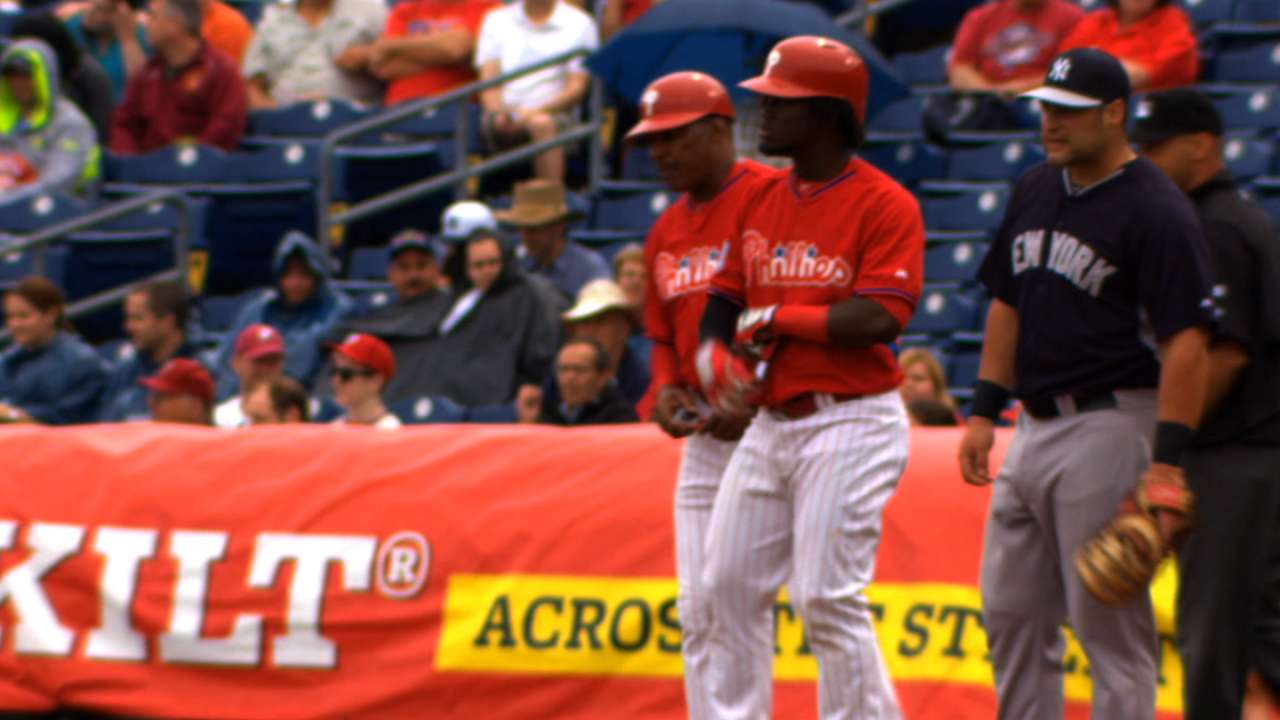 PORT CHARLOTTE, Fla. -- When the Phillies selected Odubel Herrera from the Rangers organization in the Rule 5 Draft in December, they made it clear the plan was to use the natural infielder primarily as an outfielder.
Against the Rays on Sunday at Charlotte Sports Park, though, the 2014 Double-A Texas League batting champion started at second base. Although he went hitless in four at-bats during the Phillies' 5-4 win, he's still hitting .333 this spring.
"Just some added versatility for him," manager Ryne Sandberg explained. "Because you just never know what spot's going to open up for an opportunity. If the guy swings the bat and you need him in there, it helps if he can play a couple different positions."
Sandberg speaks from experience. He was drafted as a shortstop, and after reaching Triple-A, he went to winter ball and played second base, third and center field. He played third base when he first came up with the Cubs, then was switched to second and went on to have a Hall of Fame career.
"He looked natural [at second] as far as I was concerned," Sandberg said. He has good moves there. He looked good. And he made something happen with the bat beating out a [potential] double-play ball."
Herrera has played center field so far, but will also get a look in left and right. "He's looked real good in [center field]," Sandberg said. "Very good routes. He's shown a real good arm out there. His speed really plays getting to the balls, but it's still fairly new to him. It will be useful for him going forward to get some reps in the corner outfield positions also. Which can be tougher than center because of the angles."
Said the 23-year-old Herrera, who also led the Venezuelan Winter League with a .372 average for La Guaira: "I like playing second base, because that's my natural position. I feel good over there. I'm going to try to do the best I can. Right now I'm in the outfield but today they put me at second base and I'm going to have fun.
"I don't know why [the Rangers didn't protect me]. But it happened for a reason. I feel good here and I hope I can stay with this team. There is a lot of opportunity here and I'm going to do the best I can to stay here."
The Phillies must keep Herrera on the Major League roster for the season or send him through waivers or offer him back to the Rangers.
Paul Hagen is a reporter for MLB.com. This story was not subject to the approval of Major League Baseball or its clubs.