Prospect Lorenzen learning from vets as he eyes spot with Reds
Inexperienced righty taking in any and all advice at camp
GOODYEAR, Ariz. -- With only one-plus year of pitching professionally on his ledger, Reds prospect Michael Lorenzen has already moved extremely fast through the organization. It's not out of the question that Lorenzen could be in the Majors as soon as this season.
Lorenzen, 23, is certainly not ruling it out for himself.
"I'm doing everything I can to show them I'm ready. But other than that, everything is out of my control," Lorenzen said. "Whatever they want to do with me, I trust it. It's worked for me so far. I've trusted everything they have in store for me. I will stay with that program. I won't rush everything but still do everything to prepare myself for when my name is called."
Lorenzen, who is listed as the Reds' No. 3 prospect by MLBPipeline.com, is projected as a future starting pitcher. At the moment, he's not viewed as a contender for one of the open rotation spots.
But when manager Bryan Price looks at the board of players inside his office, he views opportunities. The club has a need for a reliever capable of pitching multiple innings.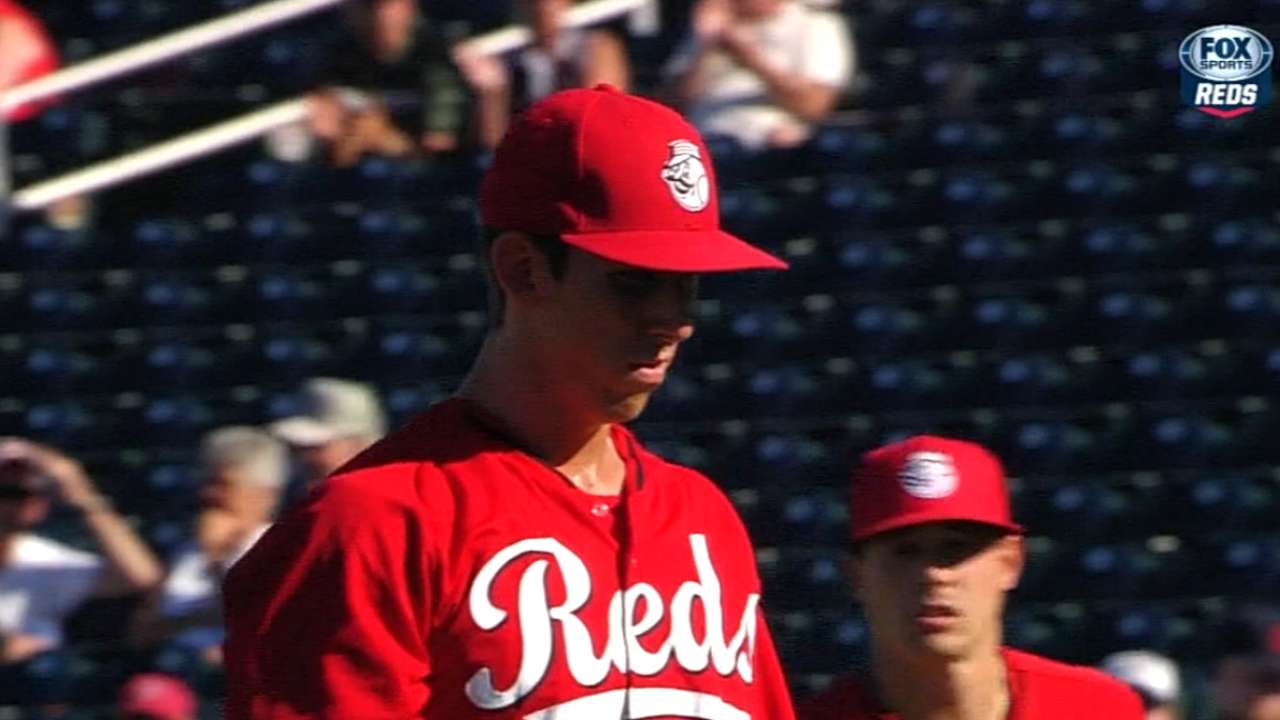 "That would be a way to continue to build him and his innings workload up while also helping the big league club," Price said. "But we don't want to lose sight of the fact that right now, he's a starting pitcher and could be a very good one. Putting him in the bullpen could distract from that opportunity. It's hard to say. Eventually, we have to take our best team to Cincinnati. So for me, my eyes are still wide open to the possibility of him being on the team."
The 38th overall pick in the 2013 Draft, Lorenzen pitched at four different levels that summer. Last season, he spent all season at Double-A Pensacola and was 4-6 with a 3.13 ERA in 24 starts. Over his 120 2/3 innings, the right-handed power pitcher gave up 112 hits with 44 walks and struck out 84.
Only two years ago, Lorenzen was a regular center fielder and the closer for Cal-State Fullerton. Last season, he felt he developed the foundation skills to be a starter.
"The year before [in 2013], I had no idea. I was just going out and throwing," Lorenzen said. "Whenever I'm here with guys like [Mike] Leake, [Johnny] Cueto, Marlon Byrd, [Joey] Votto, [they are] sharing with me what I need to do to get better. They were able to face me in live BP. This is school for me. It was school for me last year. I just took into the year all the information that I got from them. I just had confidence going into the year that I knew what I was doing. It helps out a little bit."
Price viewed Lorenzen as impressive as any of the young Reds pitchers he's seen in this year's camp.
"I think he hears what the coach says and he tries to immediately put it to work," Price said. "He's also very self aware. He's invested in doing this. He doesn't have any desire to drag his feet and plod along through the Minors. He's very goal oriented. He wants to get to the big leagues and he wants to be outstanding at what he does."
Mark Sheldon is a reporter for MLB.com. Read his blog, Mark My Word, and follow him on Twitter @m_sheldon. This story was not subject to the approval of Major League Baseball or its clubs.